Bendpak HD-14TL 14,000 Lbs Tall Car Lift/ 82" Rise 4-Post Lift
Brand:

SKU:

BP-5175004

Condition:

New
Bendpak HD-14TL 14,000 Capacity Tall Lift/ 82" Rise 4 Post Lift
The industrial-quality HD-14T is a high four-post lift solution that provides 82" of rise – that's more headroom under and around the lift work area for tall technicians looking to reduce painful head knocks. Not only is the HD-14T great for service work, it doubles as a high-clearance parking solution as well when you need store vehicles underneath. It's just another way that BendPak tailors our lifts to suit your needs. With this four-post lift, you can push 14,000 pounds worth of rolling stock into the air without breaking a sweat. Be sure to consider BendPak's RJ-7 air-hydraulic bridge jacks and our convenient rolling oil drain pan to increase the service capability even more.
Features:
14,000-lb. lifting capacity
Extra lift height
Long-style approach ramps for low ground clearance vehicles
Runways include rail-kit for optional accessories
Single hydraulic cylinder mounted underneath runway
Fully enclosed lifting cables, safety locks, and sheaves
Internal anti-sway slider blocks in each column
Pneumatic push-button safety release
Features heavy-duty 1/2" aircraft cable
Safety locks enclosed in columns minimize pinch points
Hardened-steel sheaves with self-lubricating bearings
Multi-position safety locks in each column
Customizable power unit location
Approach ramps incorporate built-in rear-wheel chocks
Independent backup slack-cable safety latches
Runways feature non-skid surface
Optional RJ-7 air-hydraulic bridge jacks increase service capability

Specifications:
Capacity
Lifting Capacity*: 14,000 lbs. (6,350 kg)
*Max Capacity / Front Axle: 7,000 lbs. (3,175 kg)
*Max Capacity / Rear Axle: 7,000 lbs. (3,175 kg)
Rise
A - Min. Runway Height: 7.625" (194 mm)
B - Max. Rise: 82" (2,083 mm)
C - Max. Lifting Height: 86.5" (2,197 mm)
Time to Full Rise: 65 seconds
Outside Dimensions
D - Overall Width: 126" (3,200 mm)
E - Outside Length: 205" (5,207 mm)
F - Overall Length: 234" (5,944 mm)
G - Height of Columns: 101" (2,565 mm)
Inside Dimensions
H - Width Between Columns: 115.5" (2,934 mm)
I - Drive-Thru Clearance: 98" (2,489 mm)
Runways
J - Runway Width: 20" (508 mm)
K - Length of Runways: 191" (4,851 mm)
L - Width Between Runways: 37.5" (953 mm) or 51" (1,295 mm)
M - Runway Centerline: 57.5" (1,461 mm) or 71" (1,803 mm)
N - Outside Edge of Runways: 77.5" (1,969 mm) or 91" (2,311 mm)
Minimum Wheelbase
Rated Capacity: 140" (3,556 mm)
75% Capacity: 120" (3,048 mm)
50% Capacity: 100" (2,540 mm)
25% Capacity: 80" (2,032 mm)
Locking
Locking Positions: 16
Lock Spacing: Every 4" (102 mm)
Power Unit
Motor: 220 VAC / 60 Hz / 1 Ph
Noise: 45 dB
ACCESSORIES: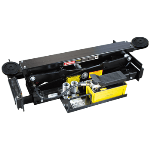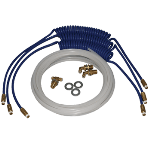 Note: An air supply (minimum: 30 psi / 3 CFM) is required for the safety-lock mechanisms to function. It is solely the responsibility of the end-user to provide, install and maintain the air supply.
*Shipping is FREE to direct points within the 48-contiguous states.
**Bendpak charges taxes to California**
**A 5% RATZ Surcharge may apply if shipping to a rural shipping point. Click here to check if you are in a RATZ zone
***It is the buyer's responsibility to unload the freight at their location.
****The Bendpak HD-14TL is an ALI Certified Lift. Click here to view its certification.
Frequently Bought Together
Please choose options for all selected products