AMGO Hydraulics 408-P 8000 Lbs 4-Post Parking Lift
Brand:

SKU:

AH-408-P

Condition:

New

Capacity:

8,000 Lbs
Shipping Calculated at Checkout
AMGO 408P
The AMGO 408-P is a true space-saving powerhouse. It is the perfect service lift for shops and home car ports with limited floor space with performance maximization in mind. The 408-P requires no special foundation or complicated installation and is about the The feature, and more, make the AMGO 408-P one of the best commercial or private use lifts in the world. The 408-P is the perfect choice for commercial shops or residential car ports trying to save Space with a capacity of 8,000 lbs.
Features
8,000 lbs. capacity, which is perfect for light-duty vehicles
AMGO exclusive hidden safety locks and manual single-point release device allows for operators to unlock the safety locks from one column simultaneous.
Double-S shaped columns help increase the columns strength
Skid proof diamond platform provides traction for the tires to stay put.
Flexible Design: The power side column can be installed at any corner
Five-year Warranty on Steel Components, Three-year Warranty on Hydraulic Parts and Two Years on Electrical Components
All accessories are optional and are not included in price
| | |
| --- | --- |
| Model | 408-P |
| Lifting Capacity | 8,000lbs (3,629 kg) |
| Lifting Time | 81s / 31s |
| A:Overall Length (Inc Ramps) | 207″ (5257mm) |
| B:Overall Length (No Ramps) | 173 1/4″ (4400mm) |
| C:Overall Width | 109 5/8″ (2784mm) |
| D: Width Between Columns | 96″ (2438mm) |
| E: Lifting Height | 73 3/4″ (1872mm) |
| F:Overall Height | 82 7/8″ (2105mm) |
| G:Width Between Platforms | 37″ (940mm) |
| H:Platforms outer width | 74 3/8″ (1890mm) |
| Gross Weight | 1,834 lbs (832 kg) |
| Motor | 110V 1.5HP |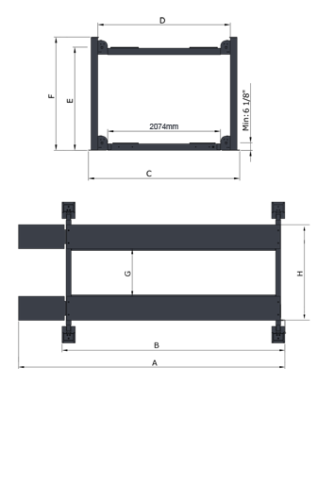 Warranty information.
AMGO offers one of the best product warranties in the industry from the original factory commercial invoice date in the industry as follows:
1.Steel structure components(including Columns,Carriage,,Lifting Arms, Top Beam, Floor Cover,Platform,Cross Beam,Car Drive-in Ramp, Scissor,baseframe etc.) warranty for five years.
2.Hydraulic parts (including cylinders, oil seal, oil hose, fitting etc.)warranty for two years.
3.Other parts(no including consumption parts such as rubber pad),electrical components, power unit warranty for one year.

Warranty procedure:

In order to start a warranty claim, you need fill out completely (including date of purchase) the warranty card attached below, and then send it to technical.support@amgohyd.com. If this information is not provided, the factory will not support the claim.

Click here to download the warranty card
Frequently Bought Together
Please choose options for all selected products