Posted by Juan E. Chavez on 13th Sep 2014
When searching for the right vehicle lift there's one that is synonymous with high quality and customer satisfaction and that is Challenger Lift. They have been in the industry for almost 30 years and through unique marketing strategies and the implementation of innovative design, have been the pioneers since day 1. Challenger lifts specialize in the design, manufacture and distribution of their high quality products and have the customer satisfaction rate to prove it. With their complete line of suerior vehicle lifts, jacks and auto lift accessories, Challenger lifts may be your best choice when searching for the right vehicle lift. But keep in mind that a little research goes a long way when it comes to selecting the best product to exceed your expectations.
Reputation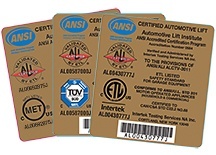 Challenger lifts have been in the industry for almost three decades, they are ALI Certified and if you're new to this industry you'll soon discover what others are saying about challenger lifts and their product quality. Online garage message boards were created to help the little guy solve one of life's greatest puzzles and that is, "what company makes the best vehicle lifts out there?" Whether you're in favor of Challenger Lifts or against them there is no doubt that their end product quality is unmatched even by their larger competitors. Be on the lookout for boards which state quality to price ratio and you will find that Challenger Lifts are the preferred choice.
All the Right Features
There are many features that come with today's vehicle lifts and one might come to find that they don't know exactly what it is that they want when choosing a lift. You need to know what the heaviest vehicle you're going to lift will be, the dimensions of both the smallest and largest vehicle and you'll also need to know how closely the vehicle runs to the ground. For this your best bet would be to jot the questions you have down and be sure to go with a well known manufacturer whose product has all of the features you require. Challenger Lifts offers extra tall, extra wide, and a unique design which they coined as a Versymmetric Advantage and clear-floor model versions to better fit your needs. These lifts will adapt to the old as well as new and that right there will provide you with the comfort you need for years to come.
Cost-Effectiveness
The most expensive vehicle lift doesn't guarantee best product just as the cheapest isn't necessarily the worst (although if history has taught us anything it is that sometimes you get what you pay for). When comparing one product to another one of the first things that comes to mind is price and the question "why is one so much cheaper than the other?" We all want a high quality vehicle lift at the best price and with the competitive prices offered by Challenger lifts you can be sure you're getting your dollar's worth with a long lasting product. Challenger Lifts guarantees durability but they also encourage you to shop around looking for the best deal. They know that you will stick to your list of prerequisites and know you will stumble upon challenger lifts as the best option for both durability and cost-effectiveness.
Guarantee
Vehicle lifts in the end are just man made machines so of course they are vulnerable to human error and glitches. But if you're stuck between two manufacturers and want to know why one price is so much cheaper always double check the warranty offered. A warranty is a covenant between you and the manufacturer that allows you to protect your assets in case of an emergency. Some of these newer companies offer really low prices but have little to no coverage in case of a malfunction. Challenger lifts ensures your protection by offering the best warranties for all of their lifts. They offer warranties on the frame, the moving parts and the labor at varying levels.
Who built it?
A lot of manufacturers sell products with their stamp on it even though they were built in some subpar garage who knows where. Challenger Lifts proudly place their seal on their products because they were assembled at one of their hundreds of garages all over the country. Some of these newer companies have warehouses overseas to whom they bestow the task of making the lifts without the least regard to worldwide standards. When working with Challenger Lifts you can be sure that you get an American made product made with the highest quality materials.
It happens that a lot of us just jump into purchasing something and it isn't until we really get to use it that we notice that we were misguided. You don't have to be an expert when it comes to vehicle lifts but you should know that if you're a novice its best to take the time to analyze what exactly you're looking for (size, budget and material) and have all of your questions ready when browsing. JMC Automotive Equipment is an authorized dealer of Challenger Lifts and encourages all those interested in finding out more about vehicle lifts and automotive equipment to contact us today to learn more.