Posted by Juan E. Chavez on 23rd Aug 2019
If you own or plan to own an auto repair shop, there is a lot of important equipment you will need to run a successful business. Without the proper equipment, you will not be able to safely or quickly perform the necessary repairs for your customers. In addition to the other important equipment you will need for your auto repair shop, you will want a rolling jack stand. In order to perform wheel service on a 4 post or scissor lift, you will definitely need a rolling jack stand.
Rolling jack stands are an excellent addition to any auto repair shop, and they come in many different capacities and are used to raise a vehicle off of the runways. Rolling jacks allow you to realize the full potential of your 4-post lifts. With rolling jack stands, you can forget about manual or awkward bottle jacks and greatly improve the functionality of your 4-post lifts. Using the rolling jack, you can raise the wheel and tire assembly off an above-ground lift for easy access. Typically, rolling jacks will be able to fit many different brands or car lift. You will need to use a rolling jack stand for any wheel related repairs. For any repairs that require raising the vehicle, you will need a strong floor jack to support the raised vehicle.
Considerations for a Rolling Jack
There is no doubt that a rolling jack is a great investment for your auto repair shop. However, there are many choices for rolling jacks. Before shopping for the best rolling jack, make sure to assess your shop and its needs. Some questions you should ask yourself when shopping for a rolling jack include:
●What kind of repairs do I typically perform at my auto repair shop?
●How much space do I have available?
●What is my budget for a rolling jack?
●How much capacity do I need from a rolling jack?
●Which 4-post lift do I currently have and which rolling jacks are compatible?
Types of Rolling Jacks
When considering which rolling jack is best for your auto repair shop, it is important to understand the different types of rolling jacks. Then, you can compare the different types to determine which one will be best suited for the repairs you do at your auto shop. The main types of rolling jacks include the rolling bridge jack, hand pump rolling jack, hand pump rolling jack, and air/ hydraulic operated rolling jack.
Rolling Bridge Jack
The sliding bridge jack is one of the most commonly used car lifts because of its compatibility with common car lifts. The rolling bridge jacks come in a variety of capacities, so there is one suited for your shop.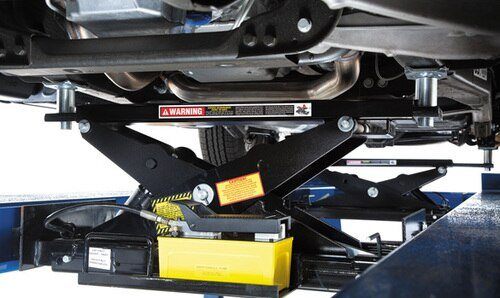 Hand Pump Rolling Jack
The hand pump rolling jack is a manual jack that does not require and air compression. With an easy-to-use hand pump, this manual rolling jack is great for wheel and brake work. The hand pump rolling jack fits most 4-post lifts and features a welded channel. With a manual hand pump, this rolling jack if oftentimes more affordable than those with air compressors. For a simple, affordable rolling jack, opt for one with a hand pump.
Air/ Hydraulic Operated Rolling Jack
Unlike hand pump rolling jacks, air/ hydraulic rolling jacks take advantage of air for operations. These rolling jacks are used to raise the rear or front of a vehicle for you to perform brake and wheel services. When using air operated rolling jacks, it is important to never exceed the recommended delivered air pressure. Doing so may damage your jack. Because they take advantage of hydraulics, these rolling jacks tend to be the best option for the most heavy-duty automotive lifting and usually have the highest capacity.
The Best Rolling Jack Brands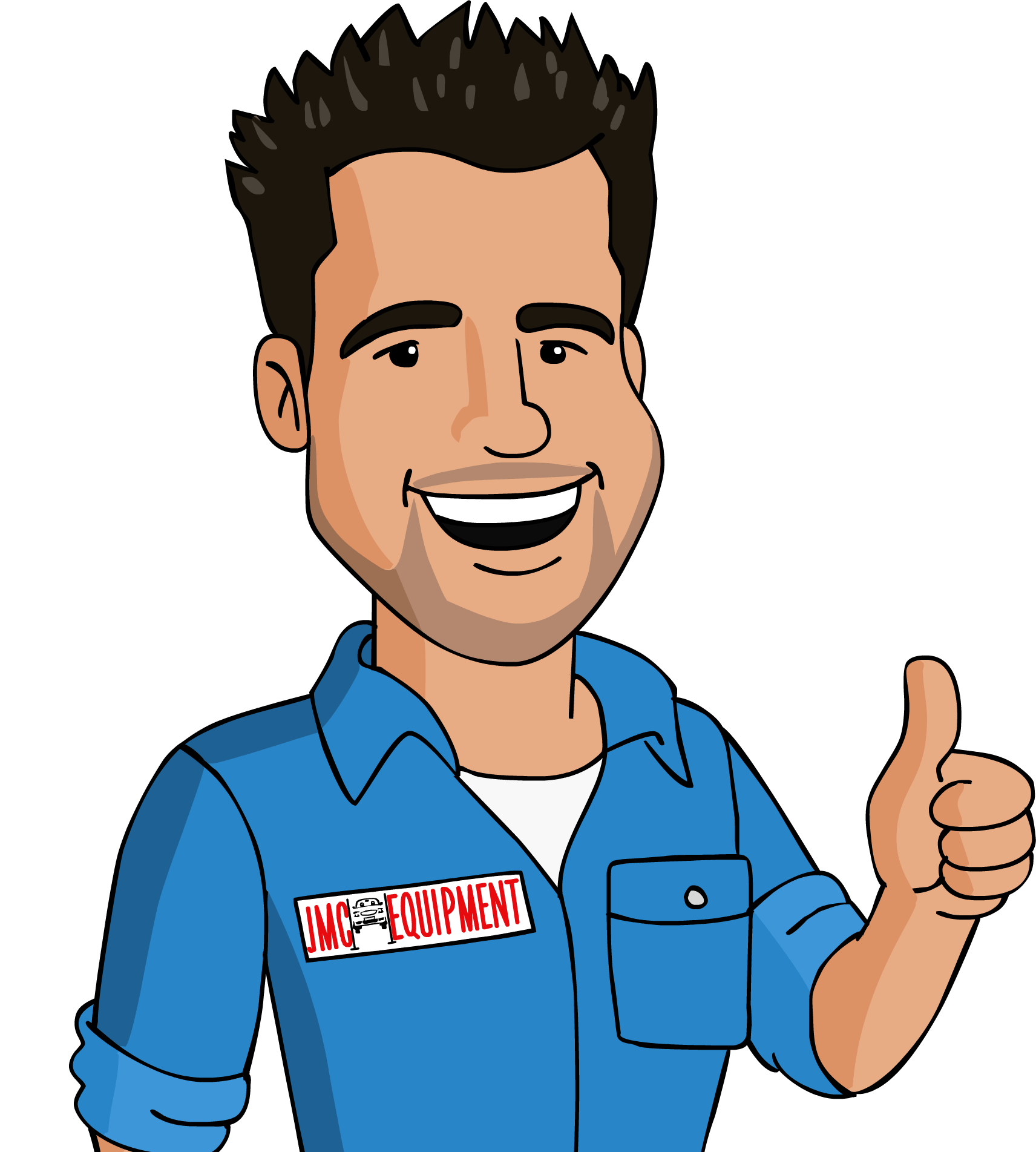 Quality is imperative for any auto repair shop equipment, especially the rolling jacks. Only purchase your rolling jacks from a trusted brand and reputable source. At JMC Automotive Equipment, we only offer the highest-quality rolling jacks. Choose from the top brands of rolling jacks including:
Bendpak

For good reason, BenPak is one of the most recognizable names in the entire automotive industry. Auto repair shops and homes nationwide are outfitted with the top BendPak products, including rolling jacks. BendPak focuses on prestige engineering and top-notch safety features. BendPak is known for its "rugged and reliable" equipment and is a reputable choice for rolling jacks. All of the BendPack rolling jacks include rubber contact pads, stackable adapters, a high-pressure hydraulic power unit, and an optional air-line kit. The BendPak rolling jacks available at JMC Automotive Equipment Include:
BendPak RBJ Series
●Available in 4,500, 6,000, 7,000, 9,000, 15,000, 18,000 or 25,000 capacity
● BendPak RBJ4500: HD-9 compatibility and needed for a 4-post lift for wheel service:
● BendPak RBJ6000: Use with the Quatra scissor lift and need the ability to raise the wheels off the runways of your car lift:
● BendPak RBJ7000: HD-14 4-post lift compatibility with three safety-lock positions and stackable pad adapters for added clearance.
● BendPak RBJ9000: Compatibility with the HDS-18 4-post lift.
● BendPak RBJ15000: Use with the HDS35 4-post lift and designed for large trucks and commercial equipment. When you need to perform wheel service on heavy-duty vehicles.
● BendPak RBJ18000: Compatible with the HDS35 or HDS40 4-post series lift. Great for vehicles that have a center of gravity slightly off from the middle of the vehicle.
● BendPak RBJ25000: The most powerful BendPak rolling bridge jack that can handle 25,000 lbs. Use it with the 40,000 lb capacity HDS40 truck lift to perform wheel service on nearly any heavy-duty vehicle.
Branick

Branick has over 100 years of experience manufacturing automotive tools and equipment. Their primary goal is to boost efficiency and improve the safety of all auto repair shops. With over 750,000 customers around the globe, they have proven a commitment to quality. The Branick rolling jack stands telescoping mounting brackets, adjustable lift arms, narrow width, are spring-loaded, and have mountain bracket loaders. The Branick rolling jack stands are incredibly easy to install and use, and work great for multiple vehicle applications. Use them to replace original equipment jacks for easy vehicle access. We have many excellent selections of Branick rolling jack stands available at JMC Automotive Equipment
● Branick 8720: This jack fits many of the most popular 4-post lifts, making it a great replacement for equipment jacks. It supports up to 7,00 lbs.
● Branick 8730: The 8730 is a hunter kit that fits most popular 4-post lifts and handles up to 7,00 lbs.
● Branick 8740: The 8740 is a wheeltronics rolling jack stand that supports up to 7,000 lbs.
● Branick 8910: This is a rotary kit that handles up to 9,000 lbs.
● Branick 8920 : This JBC/ FMC kit handles up to 9,000 lbs.
● Branick 8930: A 9,000 lb capacity hunter kit.
● Branick 8940: This wheeltronics model fits the most popular 4-post lifts and handles up to 9,000 lbs.
Challenger Lifts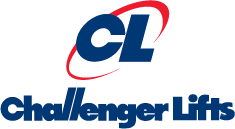 Challenger Lifts is a Kentucky-based company focused on crafting the highest-quality automotive lifts. Each of their products is designed with productivity in mind to help your auto repair shop reach its full potential. With solutions ranging from 6,000 lb to 148,000 lb capacity, Challenger Lifts has a lift and rolling jack suited for your shop. Challenger Lifts rolling jack stands offer easy access to brakes and wheels. They are low-profile and adjustable so you can have full access to your workspace. With the two-handed operation, the Challenger Lifts rolling jack stands are very safe to use. The Challenger Lifts rolling jack stands we carry at JMC Automotive Equipment include:
● RJ3.5 for 35,000 capacity for free wheel access
● RJ4.5 4,5000 lb capacity. The RJO4-Pk Air/Hydraulic Pump Kit can be used to convert their RJ4.4 from a hand pump to air or hydraulic operation.
● RJ6 6,000 lb capacity
● RJ7.5 7,500 lb capacity
● RJ9A 9,000 lb capacity for AR44018AR only
● RJ9S 9,000 lb capacity for AR44018AR only. Comes with 4 Stack Adapters for all 44018 4-post lifts. Adjustable width, low vehicle drive-over clearance, stackable height extensions, and a built-in storage rack.
● SAJ15 15,000 lb capacity air-operated rolling jack
● SAJ25 25,000 lb capacity with adjustable width. Designed for safety and durability. Ideal for the heaviest automotive lifting.
● SAJ35 35,000 lb capacity ideal for extremely heavy automotive lifting.
Tuxedo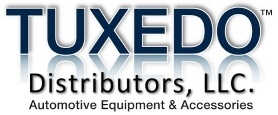 Tuxedo adds value to the automotive repair equipment industry by partnering with a leading Chinese partner. They distribute automotive repair equipment and are highly successful in the American market. They focus on customer satisfaction as well as quality and value. Most Tuxedo rolling jacks have a spring-loaded precision roller bearing and slide guide wheels so they are adjustable for low, medium, or high jack rail configurations. They have telescoping support arms, hydraulic operation, dual-protective scissor skirts, two locking height positions, and rubber height adapters. The Tuxedo rolling jack stands available at JMC Automotive Equipment are:
● RAJ-6K-H and RAJ-6K-L 6,000 lb capacity. This High Mount rolling air jack boasts high quality and is a scissor rolling bridge jack with hydraulic operations. Adjustable roller body brackets and universal roller body design.
● RAJ-8K-H and RAJ-8K-L 8,000 lb capacity
● SJ-35 Sliding Jack 3,500 lb capacity is an affordable sliding bridge jack to mount on a 4-post lift's runway. This jack is incredibly versatile with a low profile design. Manual pump operation is good for smaller shops and the scissor design allows for level lifting.
JMC Has the Rolling Jack Stand for You
A rolling jack stand is a must-have piece of equipment for any auto repair shop. Which jack stand is right for your shop depends on your shop needs and which lift you have or plan to get. With so many great options and quality brands, choosing a rolling jack stand may seem overwhelming. That's where we come in. JMC Automotive Equipment is a family-owned business whose main goal is to offer the best quality automotive equipment at affordable prices. Our experienced team can help you select a high-quality rolling jack stand that meets your . shop's needs at a competitive price. You will find your perfect rolling jack stand and any other automotive equipment here at JMC. Visit our website today to find your rolling jack stand.
Learn how to use a Rolling Jack!

INSTAGRAM:@jmcautoequipment