Bendpak HDS-35X 35,000-lb. Capacity Extended-Length 4 Post Truck Lift
Get ready to lift some massive vehicles. If you need a 35,000- lb. capacity four-post truck lift that's a little longer, the HDS35X is just the ticket to smoothly handle wide wheel bases, extended dimensions and virtually every truck in this weight class. Email or call BendPak customer service to discuss your specific lifting needs. Always make sure you get the right car lift for your specific lifting needs.

Features:
35,000-lb. lifting capacity
CE Approved and Certified. Meets or exceeds the standards prescribed by European Standard EN-1493
Extended-length runways
Supersized 12" diameter cable sheaves
Galvanized lifting cables
Grease nipples
Single hydraulic under-runway cylinder
Integrated flow restrictor
Durable powder coat
Spring-loaded safety locks
Second lock system on constant guard
Fully enclosed lifting cables
Multiple adjustable height locking positions
Maintenance-free electric hydraulic power system
Conveniently positioned operator controls
12" x 12" base plates
Non-skid runways
Optional rolling jacks
Specifications:
Capacity
Lifting Capacity* 35,000 lbs. (15,876 kg)
*Max Capacity / Front Axle 17,500 lbs. (7,938 kg)
*Max Capacity / Rear Axle 17,500 lbs. (7,938 kg)
Rise
A - Min. Runway Height: 8.5" (216 mm)
B - Max. Rise: 60" (1,524 mm)
C - Max. Lifting Height: 68.5" (1,740 mm)
Time to Full Rise: 75 seconds
Outside Dimensions
D - Overall Width: 154" (3,912 mm)
E - Outside Length: 317" (8,052 mm)
F - Overall Length: 357" (9,068 mm)
G - Height of Columns: 93" (2,362 mm)
Inside Dimensions
H - Width Between Columns: 134" (3,404 mm)
I - Drive-Thru Clearance: 109" (2,769 mm)
Runways
J - Runway Width: 28" (711 mm)
K - Length of Runways: 323" (8,204 mm)
L - Width Between Runways: 36" (914 mm) or 47" (1,194 mm)
M - Runway Centerline: 64" (1,626 mm) or 75" (1,905 mm)
N - Outside Edge of Runways: 92" (2,337 mm) or 103" (2,616 mm)
Minimum Wheelbase
Rated Capacity: 230" (5,842 mm)
75% Capacity: 195" (4,953 mm)
50% Capacity: 165" (4,191 mm)
25% Capacity: 130" (3,302 mm)
Locking
Locking Positions: 9
Lock Spacing: Every 6" (152 mm

Power Unit
Motor: 220 VAC / 60 Hz / 1 Ph
Noise: 45 dB
ACCESSORIES: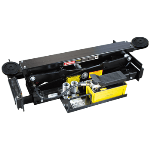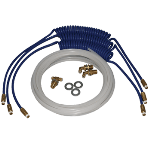 Note: An air supply (minimum: 30 psi / 3 CFM) is required for the safety-lock mechanisms to function. It is solely the responsibility of the end-user to provide, install and maintain the air supply.
*Shipping is FREE to direct points within the 48-contiguous states.
**Bendpak charges taxes to California**
**A 5% RATZ Surcharge may apply if shipping to a rural shipping point. Click here to check if you are in a RATZ zone
***It is the buyer's responsibility to unload the freight at their location.
****The Bendpak HDS-35X is an ALI Certified Lift. Click here to view its certification.
BendPak 2-Post Lifts and 4-Post Lifts
are warranted for five years on equipment structure, to be free of defects in material and workmanship. Power units, hydraulic cylinders, and all other assembly components such as turnplates, slip plates, cables, chains, valves, switches etc. are warranted for one year against defects in material or workmanship under normal use. BendPak Inc. shall repair or replace at their option for the warranty period those parts returned to the factory freight prepaid which prove upon inspection to be defective. BendPak Inc. will pay labor costs for the first 12 months only on parts returned as previously described.