Corghi A5000 with arm Touchless Tire Changer (Elect. Only)
Brand:

SKU:

C-0-11118834/00

Condition:

New
A5000 with arm Touchless Tire Changer (Elect. Only)
New automatic tyre changer with 3rd generation "Leva la leva" (Without lever) technology for vehicle, SUV and commercial vehicles wheels up to 28".
The new demounting tool with LITE SMART CORGHI SYSTEM movement reduces the stress on the tyre and NEVER touches the rim.
Numerous technical innovations: dynamic bead breaking device with double bead breaker disc, newly designed head unit (Patent Pending), wheel clamping with wheel support plate, optimised performance, reinforced structure, excellent ergonomics and userfriendly commands.
All of this means a faster operating speed without risks for the operator and the rims, even during the most critical phases, plus great ease of use and universality - for equipment whose features can be used to the fullest.
Specification
rim diameter da 13" a 28" - from 13" to 28"
maximum tyre diameter 1200 mm (47") - 1200 mm (47")
maximum tyre width 15" (dal piano appoggio ruota) - (from wheel supporting base)
tyre types processed convenzionali,low profile e Run Flat - conventional, Low Profile and Run Flat
turntable
clamping meccanico-manuale - mechanical-manual
drive system motoinverter 2 velocità - 2-speed motoinverter
rotation torque 1100 Nm
rotation speed 7-18 rpm
bead breaker
maximum bead breaking range 670 mm
bead breaker stroke 540 mm
bead breaker force 7600 N
wheel loading/unloading
operation pneumatico - pneumatic
max wheel weight 85 Kg
power supply
electric 1Ph 230V-0.98 kW 50Hz/60 Hz
electric 1Ph (alternative) 110V-0,98 kW 50Hz/60 Hz
pneumatic operating pressure 8 bar (minima) - 8 bar (minimum)
weight 425 kg (con premitallone e sollevatore)
425 kg (with bead depressor and wheel lifter)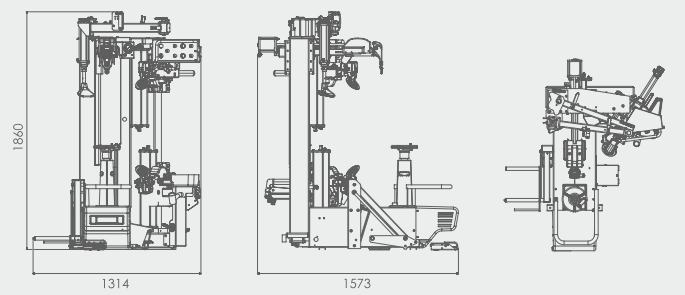 CORGHI USA Limited Warranty
General Terms
Corghi USA expressly warrants its products will be free from defects in material and/or workmanship for the time period specified. Corghi USA must be informed in writing within 7 days after discovery of a defect. Corghi USA reserves the right to repair or replace a product at our discretion. Co nsumable products and accessories such as but not limited to; plastic protection parts, bead breaker pads, inflation hoses, and rollers, are not covered under this warranty.
This warranty does not cover any damage resulting from abuse or failure to perform any necessary maintenance (i.e. damage due to or resulting from, faulty installation, neglect, misuse, improper electrical connections or electrical surges, problems resulting from excessive water, contaminated air system, or pollutant of any nature, fire or freight damage).
Corghi machines are warranted to be free of defects as follows:
Tire Changers:
A2030, A2024TI, 2024TI LL, A9824TI, A9824 LLTI, A9830, A9222TI, Service Pro 124, Service Pro 324 - 2 year parts and 1 year labor. Transmission – 10 year part only (5 year part only on 9220TI).
AM50, AM500, AM5000, AM26, Master J, Master Code, Master28 – 2 year parts and 1 year labor.
HD700, AG52L, HD1200, Monster TT – 2 year parts and 1 year labor.
NOTE: Rubber Pads, air lines, gauges, mount/demount heads, and swabs - 90 day warranty
Tire Balancers:
PL60, Service Pro 750, EM9250, EM9280, EM9580, EM9550, EM9980C, Eyelight – 2 year parts and 1 year labor.
ET66, ET88 – 2 year parts and 1 year labor.
Alignment Machines/Specialty Equipment:
2 year parts and 1 year labor.
Disclaimer & Limitation on Liability.
Corghi USA agreement to repair a tire changer or balancer is expressly in lieu of all other warranties, express, implies or statutory, including any warranties for merchantability and fitness for a particular purpose. Corghi USA maximum liability shall be limited to the cost of the machine. In no event shall Corghi USA be responsible for owner's lost profits, goodwill or other incidental or consequential damages. Corghi USA is not responsible for equipment or accessories damages in shipment. Freight claims are to be made directly with the carrier. We will be more than happy to assist you with any questions regarding filing claims.
Frequently Bought Together
Please choose options for all selected products