Challenger Lifts CL4P9S 4-Post Home Storage/Light Duty Service
Brand:

SKU:

CL4P9S

Condition:

New
Challenger Lifts CL4P9S 4-Post Home Storage/Light Duty Service
Free-standing or bolt-to-fl oor 4-post home storage/light duty service. 115v or 220v power unit single hydraulic cylinder w/ cable system
Challenger Lifts' 9,000 lbs. capacity CL4P9S, CL4P9X and CL4P9W 4-post home car lifts are perfect for light duty commercial service or storage applications. Challenger Lifts 9,000 lbs. 4 post lift and commercial service lift units give you unlimited options for your shop's layout.
Another great feature of the CL4P9 series free standing 4 post lift is its portability. You can choose between bolting it down and leaving it free-standing so you can relocate it anywhere. If convenience is important to you, the free standing 4 post lift is a great option.
With optional rolling jacks, ramp upgrades, oil drain pan, etc., you'll be able to accommodate just about anything that comes in the garage and afford room to grow with its reasonable cost.
Service Application
Professional grade quality with 80" high rise and multiple lock positions is perfect for light duty service up to 9,000 lb. capacity. Optional rolling jacks and jack trays provide quick tire and brake work access.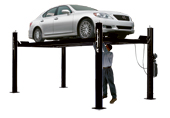 Storage Application
Service your vehicles or store them up top. With 80" rise height, most full size vehicles are easily parked underneath for everyday use. Optional drip tray set completes the storage application, keeping any fluids from contacting the vehicle underneath.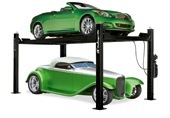 Features:
Heavy-duty commercial grade design with rigid formed columns and runways for superior strength and dependability, yet light enough to move around the garage (with optional caster set)
115v standard plug-in power unit with optional 220v version available
Versatile design allows it to be either Free-Standing or Bolt-to-Floor
Built-in runway rail system accommodates optional rolling jacks, jack trays, drip trays, and storage platforms
Single hydraulic cylinder protected under neath runway
Large molecular composite slider blocks for minimal wear and maximum dependability
Specifications:
Lifting Capacity: 9,000 lbs.
Length Overall: 17´ 51/2"
Width Overall: 9´41/4"
Inside Columns: 95"
Between Columns: 160 1/2"
Height Columns: 7´1/2"
Height of Runways: 7"
Width of Runways: 20"
Width Between Runways: 38"
Max Wheelbase: 155"
Rise Height: 73 1/4"
Motor: 1HP
Voltage: 115v
Speed of Rise: 120 Seconds.
Min. Recommended Bay Size: 11´x 22´
ALI/ETL Certified: yes
Colors Available: black.
Optional Accessories:
Challenger Lifts Warranty Agreement
Challenger Lifts, Inc. lifts are guaranteed to the original owner. CLI shall repair or replace, at CLI option, for the full warranty period those parts that prove upon inspection to be defective and pay for reasonable costs of transportation and/or labor for replacement of said parts for the warranty period stated below. This warranty shall not apply unless the product is installed, used and maintained according to CLI's specifications set forth in CLI's installation, operation and maintenance instructions. Use of any unapproved parts or accessories will void your warranty. This limited warranty extends only to the original purchaser and is not transferable. This warranty is valid only if the product has been registered with Challenger Lift, Inc., www.challengerlifts.com.
This warranty does not cover normal maintenance or adjustments, damage or malfunction caused by improper handling, installation, abuse, misuse, negligence, carelessness of operation, or normal wear and tear. In addition, this warranty does not cover equipment when repairs have been attempted or made by anyone other than a CLI authorized service representative.
This warranty is exclusive and is in lieu of all other warranties expressed or implied including any implied warranty of fitness for a particular purpose, which implied warranties are expressly excluded. No employee, agent, representative, dealer or other person or entity is authorized to give any warranties of any nature on behalf of CLI.
The remedies described are exclusive and in no event shall CLI, Inc. be liable for special, consequential or incidental damages for the breach of or delay in performance of the warranty. This warranty shall be governed by the Commonwealth of Kentucky, and shall be subject to the exclusive jurisdiction of the Court in the Commonwealth of Kentucky in the County of Jefferson.
Functional parts are any wear items, as defined from time to time by Challenger Lifts. Examples include power units, cylinders, sheaves, hoses, cables, controls, etc. and may differ depending on the model of lift.
Structural parts are items, as defined from time to time by Challenger Lifts, Inc. that are not Functional Parts and include items like carriage, columns, arms, runways, plungers, etc. and may differ depending on the type of lift.
Note: WARRANTY CARD MUST BE COMPLETED AND RETURNED UPON INSTALLATION FOR VALIDATION or WARRANTY PERIOD WILL BEGIN FROM INVOICE DATE OF LIFT PURCHASE. WARRANTY MAY ALSO BE VALIDATED BY REGISTERING ONLINE @ challengerlifts.com/register.shtml
| | | | | | |
| --- | --- | --- | --- | --- | --- |
| Description | Model/Series | Labor | Functional Parts | Structural parts | Extended Warranty Available |
| CL10 | CL10 | 1 Year | 2 Years | 5 Years | Yes |
| 10K 2-Post, 9K 2-Post | LE10, SA10, CLFP9 | 1 Year | 1 Year | 5 Years | No |
| 12K, 15K, 18K 2-Post | CL12, 15000, 18000 | 1 Year | 2 Years | 5 Years | Yes |
| 8K Inground | EVW0820 | 1 Year | 2 Years | 2 years | No |
| 10K Ingrounds | EV1020 | 1 Year | 2 Years | 5 Years | Yes |
| 12K, 15K Ingrounds | EV1220, EV1520 | 1 Year | 1 Year | 5 Years | Yes |
| 14K 4-Post | 4P14 | 1 Year | 1 Year | 5 Years | No |
| 15K 4-Post | 4015 | 1 Year | 2 Years | 5 Years | No |
| 30K 4-Post Cable Drive | 4030 | 1 Year | 2 Years | 5 Years | No |
| 30K, 40K, 60K Chain Drive | 44030, 44040, 44060 | 1 Year | 1 Year | 1 Year | No |
| Rolling Jacks | RJ, SAJ | 1 Year | 1 Year | 1 Year | No |
| Mid and Short Rise | MR-6, SRM-10 | 1 Year | 1 Year | 1 Year | No |
| Scissors | SX14, DX77 | 1 Year | 1 Year | 1 Year | No |
| Mobiles | CLHM | 1 Year | 1 Year | 5 Years | No |
| Accessories | | | 90 days | | No |
| Replacement Parts | | | 90 days | | No |

Extended Warranty
An extended warranty is available for purchase for NEW CL/EV Series lifts. The Extended Warranty must be purchased within 30 days of lift invoice, and extends the Functional Parts coverage by an additional 3 years (5 Years total). Lift must be installed by and authorized Challenger installer. Extended warranty does not apply to accessories.
Frequently Bought Together
Please choose options for all selected products