Bendpak HDS-14X 14,000 Lbs Extended 4-Post Lift
Brand:

SKU:

BP-5175173

Condition:

New
Free Shipping is valid for commercial locations within the 48 Continental U.S. only. We will contact you if Tax and shipping surcharges apply.
Free Shipping
Free Shipping is valid for commercial locations within the 48 Continental U.S. only. We will contact you if Tax and shipping surcharges apply.
BendPak HDS-14X 14,000-lb. Capacity Extended 4 Post Lift
A longer four-post lift is useful for vehicles like limos, SUVs and trucks, and that's where the HDS-14X comes in handy. We call it our "limo style" lift because of how much front-toback clearance it offers, so you can make it over or under the lift with ease. This lift adds additional versatility and craftsmanship to your garage.
Features
14,000-lb. lifting capacity
CE Approved and Certified. Meets or exceeds the standards prescribed by European Standard EN-1493
Mid to long-style approach ramps for low ground clearance vehicles
Runways include rail-kit for optional accessories
Single hydraulic cylinder mounted underneath runway
Fully enclosed lifting cables, safety locks and sheaves
Internal anti-sway slider blocks in each column
Pneumatic push-button safety release
Features heavy-duty 1/2" aircraft cable
Safety locks enclosed in columns minimize pinch points
Oversized sheave diameter reduces cable fatigue
Oversized self-lubricating cable rollers
Rugged 1.75" roller axles
Multi-position safety locks in each column
Customizable power unit location
Approach ramps incorporate built-in rear-wheel chocks
Independent backup slack-cable safety latches
Runways feature non-skid surface
Optional drive-thru ramps available
Optional drip trays available
Optional 7,000-lb. capacity rolling jacks available (Model R?BJ7000)
ETL approved
Specifications
Capacity
Lifting Capacity*
14.000 lbs. (6350 kg)
*Max Capacity / Front Axle
7000 lbs. (3175 kg)
*Max Capacity / Rear Axle
7000 lbs. (3175 kg)
Rise
A - Min. Runway Height:
7,5" (191 mm)
B - Max. Rise:
70" (1778 mm)
C - Max. Lifting Height:
77,5" (1969 mm)
Time to Full Rise:
60 seconds
Outside Dimensions
D - Overall Width:
131,75" (3346 mm)
E - Outside Length:
243" (6172 mm)
F - Overall Length:
271" (6883 mm)
G - Height of Columns:
92" (2337 mm)
Inside Dimensions
H - Width Between Columns:
120" (3048 mm)
I - Drive-Thru Clearance:
98" (2489 mm)
Runways
J - Runway Width:
20" (508 mm)
K - Length of Runways:
233" (5918 mm)
L - Width Between Runways:
34,5" (876 mm) or 41,5" (1054 mm)
M - Runway Centerline:
56" (1422 mm) or 63" (1600 mm)
N - Outside Edge of Runways:
78" (1981 mm) or 85" (2159 mm)
Minimum Wheelbase
Rated Capacity:
165" (4191 mm)
75% Capacity:
140" (3556 mm)
50% Capacity:
115" (2921 mm)
25% Capacity:
95" (2413 mm)
Locking
Locking Positions:
13
Lock Spacing:
Every 4" (102 mm)
Power Unit
Motor:
220 VAC / 60 Hz / 1 Ph
Noise:
45 dB
Shipping
Weight:
2,812 lbs. (1,275.5 kg)
Dimensions:
239'' x 22'' x 41'' (6,070 mm x 558 mm x 1,054 mm)
Note: An air supply (minimum: 30 psi / 3 CFM) is required for the safety-lock mechanisms to function. It is solely the responsibility of the end-user to provide, install and maintain the air supply.

Accessories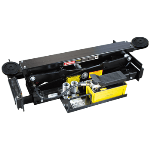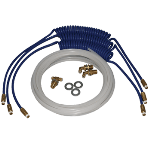 Downloads
**Bendpak charges sales tax in California**
***It is the buyer's responsibility to unload the freight at their location.
Frequently Bought Together
Please choose options for all selected products