Posted by Juan E. Chavez on 23rd May 2016
We'd all love to be able to own a shop or garage with several service bays for every kind of vehicle. But unless you're Jay Leno (and if you are -- Hi! We're big fans!), you probably have to make due with a less-than-ideal space situation in your workshop. And for many people that means a two-post automotive lift is simply out of the question.
Fortunately for DIY automotive enthusiasts and smaller shop owners, that's exactly why the automotive gods created a high-quality four-post garage hoist like the BendPakHD-9 car lift. In fact, that BendPak lift is one of the mostpopular lifts in the world, so if you're reading this right now, there's a good chance that you either have one, want one or know someone who has one.

These lifts are great because they double as both an automotive service lift AND a storage lift. You really get a lot of bang for your buck and for your space. But at the same time, the HD-9 BendPak Lift is specifically designed to engage a vehicle's wheels. While that's a wonderful way to work 90% of the time, what happens when you need to perform wheel or brake service? Are you going to wheel out the floor jacks and jack stands?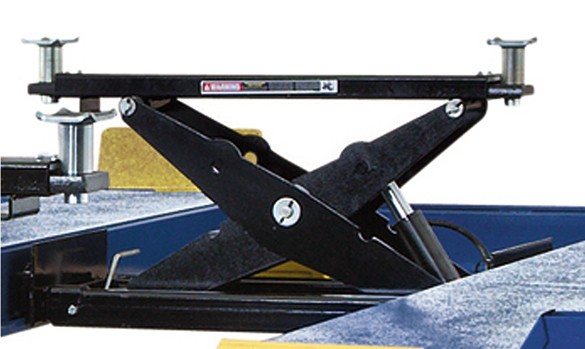 No way. You're going to get your trusty BendPakRJ-45 Rolling Bridge Jacks and convert your four post lift into a weird and wonderful automotive service mutant--someplace between 4-post, 2-post and mythical unicorn. Let me explain.

RJ-45 Changes Everything

Many four-post lifts, including all of the HD-9 BendPak lifts, have gutters along the runways. You simply lock the RJ-45 Rolling Bridge Jack into these runways and easily roll it into position. When you're good and lined up with the factory approved jacking points, raise the scissor-style RJ-45 Rolling Bridge Jack. Before you know it, the vehicle wheels are up in the air, giving you wheel assembly and brake access that you'd normally need a two-post lift to get.
These rolling bridge jacks are no slouches on weight capacity either. Just one BendPak RJ-45 rolling bridge jack can hold up to 4,500 pounds all itself. And when you get two of them together, they can lift 9,000 pounds, which maxes out the lifting capacity of all the HD-9 car lifts that BendPak makes.
Built For Ease, Built to Last

Now you can raise two or four wheels off the runways very similar to a two-post car lift, all thanks to a couple of RJ-45 scissor-style rolling jack. But these bridge jacks aren't a bare bones piece of equipment. Each one is built with the same care and materials as a BendPak four-post lift, right down to the automatic safety locks to keep everything secure. And the unique telescoping roller design on the RJ-45 Bridge Jack allows you to adjust the runways to a variety of tread widths. Who needs adapters? You've got all you need to get beneath a whole range of vehicles.

Conclusion

Not everyone has the room for a two-post car lift. But now not everyone needs it. Get even more out of your four-post lift with the RJ-45 Rolling Bridge Jack from BendPak. You'll be extremely glad you did.