AMGO 409-HP 9,000 Lbs 4-Post Lift
Brand:

SKU:

AH-409-HP

Condition:

New

Capacity:

9,000 Lbs
Shipping Calculated at Checkout
AMGO 409HP
Similar to the 408-P but longer, wider, and heavier. The 409-HP can lift 12″ higher and lift an additional 1,000 lbs than the 408-HP.
Features
9,000 lbs. capacity, which is perfect for light-duty vehicles
AMGO exclusive hidden safety locks and manual single-point release device allows for operators to unlock the safety locks from one column simultaneous.
Longer, wider, and heavier than the 408-P
Double-S shaped columns help increase the columns strength
Skid proof diamond platform provides traction for the tires to stay put.
Accessories can be taken off for less price.
Flexible Design: The power side column can be installed at any corner
Five-year Warranty on Steel Components, Three-year Warranty on Hydraulic Parts and Two Years on Electrical Components
All accessories are optional and are not included in price.
| | |
| --- | --- |
| Model | 409-HP |
| Lifting Capacity | 9,000 lbs (4,082 kg) |
| Lifting Time | 54s |
| A: Overall Length (Inc Ramps) | 230 5/8″ (5857mm) |
| B: Overall Length (No Ramps) | 196 7/8″ (5000mm) |
| C: Overall Width | 126 1/4″ (3206mm) |
| D: Width Between Columns | 112 5/8″ (2860mm) |
| E: Lifting Height | 85 1/2″ (2172mm) |
| F: Overall Height | 94 5/8″ (2405mm) |
| G: Width Between Platforms | 42 3/8″ (1077mm) |
| H: Platforms outer width | 82 3/8″ (2093mm) |
| Gross Weight | 2,183 lbs (990 kg) |
| Motor | 220V / 2.0HP |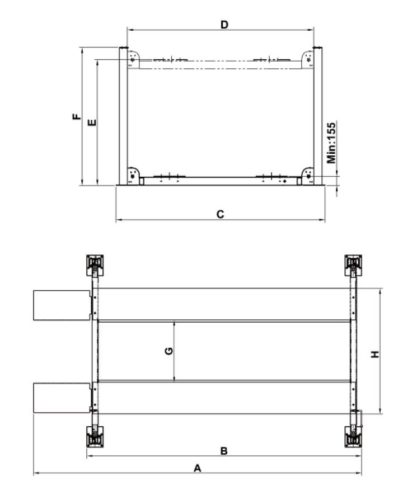 Frequently Bought Together
Please choose options for all selected products