PKS Lifts PK10ABH 10,000 Lbs Asymmetric Tall Two Post Lift
Brand:

SKU:

PK10ABH

Capacity:

10,000 Lbs
Shipping Calculated at Checkout
PKS Lifts PK10ABH 10,000 Lbs Asymmetric Tall Two Post Lift
The PK10 & PK12 are hydraulically equalized and ALI Gold Certified. Popular among dealers and independent service shops these light to medium duty lifts can handle vehicle loads up to 10,000 lb. and 12,000 lb. Our PK10 & PK12 Lifts offer a 72″ lifting height that can be further increased by using our height adapters included with every lift. PKS also offers both the PK10H and PK12H models with an Extended Height option of 76″
Constructed of maintenance free, Structural 7/8″ Fork Lift Mast Channel.
High Quality 4" sealed steel roller bearings for increased durability and strength.
Symmetrical or Asymmetrical configurations that optimize workspace.
Designed with an automatic mechanical load holding locking device.
Easy to adjust three-stage telescopic arms
Multi-position geared arm locking restraints with a single point lock release that makes arm positioning easy and rearranging quickly.
Low profile arms with 4″ of clearance from the arm pad to the shop floor.
No Equalization Cables, Chains or Overhead Beams
Clear Floor Design Optimizing shop workspace.
FEATURES:
1. FORK LIFT MAST CHANNEL AND ROLLERS BEARINGS.
2. CLEAR FLOOR FOR EASY ACCESS.
3. NO OVERHEAD BEAM WITH BURIED CONDUIT OPTION.
4. NO EQUALIZING CABLES
5. LOW PROFILE ARMS
6. GEARED ARM RESTRAIN WITH SINGLE POINT LOCK AND RELEASE.
7. THREE STAGE ARMS
8. COMES WITH A SET OF HEIGHT ADAPTERS 3" AND 6" STACK ABLE TO 9".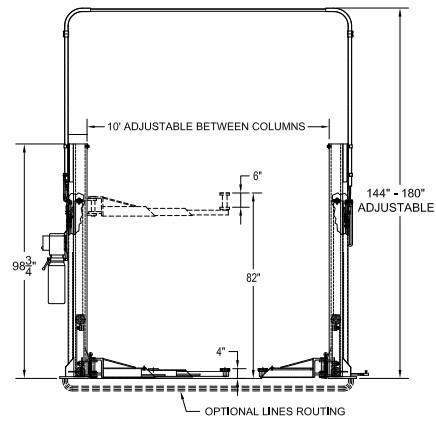 SPECIFICATION
CAPACITY. 10,000 LBS
RISE 82"
MINIMUM CEILING HEIGHT REQ'D. 152"
MOTOR. 2 HP
VOLTAGE OPTION 1. 208-230V/1 PH
VOLTAGE OPTION 2. 230-460V/3P H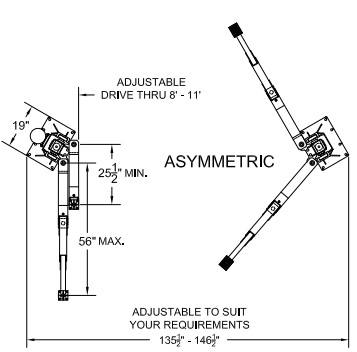 Frequently Bought Together
Please choose options for all selected products