Posted by Juan E. Chavez on 8th Apr 2020
Tire changers are specialized machines used by tire service technicians to dismount and mount tires onto the rims of vehicle wheels. The wheel and tire assembly are first removed from the vehicle to be serviced, and then placed on the tire changer, which has various different components needed for the removal and replacement of the outer rubber tire from the wheel rim. There are different types of tire changers necessary for the removal and replacement of tires on automobiles, motorcycles, and heavy-duty trucks, while recent advances in tire changer engineering and design has resulted in models of tire changers that are capable of changing both regular vehicle tires and low-profile tire or run-flat tire models.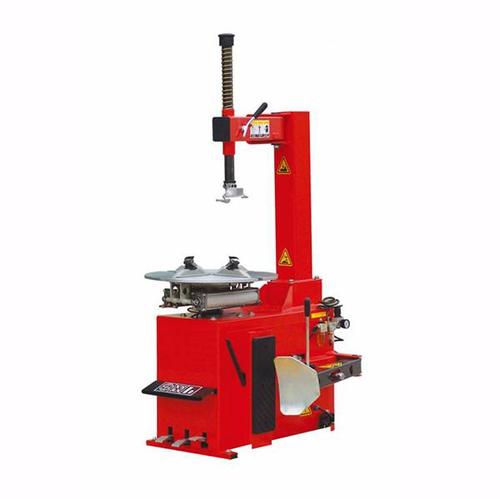 Tire changers typically have two foot pedals, with the left pedal (called the clamp control pedal) being a three-position pedal that is used to open and closes the rim clamp of the tire changer. When the clamp control pedal is activated, pneumatic pistons change the position of the four rim clamps, either moving them closer together or farther apart. The rim clamps move in unison with one another to ensure the tire to be serviced is positioned and securely clamped in place, or free to be removed from the tire changer assembly.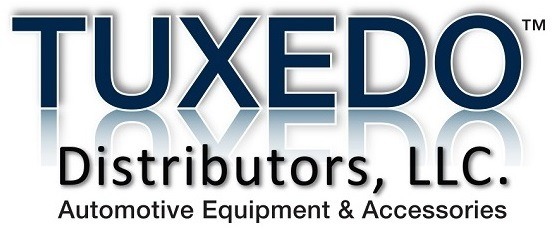 The right pedal is called the table top pedal, and is also a three-position pedal that controls the rotation of the table top where the tire to be serviced is placed. When the table top pedal is moved to the lowest position, the table top and vehicle wheel assembly spins clockwise, and conversely when the table top pedal is moved to the upper position, the table top rotates in a counter-clockwise direction. This is useful for the mounting and unmounting of the rubber tire on the rim of the wheel assembly.
Product: TUXEDO TC-430 ECONOMICAL TIRE CHANGER
The mechanism that performs the actual mounting and dismounting of the rubber tire on the wheel rim is composed of a component called the duck head, a swing arm, and a vertical slide. The duck head is so named because it resembles the tapered bill of a duck, and is positioned at the bottom of the vertical slide component. The tapered shape of the duck head allows it to fit over and around the rim of the wheel assembly, and is made either of metal or of high-impact, high density plastic.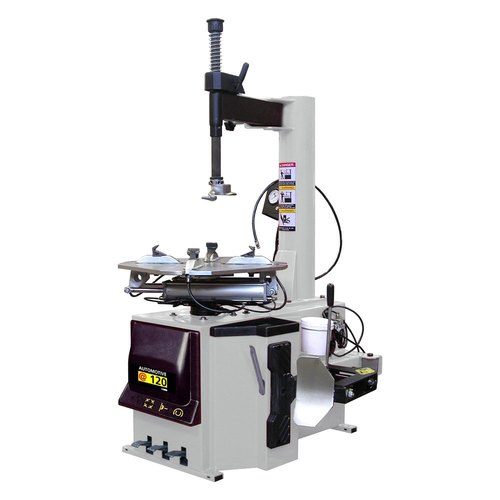 CORGHI 120 SEMI-AUTOMATIC SWINGING ARM TIRE CHANGER
FEATURES
Built-in tubeless inflating system
Spring balancing of tool-holder shaft
Simultaneous tool positioning and locking by simple lever action
Double acting bead breaker cylinder
"Square" self-centering chuck with 1 speed rotation in both directions
Vertical column incorporating air tank
The swing arm moves horizontally left or right to allow the positioning of the duck head close to or away from the rim, depending on what step of the servicing procedure is needed. The vertical slide moves up or down to position the duck head at the correct height for rims of varying widths. The vertical slide, once positioned appropriately, can be fixed in place by means of a locking handle so that it maintains the correct position around the wheel rim.
In order to inflate rubber tires mounted on the wheel rim, the tire changer features an air pressure system. The air pressure system typically consists of four parts—the air hose, an air inflation gauge, an inflation pedal, and a manual pressure bleed valve. The air hose is positioned near the top of the tire changer, and terminates in a fitting that enables it to be firmly attached to the valve stem of the tire to be inflated. Compressed air travels from a compressor unit, through the air hose, and into the tire.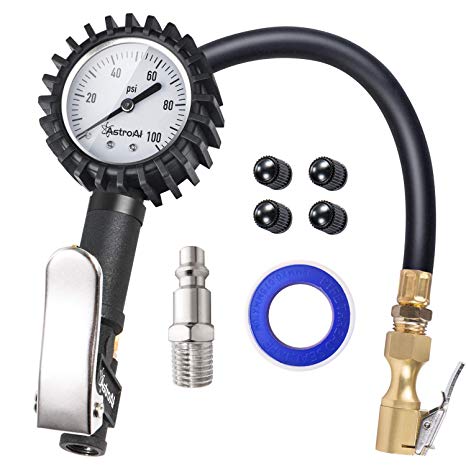 The air inflation gauge indicates the amount of air pressure (in pounds per square inch, or PSI) inside the tire when the air hose is connected to the valve stem. The pedal that controls the flow of compressed air through the air hose is typically located directly below the air hose, on the side of the tire changer assembly. When the inflation pedal is moved into its uppermost position, it triggers a rapid, high pressure blast of compressed air to be released from valves positioned adjacent to each of the four rim clamps.
This blast of air is directed toward the interior bottom edge (called the bead) of the rubber tire, which presses the bottom bead firmly against the rim of the wheel assembly so that the tire may be properly inflated. In the event that the wheel assembly is overinflated, a manual bleed valve positioned adjacent to the air hose and air inflation gauge allows for the manual release of air pressure from tire.
GET TO KNOW HOW A TIRE CHANGER WORKS
The table top and rim clamps allow for the proper positioning and rotation of the wheel in order to facilitate mounting or dismounting a tire. The table top is positioned directly above the foot pedals, and the mounting and dismounting mechanism is above it. The table top is usually in a cross or X shape, though on some models of tire changers, it is a full circle. The pneumatic rim clamps are placed in equidistant spacing around the table top, and each rim clamp can be adjusted closer to or further away from the table top center in order to accommodate wheels of various sizes.
An automatic bead loosening system (sometimes called a bead breaker) is used to break the air seal formed by the tire bead against the rim of the wheel. The bead loosening system features a rigid arm, generally near the bottom right side of the tire changer, to which is affixed a wedge or shovel shaped metal attachment, which is called the bead loosener shoe. The bead loosener shoe has a rounded edge to match the circular shape of the wheel.
The bead loosening system is activated by means of a handle or button control on the top of the rigid arm that holds the bead loosener shoe. Most models of tire changers also feature rubber pads opposite the bead loosener shoe which cushions the rim assembly during the loosening process, protecting it from damage.
Wheel changers come in different models to accommodate different types of vehicle tires. A motorcycle tire changer is typically less complex than other models of tire changers, because motorcycle wheel assemblies are generally smaller and lighter. Motorcycle tire changers generally have a simplified bead breaking system and rim clamps which must be manually positioned and affixed to the rim of the wheel assembly.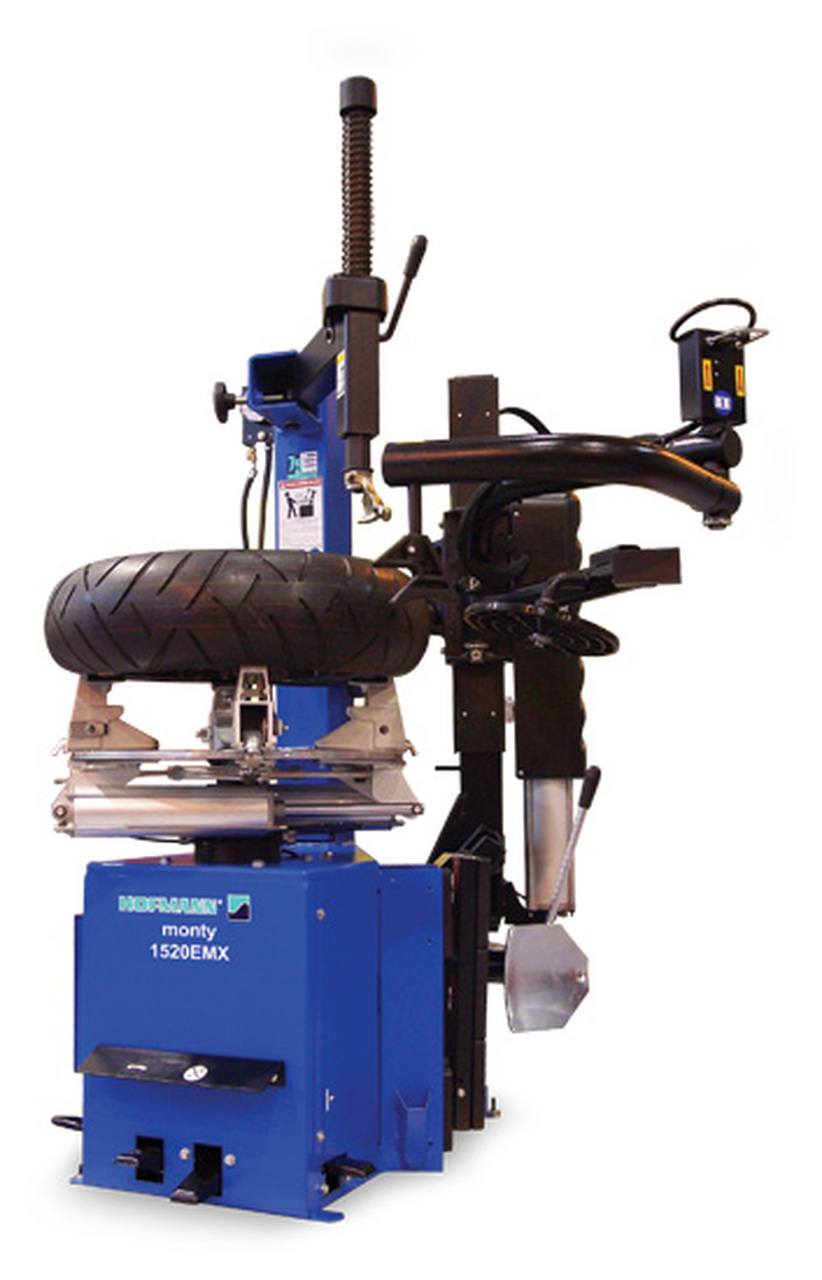 HOFMANN MONTY 1520EMX MOTORCYCLE/ATV TIRE CHANGER W/ "EASYMONT"
The Hofmann monty 1520m and 1520emx are designed to change all types of motorcycle and ATV tires, including tires on difficult Harley Davidson belt drive wheels. The clamping jaws are designed to eliminate additional labor involved in removing the brake disc, sprocket, or drive pulley when servicing a wheel. Both tire changers are equipped with standard clamping jaws that allow for changing automotive and light truck tires as well.
Features
Dual Wheel Clamping Cylinders
Dual pneumatic clamping cylinders control all four clamping jaws, eliminating damage to wheels due to slippage.
Four-Jaw Clamping Chuck
Self-centering clamping jaws powered by two pneumatic cylinders allow for tight clamping of motorcycle wheels.
Powerful Bead Breaker
5,954 lbs. of power at the bead shovel and a range of 12" wide, the monty 1520m and 1520emx provide quick and safe loosening of even tough ATV tire beads!
Innovative Design
Larger, heavier wheel assemblies require the use of heavy-duty tire changers. These heavy-duty tire changers can accommodate wheels of various sizes, typically from fifty-six inches to ninety inches in diameter, and with widths as much as forty-three inches. These heavy-duty tire changers are used primarily for farming equipment, construction or military vehicles, and for some off-road vehicles. More recently, larger models of heavy-duty tire changers have been manufactured, and are used for tires up to ninety-five inches in diameter. These larger heavy-duty tire changers typically feature hydraulically powered, self-centering chucks with four clamping jaws that can clamp anywhere from fourteen to fifty-eight inches from either the wheel's inside or from the center bore of the wheel assembly.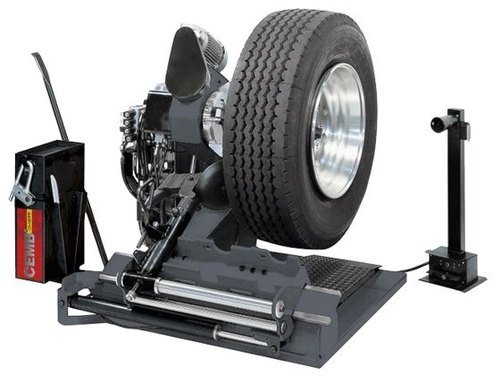 CEMB CEAVY DUTY TIRE CHANGER FOR TRUCKS AND BUS WHEELS
CM27T is a universal electro-hydraulic tire changer for truck tire dealers, bus companies, municipalities and large construction companies, featuring two operating speeds. Comes fully assembled.
FEATURES
Mobile cable control unit
Bi-directional rotation
Self centering universal wheel chuck
Rim pliers and rim lever standard
Tire changersare a fundamental piece of equipment for any automotive repair shop. Vehicle tires must be changed or replaced regularly, and investing in a tire changer means your shop can provide a necessary service to car owners, ensuring a steady stream of business. You will also want to invest in a wheel balancer, as tire changers and balancers go hand in hand. The wheel balancer assures proper weight distribution, which is a necessary step when a tire is replaced.
With so many different tire changer brands commercially available, choosing the right tire changer machine can be tricky. To be sure you invest in the right equipment, consider the needs of your shop. If you do a lot of volume, you'll need a tire changer that can handle the wear and tear of many repeated uses, and one that will be able to accommodate the widest range of tires possible. ( Check out all our brands for tire changers and wheel balancers on sale)

You may want to pay special attention to whether the tire changer you're considering can handle low profile or run flat tires, as these are becoming more common, and tire changers not designed to handle them can damage wheel assembly rims—which can cost your shop thousands of dollars. For high volume shops, you may also wish to consider a tire changer with a a power assisted mounting arm.
For lower volume shops, a more basic model of tire changer should suffice. If your shop is still using an older center-post tire changer, you'll definitely want to upgrade your equipment. Modern rims generally require a machine that clamps onto the rims, and tire changers with clamps are both easier to use and reduce the risk of damage to aluminum or alloy rims.
When considering the various available tire changers, best brand determination is difficult. Some brands, like Italian-made Corghi tire changers, are premium models, but you will pay a little more for quality. Corghi makes both regular vehicle and heavy-duty tire changer models, with some newer designs featuring advances in technology—like their new clampless tire changers. You can't really go wrong with a tire changer, wheel balancer, or other equipment from this manufacturer, though it may be overkill for smaller or lower volume shops.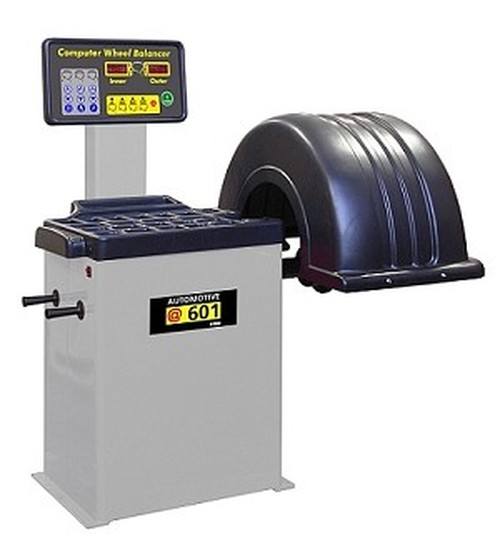 CORGHI 601 COMPUTERIZED DIGITAL WHEEL BALANCER MACHINE
FEATURES
Processing unit with 16 bit microprocessor
Digital display and LED indicators
Automatic wheel spin and end cycle brake
Unbalance values displayed in grams/ounces
Weight-holder tray and side flange support
Another great brand is Ranger, which manufactures tire changers in both high-end, more expensive models featuring built in wheel lifts and other advances that make servicing a wheel assembly almost effortless—in fact, on some of their higher end models, the service technician doesn't even have to physically touch a tire. Ranger also makes more affordable tire changers with a good selection of features, but at a lower price point. Ranger tire changers have two horsepower motors, as opposed to the more common 1.5 horsepower available on many other brands.
Other high-quality brands like CEMB, Hofmann, and Tuxedo are also outstanding choices, depending on the needs of your shop. It's important to buy a tire changer from a trusted manufacturer, and by choosing to purchase the products of one of these tried-and-tested companies, you really can't go wrong—at least in terms of quality.
There are, of course, other considerations to take into account. While you can get a car tire changer cheap, you want to be sure to buy one that will handle all the business you're likely to have. Purchasing a tire changer without doing your homework or consulting a trained expert can lead to an expensive mistake.
Tire changers are increasingly complex, and many newer models have features like hydraulic drop-rollers, tilt-back towers, swing arms, interchangeable duck heads, and more.
In general, you'll want to keep a couple of guidelines in mind. Be aware that a turntable with clamps that extend to a thirty-inch diameter (for example) generally won't be capable of servicing a thirty-inch tire. Clamps have to have room to retract before they can grab the tire, so the maximum tire size has to be smaller than the maximum extended range of the turntable. Take that into account when comparing models, and make sure the turntable on the model you ultimately settle on will extend to a sufficient diameter—and whether you'll be clamping wheel assemblies externally or internally—to handle everything your shop is likely to deal with.
Swing or assist arms are also a highly recommended feature. It does add a little to the price of the tire changer, but saves an incredible amount of time, which is sure to be a factor for most shops. Assist arms are typically pneumatically powered, lock in place, and are capable of supplying the necessary amount of pressure to securely hold the wheel assembly in place without damaging it.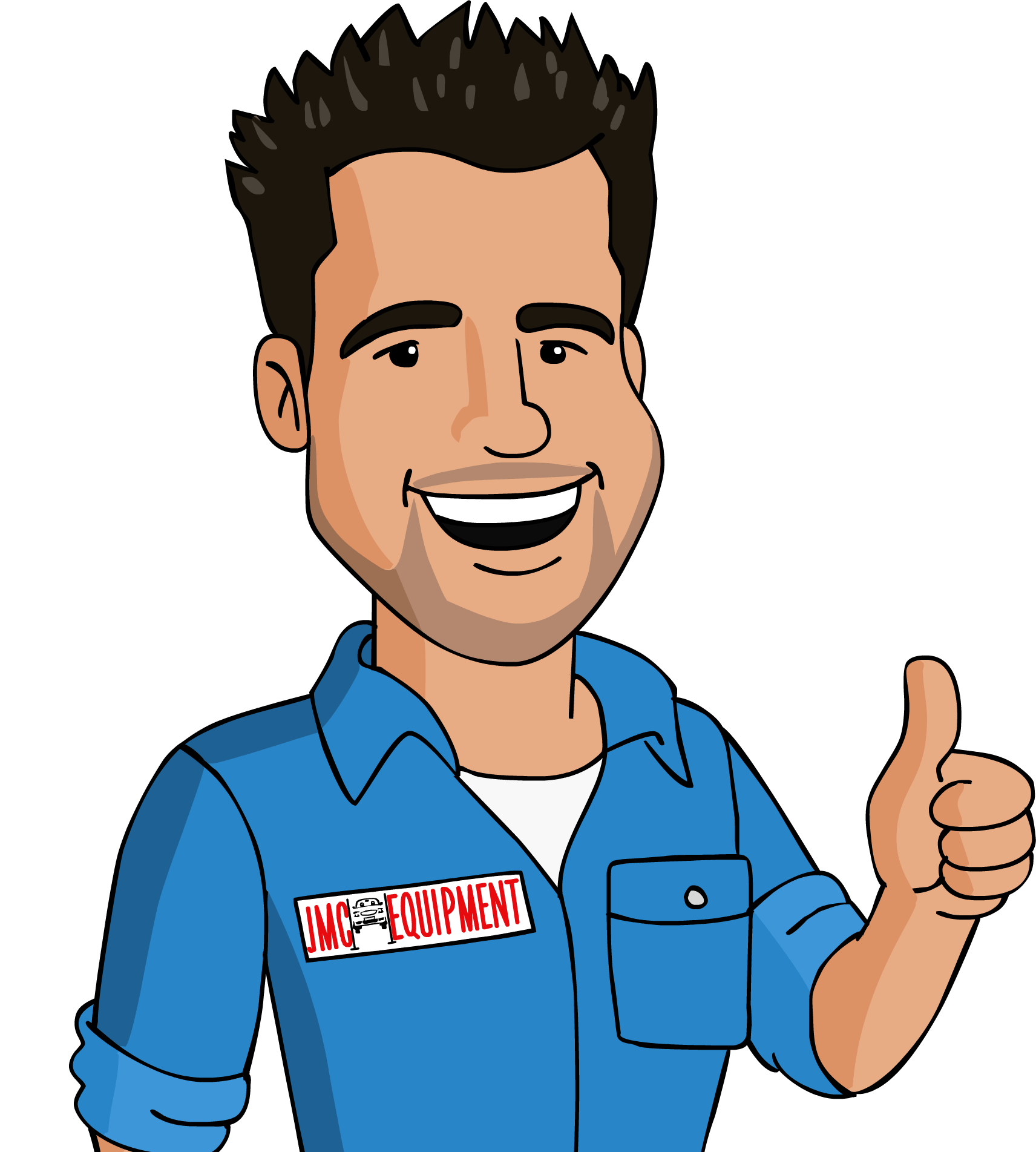 If you have any questions at all, just contact us—we welcome your inquiries, and will be able to provide you with the sort of insight and advice you need to make the right choice for your shop.
Call us: 800-562-47-91
Don't forget to follow us on social media: