Autel MAS20T ADAS MA600 Mobile Calibration Frame + software application (1Yr) + MS909 Tablet
Brand:

SKU:

MAS20T

Condition:

New
Shipping Calculated at Checkout
Autel MAS20T ADAS MA600 Mobile Calibration Frame + software application (1Yr) + MS909 Tablet

Frame w/LDW case T1&T2, MA600LDW3, Toyota LDA Target, MA600Cal1, Cal2, MA600Cal3, MA600Cal4, software application (1Yr) + MS909 Tablet
The Autel MaxiSYS ADAS Calibration solution is becoming more portable. The easy to use MA600 frame is quickly folded and disassembled for transport, to calibrate in many locations, creating a smarter service made simple. Advanced Driver Assistance System (ADAS) is becoming standard equipment on today's new vehicles. With MaxiSys calibration tools and accurate software, Autel MaxiSys ADAS MA600 is an ideal calibration tool for glass replacement and more. Portable expansive affordable. The MA600 provides LDW calibration for camera based systems. Within 2 minutes, one person can perform accurate frame placement.
MA600 provides LDW calibration for camera based systems. Within 2 minutes, one person can perform accurate frame placement.


Lane Departure Warning (LDW)MA600LDW2.0
Warns driver when vehicle begins to move out of freeway lane. Designed to minimize causes collisions: driver error, distractions and drowsiness.
MaxiSys ADAS -- MA600 Parts and Accessories
The MA600 provides accurate calibration procedures for camera based systems with accessories and oversize AVM patterns available to purchase separately. The new step-by-step tutorial graphics and fine line laser leveling process offers a quicker and more efficient vehicle centering and squaring to calibration frame procedure. It's the new generation MaxiSYS MA600, smarter service made simple.

Precise MaxiSys ADAS Calibration Software (1yr)
Based on the powerful MaxiSys platform, Autel presents the MaxiSys ADAS with the original complete diagnostic functions and comprehensive ADAS calibration. Combined with the service manual, the procedures are presented with graphic instruction.
MaxiSys MS909 Tablet
The MaxiSys MS909 features a 10-inch touchscreen tablet with Android 7.0 OS powered by an Octa-core processor (2.3GHz Quad + 1.7GHz Quad), substantial 128GB built-in memory to provide diagnostic guidance and test components to confirm repairs. The MS909 features the new MaxiFlash VCI, a combination VCI and vehicle communication tool providing faster dual Wi-Fi vehicle and network communications. The MS909 features front and rear cameras and a rechargeable Lithium battery providing 8 hours of continuous use to ensure you always have the power to scan.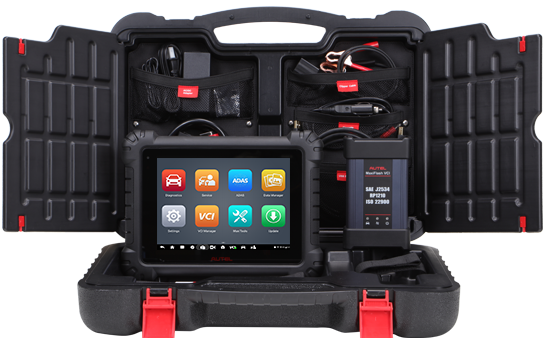 Processor
Samsung Exynos 8895V octa-core Processor (2.3GHz Quad-core Mongoose + 1.7GHz Quad-core A53)
Memory
4GB RAM & 128GB On-board Memory

Display
9.7-inch TFT-LCD with 1536 x 2048 resolution & capacitive touch screen
Connectivity
WiFix2 (802.11 a/b/g/n/ac 2x2 MIMO)
BT v.2.1 + EDR
GPS
USB 2.0 (TWO USB HOST Type A, ONE USB mini device)
HDMI 2.0
SD Card (Support up to 256GB)

Camera
Rear: 16 Megapixel, Autofocus with Flashlight
Front: 5.0 Megapixel
Sensors
Gravity Accelerometer, Ambient Light Sensor (ALS)

Audio Input/Output
Microphone
Dual Speakers
3-Band 3.5 mm stereo/standard headset jac
Power and Battery
15000mAH 3.8V lithium-polymer battery
Charging via 12V AC/DC power supply with the temperature between 0°C and 45°C
Input Voltage
12V/3A Adapter
Operating Temperature
0 to 50°C (32 to 122°F)
Storage Temperature
-20 to 60°C (-4 to 140°F)

Dimensions
(W x H x D) 304.4 mm (11.98") x 227.8 mm (8.97") x 42.5 mm (1.67")
Weight
1.66kg (3.66 lb.)
Protocols
DoIP, PLC J2497, ISO-15765, SAE-J1939, ISO-14229 UDS, SAE-J2411 Single Wire Can(GMLAN), ISO-11898-2, ISO-11898-3, SAE-J2819 (TP20), TP16, ISO-9141, ISO-14230, SAE-J2610 (Chrysler SCI), UART Echo Byte, SAE-J2809 (Honda Diag-H), SAE-J2740 (GM ALDL), SAE-J1567 (CCD BUS), Ford UBP, Nissan DDL UART with Clock, BMW DS2, BMW DS1, SAE J2819 (VAG KW81), KW82, SAE J1708, SAE-J1850 PWM (Ford SCP), SAE-J1850 VPW (GM Class2)
Warranty Information
One Year Warranty
Autel warrants to its customers that this product will be free from all defects in materials and workmanship for a period of one(1)year from the date of the original purchase,subject to the following terms and conditions:

1. The sole responsibility of Autel under the Warranty is limited to either the repair or,at the option of Autel,replacement of the scan tool at no charge with Proof of Purchase.The sales receipt may be used for this purpose.
2. This warranty does not apply to damages caused by improper use,accident,flood,lightning,or if the product was altered or repaired by anyone other than the Manufacturer Service Center.
3. Autel shall not be liable for any incidental or consequential damages arising from the use,misuse,or mounting of the scan tool.Some states do not allow limitations on how long an implied warranty lasts,so the above limitations may not apply to you.
4. All information in this manual is based on the latest information available at the time of publication and no warranty can be made for its accuracy or completeness.Autel reserves the right to make changes at any time without notice.

One year warranty: Store or dealer receipt acts as proof of purchase.In lieu of proof of purchase,tool or tablet is warranted one year from tool/tablet registration.

Repair Cost: If under warranty,your Autel tool will be repaired or replaced free of charge unless damaged(including but not limited to a cracked screen,broken case,chemical exposure or liquid damage)to accident,abuse,misuse,natural disaster,insufficient or excessive electrical supply,abnormal mechanical or environmental conditions or unauthorized disassembly,repair or modification.If the repaired unit is out of warranty,the customer will be contacted and will be responsible for the repair fee.
Frequently Bought Together
Please choose options for all selected products