Reelcraft 4625 Olp Air/Water With Hose, 300 Psi Hose Reel, 3/8 X 25Ft Hose Reel, 3/8 x 25ft
Brand:

SKU:

4625 OLP

Condition:

New
Shipping Calculated at Checkout
Reelcraft 4625 Olp Air/Water With Hose, 300 Psi Hose Reel, 3/8 X 25Ft Hose Reel, 3/8 x 25ft
Series 4000 reels are durable and compact for a wide range of applications with critical space requirements.
Hose is plumbed into the base to eliminate the risk of undue stress on the swivel
The bent tube swivel design offers a smooth hose transition onto the spool
Swivel is nested inside the spool for protection from impact and the environment
The reliable speed latch allows for positive locking of the spool in two positions per rotation
All steel components are powder coated for maximum corrosion resistance
Robotically welded steel base offers maximum strength and consistent quality
Made in the USA
Reel Specifications and Dimensions
| | | | | | | | | | | | |
| --- | --- | --- | --- | --- | --- | --- | --- | --- | --- | --- | --- |
| Weight | Series | Hose I.D. | Hose O.D. | Hose Length | Pressure | Hose End | Inlet | Reel Outlet | Hose Included | Max Temperature | UPC |
| 20 lbs | 4000 | 3/8" | 0.600" | 25' | 300 psi | 1/4" NPT(M) | 3/8" NPT(F) | 1/4" NPT(F) | Yes | 150 °F | 699567000143 |
| | | | | |
| --- | --- | --- | --- | --- |
| A | B | C | D | E |
| 12.875" | 12.625" | 8" | 2.5" | 5.625" |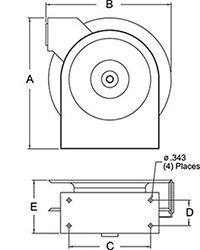 Fluid Path Materials
| | |
| --- | --- |
| Internal Fluid Path | Steel |
| Swivel Assembly | Copper |
| Swivel Seal | Buna |
Parts/Accessories
| | | | | |
| --- | --- | --- | --- | --- |
| Hose Assembly | Bumper Stop | Pivot Base | Swing Bracket | Swing Bracket |
| | | | | |
| S601013-25 - 3/8 in. x 25 ft. Low Pressure Air/Water Hose | 1-HR1004 - Adjustable Bumper Stop | S600608 - 340° Pivot Base | 600993 - Wall Mounted Universal Swing Bracket | 600626 - Wall Mounted Universal Swing Bracket |
CAD Drawings
Downloads
Warranty Information
Limited Warranty
For 2 years (1 year for Series LD, LG, LH cord reels, and reel covers; 6 months for hose and light bulbs) from the date of shipment, products manufactured and/or sold by Reelcraft Industries, Inc. ("Reelcraft") shall, when properly installed, maintained and operated in accordance with the recommendation of Reelcraft and the manual of instructions, be free of defects in material and workmanship at the time of shipment. In no event shall Reelcraft be obligated under this warranty or otherwise in any way whatsoever for normal wear and tear or for any product which, in Reelcraft's sole and exclusive determination, has been subjected to accident, abuse, misapplication, improper repair or alteration, improper installation or maintenance, excessive operating conditions or for defects or failures resulting from purchaser's specifications or designs, or otherwise caused by purchaser, including without limitation defects or failures resulting from purchaser's manufacture, distribution, sale or promotion of its own products. A failure to use circuit breakers on electric motors, filter, lubricators on air motors, and flexible inlet connections on live hose reels will void the express warranty stated above in this paragraph. EXCEPT FOR THE EXPRESS WARRANTY STATED ABOVE IN THIS PARAGRAPH, REELCRAFT MAKES NO OTHER WARRANTIES, INCLUDING, WITHOUT LIMITATION, ANY EXPRESS OR IMPLIED WARRANTIES OF MERCHANTABILITY, FITNESS FOR A PARTICULAR PURPOSE OR ANY OTHER WARRANTIES, WHICH ARE HEREBY DISCLAIMED, WHETHER EXPRESS OR IMPLIED BY LAW, COURSE OF DEALING, COURSE OF PERFORMANCE, USAGE OF TRADE OR OTHERWISE.
Equipment, products, components and hoses not manufactured by Reelcraft are subject to the original manufacturer´s guarantee and warranties. Hoses carry a 6 month warranty as listed by the manufacturer. Reelcraft will assist in filing claims, but does not have any additional responsibility if original manufacturer denies warranty claim.
Product built to customer specifications and requirements or products incorporating variation from cataloged items are considered special and are not subject to cancellation or returnable for credit under any conditions.
Reelcraft reserves the right to modify or alter product, dimensions, design and construction to improve performance.
Please refer to Reelcraft's Terms and Conditions of Sale
In the event of any conflict between this Warranty Information statement and the Terms and Conditions of Sale, the Terms and Conditions of Sale shall control.
Warranty Return Protocol
Contact our customer service at 800-562-4791 and request the Return Goods Coordinator for the authorization number. Warranty claims will require the following information before a return authorization number can be issued:

Product/model number
Serial number
Invoice number

Additional information regarding a specific reason for return will be required in processing your request.
If a replacement is required prior to Reelcraft receiving your return, the items being sent will be invoiced to your account until the warranty process is completed.
Once given an RGA number all corresponding inquires, paperwork and boxes will require this number. Reelcraft reserves the right to refuse returns without an RGA number.
Upon receipt of your warranty return and all the warranty conditions are met, a credit memo will be issued to your account and forwarded to you for your records. If there is a problem with your return a Customer Service representative will be in contact with you to discuss this further.
If you desire, a warranty report is available to be forwarded or discussed with you regarding your specific return and our findings. Please contact our Return Goods Coordinator at 800-562-4791.
Frequently Bought Together
Please choose options for all selected products