Why You Can't Afford to Overlook the TP10KAC-D by Tuxedo Lifts
For a long time, Tuxedo Lifts has been the car lift industry's best kept secret for quality garage equipment. See, unlike bigger names like BendPak and Challenger, Tuxedo Lifts automotive repair equipment usually doesn't come with the bigger price tag to match. That can mean huge savings for the price-conscious DIYer, automotive enthusiast or shop owner. And there's no better example of this than the TP10KAC-D two-post clear-floor asymmetrical lift.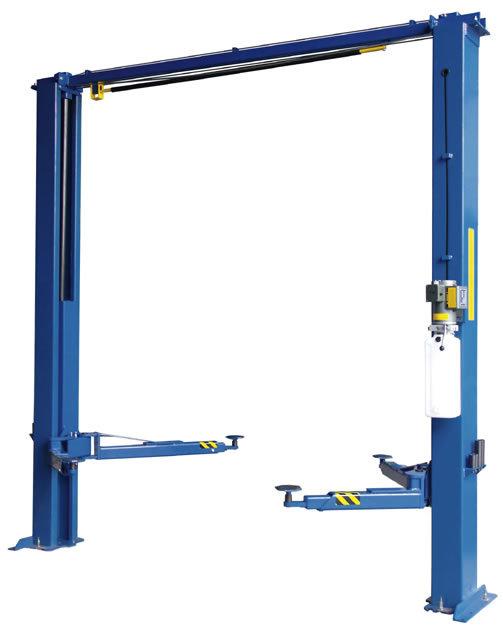 On its own, even before you consider the price tag, the TP10KAC-D by Tuxedo Lifts is already an extremely attractive piece of car lifting machinery. A 10,000-pound capacity two post vehicle lift, the TP10KAC-D employs the industry-leading direct drive cylinder design that pulls the car upward instead of pushing. Without chains and bearings to wear out, the TP10KAC-D sports an exceptionally long lifespan. The TP10KAC-D car lift is an asymmetrical model, which means you can lift almost any kind of vehicle, even if the weight is not evenly distributed. Additionally, theTP10KAC-D's clear-floor design will keep your work area free from potentially hazardous obstacles. Tuxedo Lifts was also wise to build the TP10KAC-D asymmetrical two-post lift with a single-piece column design for extreme structural integrity. Plus, with its extra long 44" carriages, there is a significant reduction in stress placed on the slider blocks. In fact the Tuxedo Lifts TP10KAC-D adopts many of the exact same innovations that you might expect to see on a BendPak or Challenger lift--just at a deep discount.
It's clear that the Tuxedo Lifts TP10KAC-D has got the goods to take your automotive shop or home garage to the next level. Even so, some folks feel uncomfortable purchasing a so-called "off brand" lift. It's not an unusual phenomenon. Consumers are also more likely to buy Advil and Tylenol instead of ibuprofen or acetaminophen although they are identical. But it should be noted that a couple of economists from the University of Chicago found that people in the know (in this case, doctors, nurses and pharmacists) tend to go for the savings over the big brand name. So it should come as no surprise then that in the automotive repair industry, insiders also have an incredibly high opinion of the value offered by the TP10KAC-D by Tuxedo Lifts.

But if you're still on the fence, there's one piece of information that should tip the whole thing for you. The Tuxedo TP10KAC-D is 100% ALI/ETL certified. That's right, Tuxedo Lifts put their TP10KAC-D two-post asymmetrical lift through the exact same punishingly rigorous third party certification that BendPak and Challenger use on their certified lifts. And it came out with a nice fat approval stamp. Well, it's more like a gold sticker. But you get the idea. You don't need to take anyone's word for the quality of this behemoth of a car lift--it's backed by hard scientific research and conforms to numerous government regulations. It doesn't get any more legit than that. Not too shabby for a so-called "off-brand" lift.

A couple years from now, Tuxedo Lifts might indeed be on the same level of fame and notoriety as BendPak or Challenger. But why wait until then? Score an incredible deal on the ALI/ETL certified, two-post, asymmetrical, 10,000-pound TP10KAC-D while it's still relatively unknown to most people outside of the automotive service and repair equipment industry. And by the time Tuxedo Lifts is a household name, you'll be able to proudly say that you had a TP10KAC-D long before they got too mainstream.