When it comes to installations, no one knows more about safety and efficiency than JMC Automotive Equipment. We have sold and successfully installed hundreds of lifts in the past years and this week we're going to give you the inside story on our latest installation, Challenger Lift's revolutionary DX77 Double Scissor Lift.
Challenger Lift Double Scissor Lift DX77
Challenger Lift's DX77 is a 7,700 lb. capacity scissor lift that takes up very little space and features state of the art technology (made in Germany by the company MAHA) that is not found on all other lifts of its same size and type. It was engineered with productivity in mind and its diamond plated flip-up approach ramps allows the platform to extend to accommodate longer wheelbase vehicles. The DX77 can be installed above ground or flush mount.
DX77 Above Ground Double Scissor Lift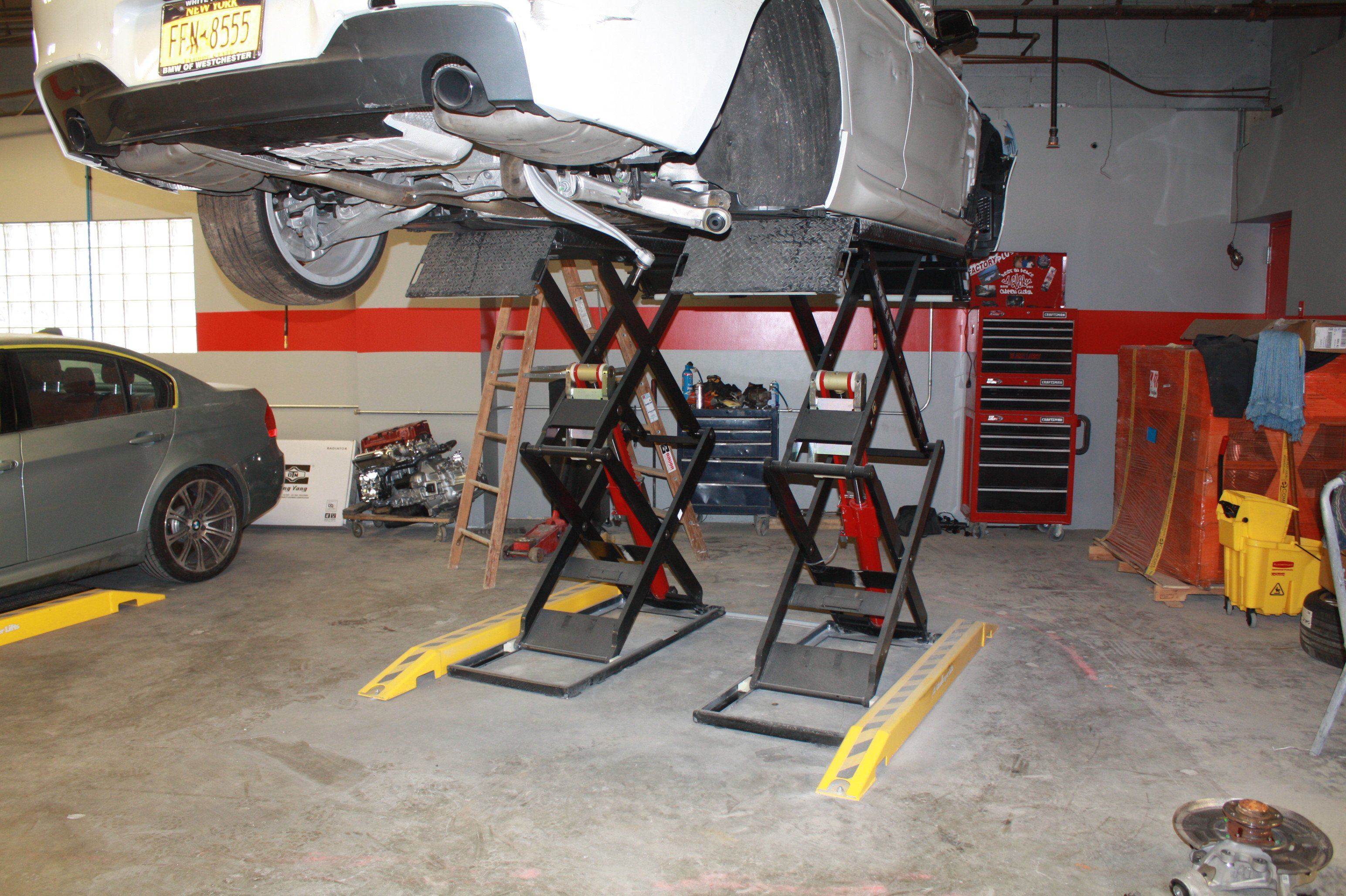 Innercity Automotive (Bronx New York)
DX77 Flush Mount Double Scissor Lift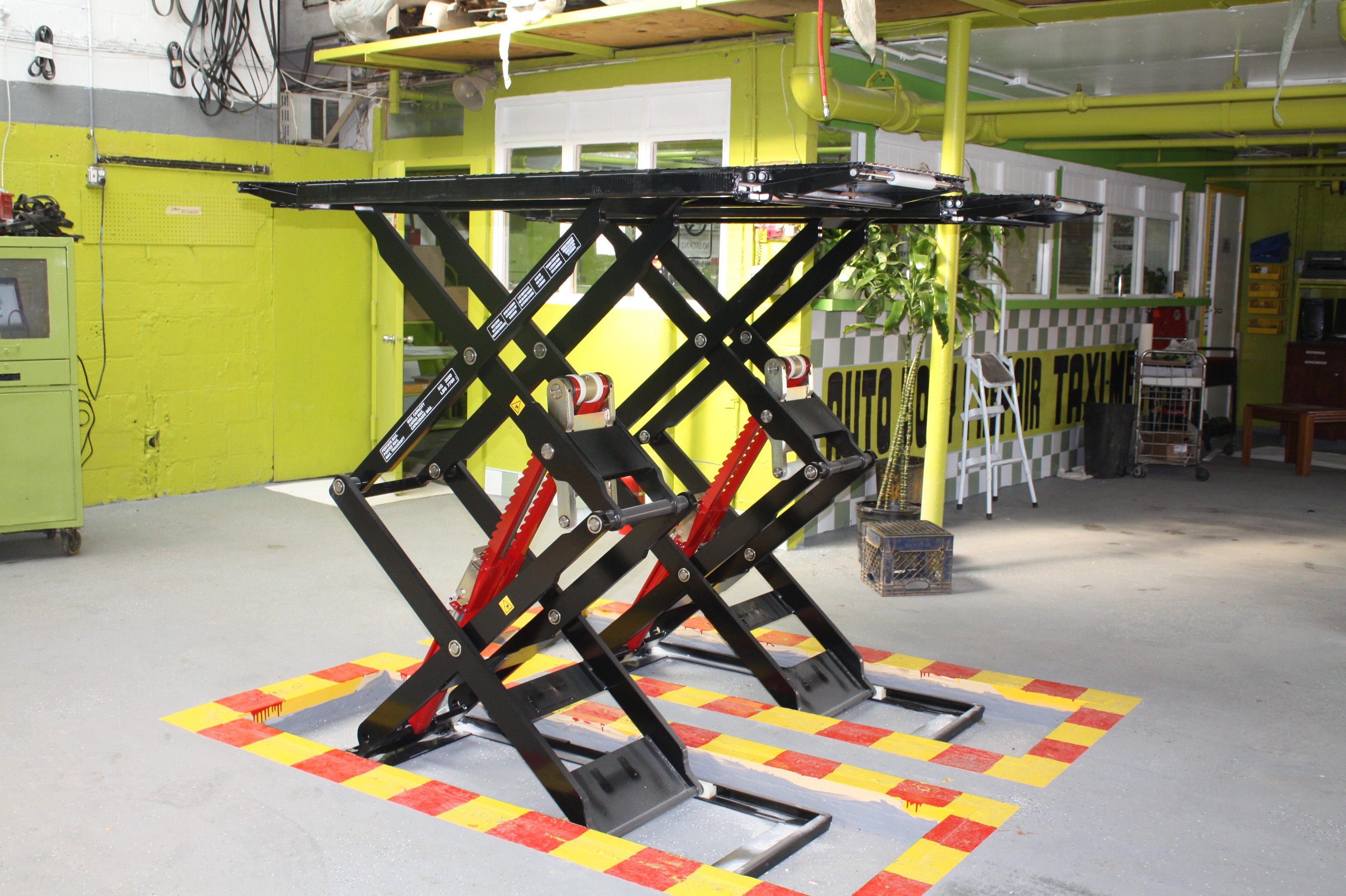 Hybrid Autobody and Repair Long Island City
Above Ground vs. Flush Mount
We won't go into detail of the benefits of scissor lifts in comparison to all other types of lifts but one of the main advantages is the open center between raised platforms allows the technician to have access to the "middle" of the underside of the raised vehicle. You also have just enough distance between the platforms to allow the operator enough room to roll a transmission jack under the vehicle.
Above Ground
In our humble opinion there are very few advantages to owning an above ground lift in comparison to the flush mount. The biggest advantage (and many would argue, the only advantage) would be you can save some money by not having to dig the hole.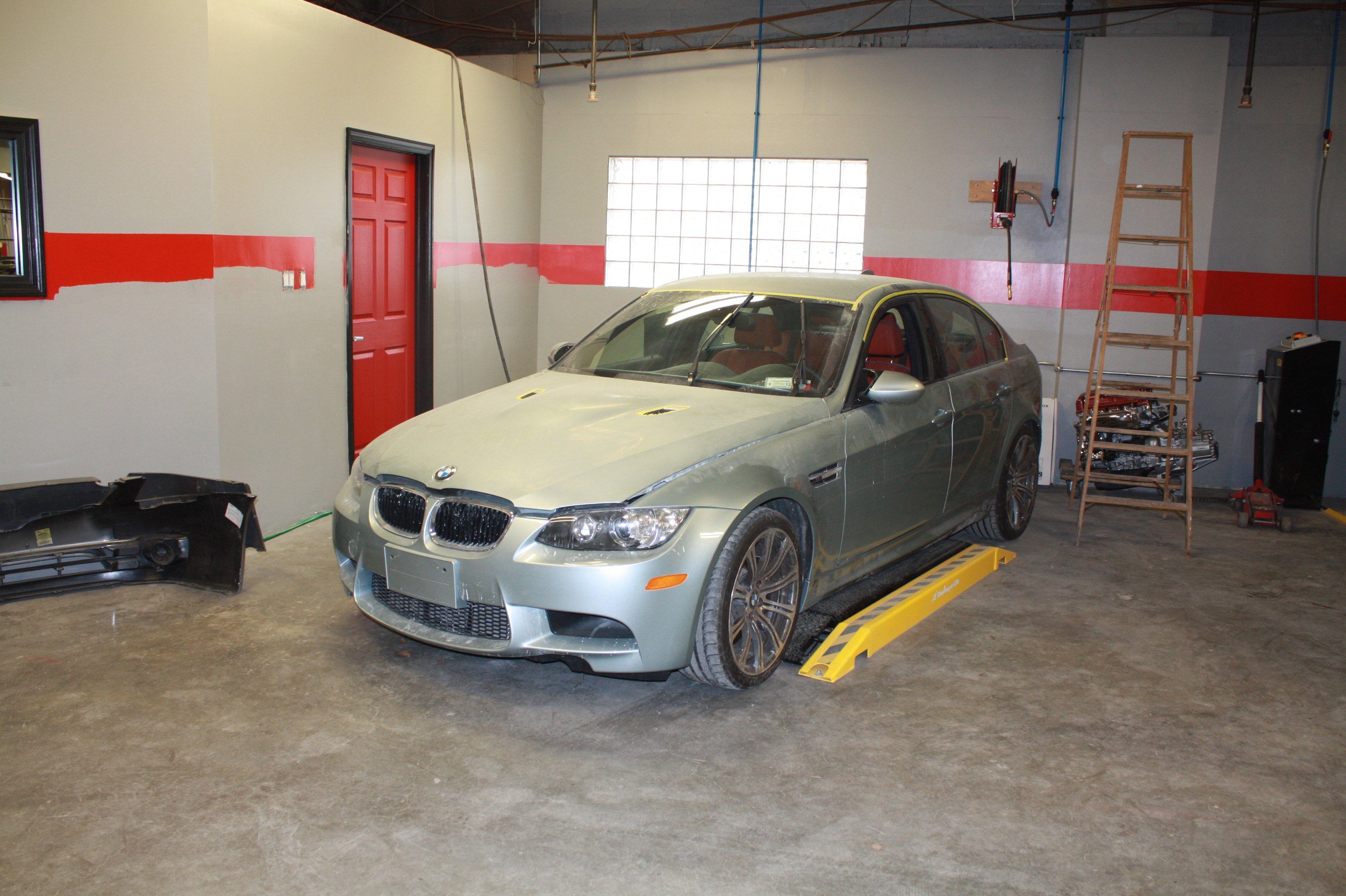 Above ground lifts take up unnecessary space that can be used to properly station vehicles.
Flush Mount
The flush mount installation requires more time and money mainly because of the person performing the installation having to dig a hole about 10 inches deep. In a big city like New York or Los Angeles, the excavation of this hole can cost you anywhere between $3000-$3500 while in other smaller cities $1000 will do. However, if you like the "clean floor look" for your service department, the flush mount DX77 might be what you were looking for. The flush mount DX77 allows your techs to open all of the doors completely without fear of bumping the doors on the inside of the columns.
Flush mounted installations are a great choice for service facilities that need to increase the number of car lifts per garage service area square foot. If your service area needs narrower lifts, keep in mind that the DX77 Double Scissor Lift can be 75% narrower than above ground 2 post lifts and 4 post lifts.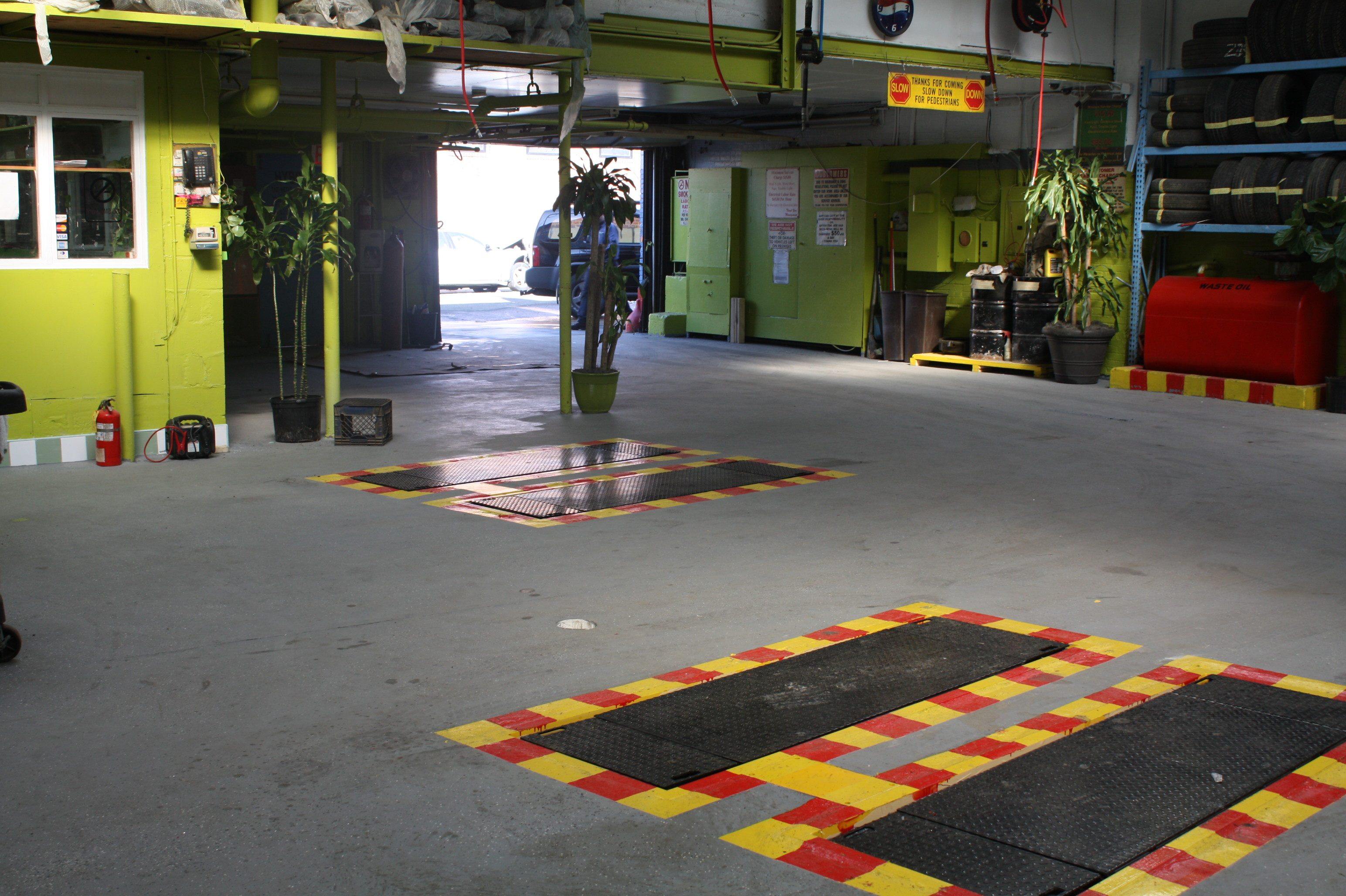 Flush mount lifts are virtually invisible and when not in use you can easily park multiple cars.
Challenger Lift Double Scissor Lift DX77 Features and Specs
The DX77 has many features and benefits that make it an important piece of equipment that will benefit any garage or shop. Please see the following image and description.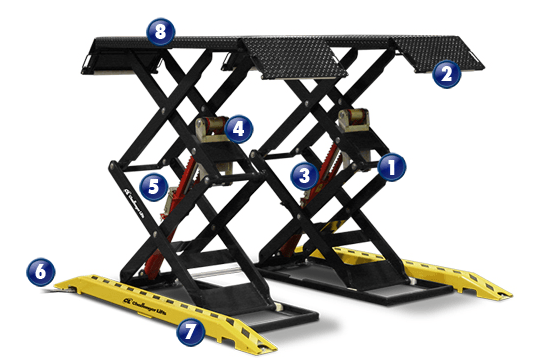 It features double scissor lifting for taller rise allows more overall working clearance.

Its reinforced diamond plated ramps can be easily flipped up in order to extend the platform even further.

It has a mechanical safety lock with an air actuated release which allows your technician to work at a comfortable height which improves working conditions and increases productivity.

Its lift transition cam provides a smoother rise as well as descent.

A state of the art hydraulic system facilitates easy lifting of up to 7,700 lbs.

The power unit console has 3 simple buttons: Raise, Lower and Lock Release.

It can be installed above ground or flush mount. (see 2 images above)
Advantages
Strength and Durability
Despite its size and ability to occupy less space than its competitors, the DX77 has an innovative raining lever which allows a more powerful full lifting force regardless of height range. Smaller wheel based vehicles are guaranteed to have wheel free access and the DX77 can be customized to accommodate low clearance vehicles as well as narrow framed vehicles.
Safer than Ever
Each of its two scissors is equipped with a synchronized redundancy system that increases its reliability even through years of demanding and heavy usage. Also, every DX77 is equipped with an emergency shut off function and its pipe breakage safety function adds security in the lifting cylinders.
Size, Space and Ergonomics
The real value added feature is its size therefore the space it takes up. Up to five DX77's can be installed in the same space that would normally support three four post lifts allowing you to service more vehicles in one day (if you purchase more than one DX77) and your ROI to increase faster. In addition, 40 second lifting and lowering time, results in increased turnaround time and revenue.
Electronic-Hydraulic Equalization
The DX77 uses a two cylinder system with a cable pull potentiometer which electrically measures cylinder movement and automatically equalizes the travel of each runway. It also does not require manual synchronization.
Disadvantage
Price
The DX77 being a Challenger Lift product is significantly more expensive than other double scissor lifts of its size and capacity. It takes up less space but the price can be anywhere between $8000-$9000 on average.
Conclusion
The DX77 is great for quick lube stations, car dealerships, automotive workshops and tire shops looking to increase productivity by having a lift that takes up very little space. The price might surpass most shop's budget for a double scissor lift but the name Challenger Lift is synonymous with quality and durability. If that isn't enough you know that in a big city shop that services multiple vehicles per day, the DX77 provides a rapid ROI thanks to being able to have more lifts in less space ultimately increasing the number of vehicles serviced in one day.