Bendpak XPR-18CL-192 18,000 Lbs Extra-Tall Clear-floor 2-Post Lift
Brand:

SKU:

BP-5175411

Condition:

New

Capacity:

18,000 Lbs
Bendpak XPR-18CL-192 Extra Tall, 18,000 2 Post Car Lift
Shops that work on massive fleets and vehicles need a powerful car lift with a small footprint, so only BendPak's 18,000-lb. capacity XPR-18CL will get the job done safely and
efficiently. It offers the most lifting capacity of any two-post lift we make, which means you get the best column, carriage and frame component construction we offer.
With an XPR-18CL two-post car lift, you will service an incredibly diverse array of vehicles. High-capacity twopost lifts are commonly known as "all-service" lifts. Given their versatility, they're the most common lift type found in professional shops. And, because they're going to be in so many shops, it's important that the XPR-18CL can lift any vehicle that falls well under the max weight capacity.
XPR-18CL-192 lifts include:
Direct-drive technology for rapid ascent/descent and low maintenance
Optional column extensions for even higher capacity
Lowered arm tube supports for better clearance to minimize the chance of vehicle damage
Maintenance-free UHMW load bearings for long service life
Dual-synchro equalization technology for safer, stable working conditions
XPR-18CL-192 Characteristics:
Lift Capacity: 18,000 lbs.
Height: 193"
Width: 155"
Lift height: 69"
Type: Clear Floor
Features:
18,000-lb. lifting capacity
Padded overhead safety shutoff bar
Extended height top-beam provides greater overhead clearance
Single-point safety release
Dual direct-drive hydraulic cylinders
Dual-synchro equalization system for equal lifting
Oversized 53" tall carriage for superior strength and durability
Electric / hydraulic power system
Oversized A36 steel base plates
Self-lubricating dura-glide UHMW polyethylene bearing system
Safety locks in each column spaced every 3"
Plated arm restraints and arm pins for rust prevention
Heavy-duty 1/2" aircraft-quality equalizer cables
Oversized cable sheave diameter reduces cable fatigue
Durable, rubber lift pads with stackable adapters
Multi-piece adapter set includes four 6" stackable adapters, four 3" stackable adapters, four polyurethane contact pads and four frame cradle pads. Ideal for trucks and vans with running boards or auxiliary fuel tanks.
Convenient storage is included for truck and van adapters
Versatile drop-in contact pads with stackable adapters
Specifications: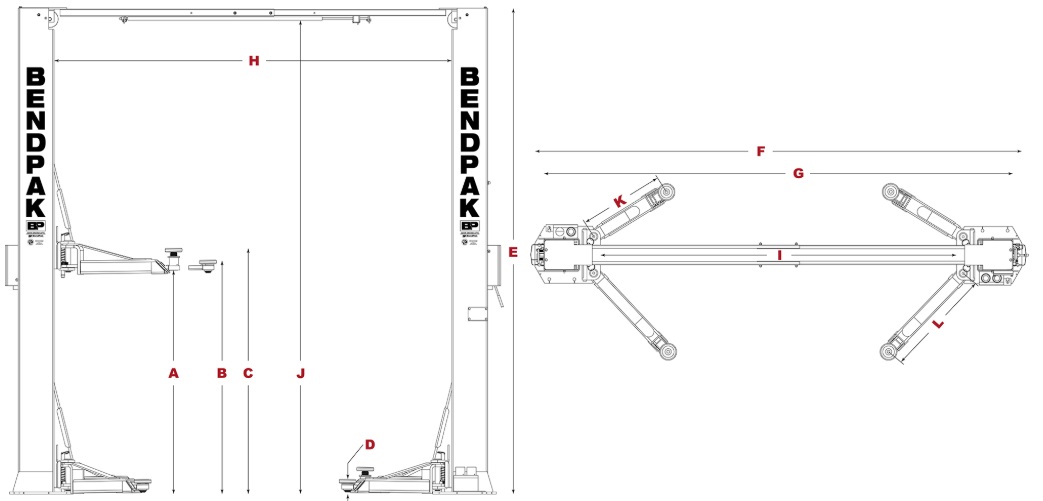 Capacity
Lifting Capacity* 18,000 lbs. (8,165 kg)
*Max Capacity / Front Axle 9,000 lbs. (4,082 kg)
*Max Capacity / Rear Axle 9,000 lbs. (4,082 kg)
Rise
A - Rise: 69" (1,753 mm)
B - Rise + Pad Only: 74" (1,880 mm)
C - Rise + Pad + 63 mm Adapter: 80" (2,032 mm)
D - Min. Height + Pad: 5" (127 mm)
Time to Full Rise: 45 seconds
Outside Dimensions
E - Height Overall: 170" (4,318 mm)
F - Width Overall: 155" (3,937 mm)
G - Outside Columns: 144" (3,658 mm)
Inside Dimensions
H - Inside Columns: 120" (3,048 mm)
I - Drive-Thru Clearance: 106" (2,692 mm)
J - Floor To Overhead Switch: 165" (4,191 mm)
Arms & Pads
K - Front Arm Reach: (MIN) 39" (991 mm)
K - Front Arm Reach: (MAX) 60" (1,524 mm)
L - Rear Arm Reach: (MIN) 39" (991 mm)
L - Rear Arm Reach: (MAX) 60" (1,524 mm)
Max Load Per Arm 4,500 lbs. (2,041 kg)
Power Unit
Motor: 220 VAC / 60 Hz / 1 Ph
Noise: 45 dB
ACCESSORIES
WSA-100 STEEL LIFT PADS FRAME CRADLE PADS RUBBER LIFT PADS
*Shipping is FREE to direct points within the 48-contiguous states.
**A 5% RATZ Surcharge may apply if shipping to a rural shipping point. Click here to check if you are in a RATZ zone
***It is the buyer's responsibility to unload the freight at their location.
****The Bendpak XPR-18CL-192 is an ALI Certified Lift. Click here to view its certification.
**Bendpak charges taxes to California**
Frequently Bought Together
Please choose options for all selected products