Posted by Juan E. Chavez on 21st Sep 2014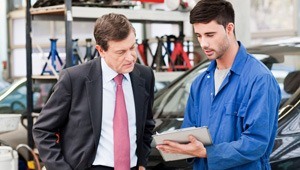 We would all love to live in a world where we can close a sale on the spot, that would be ideal. The truth is the majority of people that come into a place of business or receive an over the phone sales call need some warming up before they decide to take the plunge and accept your product/services.
Being in the Auto Repair business gives you a great advantage over other businesses. Remember you are providing a product and service that is a necessity and not a luxury. People need their cars to be kept in tip top shape in order for their lives to function harmoniously. The person that is driving 25 miles a day to work sees their car as an essential part of their life, keep that in mind the next time a customer comes strolling into your shop.
If you are thinking of extending your businesses reach by implementing a phone sales campaign you might find yourself being stumped by a customer's objection. This is to be expected but don't worry, JMC is here to help! We here at JMC Automotive Equipment have compiled a list of the top 3 objections you might encounter and how to overcome them. Enjoy!
I am not interested!
If you've ever dealt in sales you might be familiar with this one. Makes sense that someone would answer this way. It's straight to the point and stern. The thing is, most people may say this before they even get to hear about the great product and services you are offering. It's your job to let them know the great service you can provide, and fast! You may also try throwing in a line that puts them in the same category as a well known company, such as "You know that's exactly what so and so company said before they heard of how greatly we can lower their yearly maintenance expenses". That line alone says lots about your business.
1)That you are a reputable business
2)You have competitive prices
I do not have the money right now.
This is a reasonable objection. But remember, building a strong client base is not always about making the sale at that second. Take the potential clients statement and make them feel at ease by letting them know that they are not obligated to buy anything from you at the moment. Let them know that your primary goal is to inform them on the great services and products your auto shop offers. Introduce yourself properly and get as much info as you can from your potential client. As the months go by continue to do follow ups to see how they are doing. If you stay fresh in their minds you will be the first they call on when they have car trouble.
I'm too busy right now!
Use this rushed statement to your advantage. Take what they said and flip it. If they state "I'm too busy" or "Send me some info" go straight to the part in your sales pitch where you request a meeting so you can show them all that your company offers. You can try saying something like "I totally understand, as a business owner I am always on the run. Tell you what, instead of wasting each other's time on the phone why don't we just meet. How's Wednesday at 10am?" By responding in this manner you are showing your potential client that there is no logical reason why they should decline. You are basically taking the assumptive tone in this approach.
In sales you may encounter these type of objections but don't fret, with the proper technique and rebuttals you will be able to move your business in the right direction. Remember, always portray yourself as sharp and a leading authority in your field and you will get people listening to the information you are about to bestow on them.
Have you come across any other objections? And if you have, how have you handle them?