Posted by Juan E. Chavez on 6th Jul 2016
If you're looking at this article, chances are you've already figured out what tons of motorcycle owners around the world have known for decades: working on and maintaining your own bike saves you time and money. But up until now, chances are you've been doing it the scrappy way (AKA, the kind of dangerous way) with one of the following:
A. A run of the mill automotive floor jack with all the security and lifting surface of a wine glass.
B. Roller stands or wheel chocks which are designed for your bike but keep your bike on the ground level.
C. One of those portable motorcycle/ATV lifts that require a lot of straps, padding/towels and modifications to be any use.
D. Something else very imaginative with all manner of straps, chains and homebrew welds that falls somewhere between Rube Goldberg machine and Cirque du Soleil.
Look, creative innovation is a cornerstone of the DIY lifestyle. We're all about it. But there's definitely something to be said for using the right tool for the right job. And when you're ready to get serious about your own Motorcycle Maintenance, there's nothing safer (for you and the bike) and more convenient than an honest-to-goodness table style motorcycle lift. Which is exactly why we recommend the 1,000-lb. capacity Titan LDML-1000L Motorcycle Lift.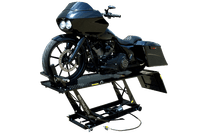 The LDML-1000L Titan Motorcycle Lift is considered a basic model. But anyone who has been jury-rigging their motorcycle maintenance and repair will tell you, this motorcycle lift is downright luxurious. 12-guage steel construction gives the LDML-1000L lift a solid, secure lifting backbone. Meanwhile, an industrial-strength air over hydraulic pump unit lifts you up where you belong via removable foot control pedals while a safety lock bar keeps you there. Plus the whole thing is wrapped in a midnight black powder coat finish that's equal parts durable and badass.
So let's talk about the LDML-1000L's convenient features, starting with the detachable motorcycle ramp. Just roll your bike or chopper up on to the diamond plated table and then ditch the ramp when you're wrenching. And while you're at it, you can gain unprecedented rear wheel access by removing the cleverly disguised rear wheel dropout, too. The Titan LMDL-1000L motorcycle work table has built in tie down rings, but you'll also be able to use the to keep your motorcycle vertical with the heavy-duty, rubber padded wheel vise--a firm but gentle hand to hold your bike or chopper in place while you get down to business.
Oh yeah, the LDML-1000L motorcycle really moves, and we don't just mean up and down. The thing's got high-quality swivel casters that let's you position and reposition the unit wherever works best for you. This is ideal for long-term projects that need to occasionally get moved out of the way while you work on more pressing matters. Or, you know, let your spouse park in the garage once in a while.
When it's time to get serious (and a little less creative) about your motorcycle maintenance, the LDML-1000L motorcycle lift is the perfect way to get started. With 10,000 pounds of motorcycle lifting power, the LDML-1000L is everything you need in a motorcycle lift and nothing you don't. Plus, at a price point under $500 on JMC Equipment, it's not just the most convenient choice. It might be the smartest choice too.