JMC's Foolproof Formula to Earning more Business | JMC Auto
25th Sep 2015
Create your Very Own Auto Repair Website with JMC
There's been a lot of talk the past few weeks about making more clients and money through an auto repair website and auto repair shop marketing tips but talk is cheap and JMC is here to help you begin your web presence.
We're not only auto repair equipment distributors but we're also the source for all of your auto repair marketing needs so if you're just tuning in, please be sure to read our previous articles titled Top 4 Tips to Build a Busy Website for your Shop and Grow your Business with an Auto Repair Shop Website.
Part 1 - Preliminary Meeting
Creating the website that will ultimately be the face of your repair shop can be a daunting task. For that reason we make sure to handle the difficult part thus giving you more time to tend to your shop.
We begin by a simple meeting via telephone where we interview you, ask about your shop, clientele, goals, philosophy and general expectations with the website. We then ask you to provide us with examples of great repair shop websites you wish to model oneself on. This part is important because it gives us the very foundation we need to provide you with an outline or layout of what your auto repair website will look like.
If you feel you're not very tech savvy, don't worry, we will guide you through this meeting, making sure all of your doubts are cleared and we promise that by the time we check off this step, you will know enough about the outline of a website to go home and start jotting down ideas.
The topics covered in this meeting will be, look and feel (colors, homepage content, navigation and pages) and functions.
Part 2 - Layout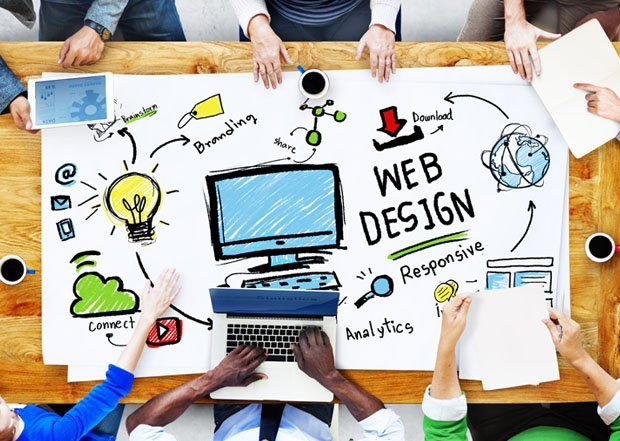 Part 1 is probably the most important step for the simple fact that it allows us to know how much experience you have in the digital marketing world. Many shop owners have steered away from the internet and don't know much when it comes to making decisions in terms of look and feel of a website. When this occurs our graphic design team works diligently to provide you with a layout that will match the description you previously provided us with of your business. We like to keep things simple and in less than one week you will have your potential homepage layout as well as one subpage.
Part 3 - Revisions
After we've provided you with a layout, the next step would be for you and your team to analyze it, take notes and let us know what you would like changed. After those changes have been implemented and you give us the green light, we will move the project on to the development stage.
Step 4 - Development and Making Live
After both homepage and subpage have been approved please allow for a few weeks while our development team creates a functional layout you can actually navigate around. Here you may provide feedback, ask for changes and make comments on the work we've done thus far.
How much will this cost me?
You're probably wondering how much will this project cost me and the simple answer is, it depends. There are many factors when it comes to creating a website and not all websites are the same. Similar to when a customer comes into your shop wanting to know right away how much will the service their car requires cost, a website for your shop depends on many things but our basic website design and development packages begin at $500.00 for which you will receive an up and running website in a matter of weeks. The price fluctuates depending on bells and whistles you want added on your site.
Aside from being one of the leading automotive distributors in the country, we also want to help shop owners gain more clients and become more active in the digital world. Your success is our success and by owning a website for your shop, you're taking the much needed step to growing your business.