According to NHTSA, in 2020, 664 vehicle accidents resulted in fatalities, and all were caused by a flat tire. As simple as it may seem, having a flat tire is extremely dangerous to drive with. That is why having a good tire changer can be of immense help. If you're thinking about getting good motorcycle tire changers, this article will help you make the right choice.
What to Consider in a Tire Changer?
A high-quality tire changer is an essential piece of gear you should have. When it comes to choosing one, you should note several factors:
Cost-efficiency: A reliable tire changer does not have to cost a fortune. But if it's on the pricier side, make sure it's worth it.
Durability: A tire changer needs to last more than a month. Renowned tire changer manufacturers offer a lifetime warranty on their tire changers against product malfunctions. If you maintain your gear properly, it can easily become a once-in-a-lifetime investment.
Ease of use: How easily you can use this tire changer should also be a top consideration. Even if some products look like massive contraptions, they must be simple to use.
Our Selection of the Best Motorcycle Tire Changers Available at JMC Equipment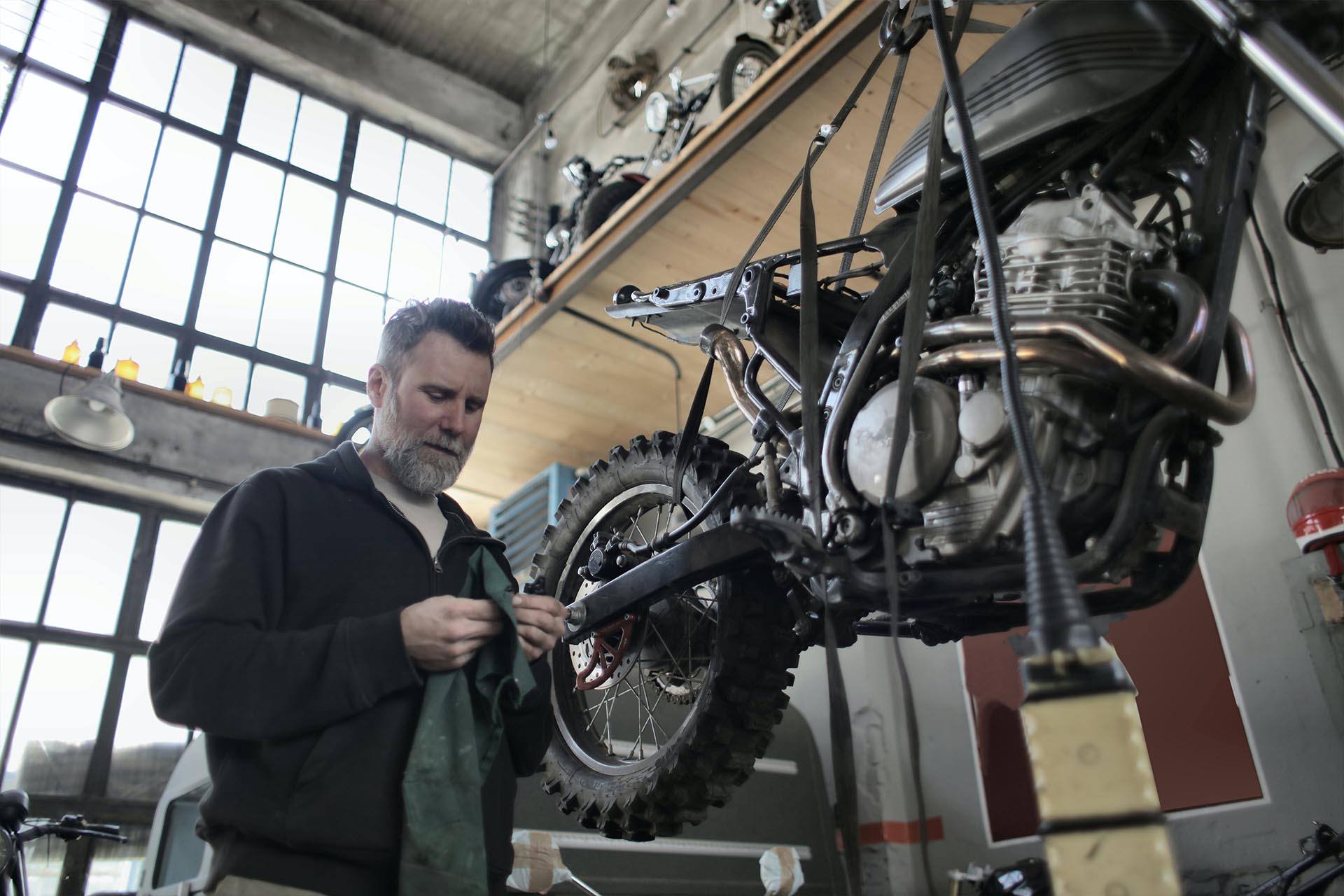 To help you with your decision, we've shortlisted the best tire changers you can find at JMC Equipment. The models we've recommended are reliable, affordable, and easy to use. Let's break down the basics of these models we handpicked for you.
MC Equipment TC-400M-B Motorcycle Tire Changer
Designed especially for motorcycle wheels, the TC-400M-B motorcycle tire changer comes with an adjustable clamp seat, four pneumatic clamps, and a double-acting cylinder. This device can withstand 125 psi of working pressure, so you know it's up for some heavy-duty work.
Moreover, the TC-400M-B comes with a water separator, a lubricator, and an air pressure regulator and is best for a maximum wheel diameter of 37" and wheel width of 10". Satisfied customers have had it easy setting it up and handling the gear, and have not encountered a hiccup with changing bulky motorcycle tires.
iDEAL TCWB-PSC206M-iDEAL Tire Changer & MC Wheel Balancer (Hand Spin) Combo w/ MC Adapter Kit
The iDEAL TCWB-PSC206M-iDEAL is a tire changer/wheel balancer combo that will come in handy whenever you need to balance the tires on your bike or change a flat. Our pick comes with some super useful specs like adjustable turntable clamps, a protective bead breaker shovel cover, five balancing modes, an LED digital display, a high-precision balancer main shaft, as well as an outside clamping for bike wheels.
This tire changer/wheel balancer is perfect for small-diameter wheels and bike wheels. Satisfied buyers rely on the combo whenever they want to save a trip to the body shop (and money) to balance their car's tires.
iDEAL TC-400M-B-iDEAL Ps Tire Changer
The iDEAL TC-400M-B-iDEAL Ps motorcycle tire changer is designed with ATV tires in mind, boasting an outside clamping capacity of 6" - 24". The elevated clamps make it easy to attach most bike wheels with discs. With features like the swing arm design, an adjustable clamp seat for an extended range, and four pneumatic clamps, you can rest assured the tire is nicely secured.
Satisfied buyers appreciate the plastic clamps that prevent damage as much as the electric table rotation and the handheld inflation option.
Hofmann HOFCOMBO1 MONTY1270 CHANGER +7100 BALANCER
The next model is intended for general repair shop use. Thanks to its swing-arm design with a slim footprint and an outside clamping range of 20", the Hofmann HOFCOMBO1 MONTY1270 allows for space-saving installation that is particularly useful in small shops. The bead breaker cylinder allows for accurate rim handling, while the plastic protectors shield alloy rims nicely.
People who have bought this tire changer are particularly fond of the tire lever included in the kit, as well as the max wheel width of 13'', wheel diameter of 39.4'', and a rotation speed of CW 8 rpm CCW 8 rpm.
Hofmann Geodyna 7200S Wheel Balancer with LCD Monitor
Last but not the least, the high-performance wheel balancing system that's a superb choice for all shops – Hofmann Geodyna 7200S! The LCD monitor above the small footprint compliments the overall design while adding a compact niche that professional auto shop workers appreciate.
Specs like Quick Nut wheel clamping, a 40mm shaft diameter, a measuring speed of <200 rpm, a balancing accuracy of 0.035 (1g), an angular resolution of ±0.35°, and a manual rim diameter range of 8" - 32" make the Geodyna the ultimate tire changer and wheel balancer.
JMC Equipment Makes Choosing Motorcycle Tire Changers Easy
Whether you want to invest in an all-around tire changer for your shop or are looking for air polishers, there's nothing you won't find at JMC Equipment! Plus, with our coupons and assisted financing options for our esteemed customers, your purchase will be quick and easy.
Get in touch with us today – we'd love to help you make the best choice in motorcycle tire changers!