As the effects of the COVID-19 pandemic stretched on, people found new hobbies to help them cope with the stress brought about by the situation. One of those pastimes is car restoration.
Due to the safety measures in place, classic car aficionados now have more time to spend on their hobby, leading to a rise in online sales of vintage vehicles. For example, an 8-day Mecum auction in July in Indianapolis, for instance, sold a total of $74 million in cars, including a 1965 Shelby Mustang worth $3.85 million.
If you're one of the people who recently started a hobby in car restoration, you should know that the success of your project relies on the right set of tools. Besides the basic mechanic tools like wrenches and ratchets, you need proper garage equipment to perform the necessary bodywork and paintwork on your car.
JMC Automotive Equipment shares four car restoration tools and equipment every car restoration beginner should have.
1. Tire Changer
Many car restoration hobbyists are hesitant to invest in a tire changer since they can save a lot of money by just changing the tire themselves. But if you're working on a vintage vehicle, a tire changing machine can help make your project go more smoothly as it helps protect the rim and tire from accidental damage.
Leverless tire changers are the best option for vintage car restoration purposes. This type of tire changing machine lets you mount and demount tires without using metal tools, which speeds up the process without the risk of damaging the wheels. It's the ideal equipment for high-end or delicate wheels that can easily get scratched.
2. Air Compressor
Several auto body repair tools are powered by an air compressor, including your impact wrench, grinder, and paint spray gun. Make sure to choose an air compressor that's the right size and type for the kind of automotive work you're doing.
For a home garage, an 80-gallon 5 HP air compressor should be enough. This gives you enough air capacity for sanding, die grinding, and painting an entire car. You can check out this selection guide by Grainger to help you choose the right type of air compressor.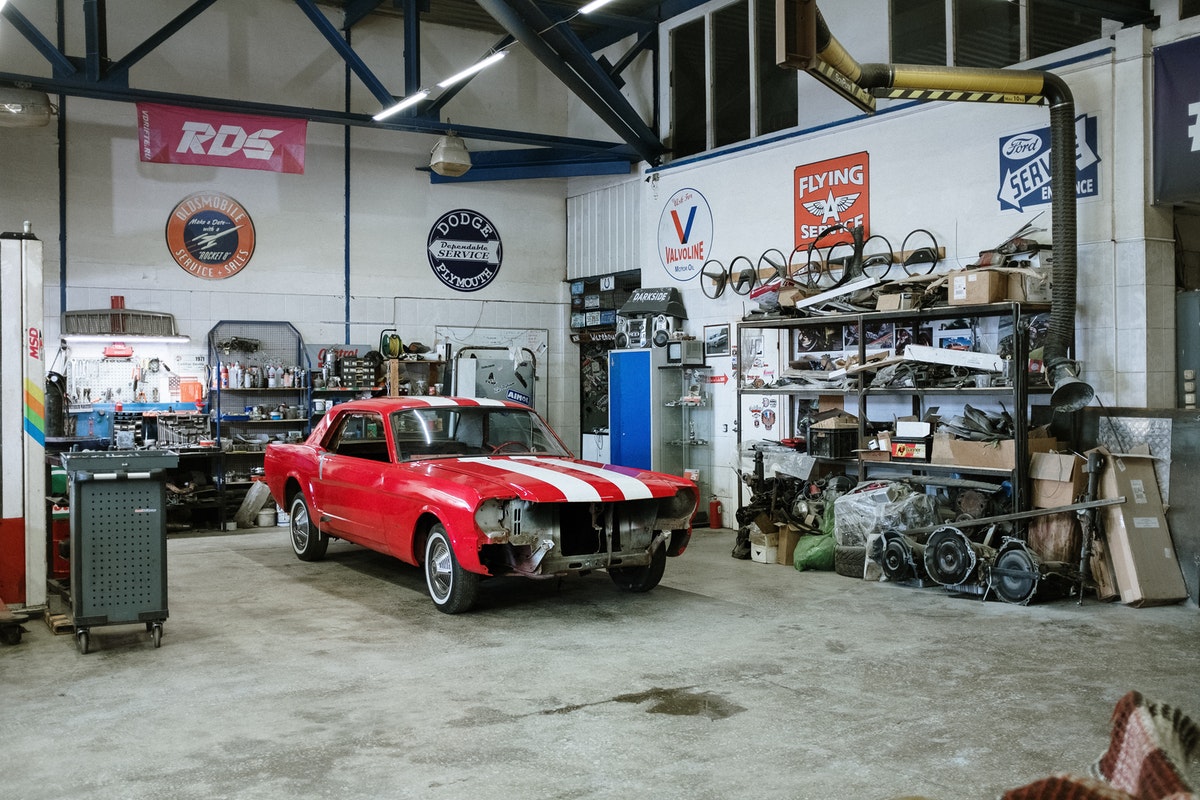 3. Angle Grinder
This versatile tool is a must-have for every car hobbyist. Although it's mainly used for bodywork, you can also use it to remove rust, cut metal, and buff edges.
We suggest buying an angle grinder with an adjustable handle. This makes it easier for you to maneuver the tool while grinding or cutting, allowing you to use either hand when working. You also want the guard on the grinder to be adjustable so you can reangle it depending on the direction of the debris and sparks.
4. Car Lift
We recommend investing in a car lift instead of getting multiple jack stands. A lift raises vehicles completely off the ground, allowing you to work on the under chassis more comfortably and safely.
You can get a 4-post alignment car lift if you need more space to park your cars. This lets you lift one vehicle then park another one underneath. But if your garage can't fit a 4-post lift, a 2-post would suffice. It takes up less space, is easier to install, and is more affordable compared to 4-post lifts.
If you need help outfitting your garage for your car restoration hobby, you can always ask for advice from your auto supplier. Tell them the exact vehicle you're planning to restore and all the work it needs, and they'll recommend tools that can make your project easier.
Looking for auto equipment for your home garage?
JMC Automotive Equipment has been the partner of car hobbyists and auto shop owners for over 10 years. We carry an extensive range of high-quality automotive equipment, from tire changers and alignment lifts to auto body and power tools. With JMC Automotive, you'll find everything you need to restore your classic car.
Visit our online store now to buy quality tire changers, car lifts, and other car restoration tools.