Attention auto repair shop owners, if you're the type of person that believes that believes in doing everything yourself, you might be setting yourself up for disappointment. Yes, it is your business and yes no one wants your shop to succeed as much as you do. However, you need to delegate duties and realize you can't do everything yourself. You may know how to perform every task your auto repair shop requires (and if you don't, we encourage you to please learn) but that alone doesn't mean you should attempt to do everything on your own. Here are 3 Things Auto Repair Shop Owners Can't Do.
Do Everything on Your Own
Just because it's your shop, doesn't mean you should put the weight of every shop task on your shoulders. You hired employees and each and every one of them has responsibilities that should be taken care of with the utmost sense of ownership, otherwise, why have them around?
One mistake we as business owners make is worry ourselves with fixing cars, paying bills, making coffee, manage staff, stock shelves and water the plants. This is not only time consuming but also costing you money. You may think this saves your staff time so they can perform other tasks but your skills as repair shop owners are better used taking care of the paperwork and making sure your staff has a steady workflow and customers keep coming in. If you have extra time on your hands, sure, help out around the shop with menial tasks such as watering plants, and making coffee (in fact, this will let your staff know you're not just going to sit back and give orders all day) but don't make it your daily priorities.
In a small business you do have to wear multiple hats but really analyze what your role as an owner/administrator/supervisor is.You can't do everything, and if you attempt to do so, you might not be performing these tasks as well as they can be done.
Juggle Multiple Tasks Simultaneously
Even after you delegate tasks to your subordinates you might find that you still have a ton of work to do. Owning a business can be very rewarding but we don't have to tell you the amount of responsibilities you have on a daily basis. For that reason we advise you to organize your responsibilities for the day/week/month and pick which ones are top priority and which can wait. There are always tasks that can wait and it is for that reason that when you focus your efforts on one task at a time, you'll find your work to have better results and tasks completed more efficiently.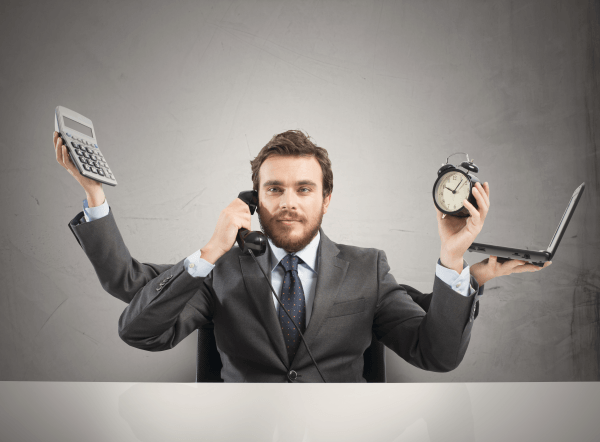 Make a list of all of your tasks and rank them from most to least important and start by going down the list. Some of these tasks may include a few call backs, buy coffee for the waiting room, call your mom (just kidding) etc. Once you have all your tasks ranked, make yourself a to-do list with the aforementioned tasks and you'll find it quite rewarding once you start checking them off.
Expect to Please Everyone
As people we are generally hard to please and as business owners we always aim to keep everyone happy. This can lead to internal problems and will eventually crash. For that reason, always do your best in every task you perform but keep in mind that there are difficult customers, delays and miscellaneous problems that can occur at any time. Example, on the top of your list was have Mrs. Sanchez' car serviced by 3 but Will your technician had a family emergency, entered the shop late and did not finish until 4. You obviously have an upset Mrs. Sanchez but if you're honest from the beginning and do something beyond fixing the problem (see our article 6 Ways to Handle a Dissatisfied Customer in your Auto Repair Shop).
The three main people that you have to deal with on a daily basis are employees, vendors and customers and it is for that reason that you need to be a little more on the assertive side and know that you're doing your best to keep people happy and if for some reason that's not happening, it isn't the end of your shop or the world. I'm not saying be a jerk (find out how people view you) but be assertive. If vendors don't like the way you do business, call and complain. If your employees don't want to abide by your rules, try to reason with them and if not, that's on them if they need to find a new place to work. It even applies to customers. You know customers should always be given the benefit of the doubt but there are some that are just plain difficult. Be as calm as you can and always promote smiles, make them look like the bad guys, and if this fails, well, they will be another shop's problem now.
What other things do we as shop owners do that we should stop doing?
#mc_embed_signup{background:#fff; clear:left; font:14px Helvetica,Arial,sans-serif; width:300px;} /* Add your own MailChimp form style overrides in your site stylesheet or in this style block. We recommend moving this block and the preceding CSS link to the HEAD of your HTML file. */

(function($) {window.fnames = new Array(); window.ftypes = new Array();fnames[0]='EMAIL';ftypes[0]='email';fnames[1]='FNAME';ftypes[1]='text';}(jQuery));var $mcj = jQuery.noConflict(true);