Bendpak HD-9SW 9,000 Lbs Super-Wide 4-Post Lift
Brand:

SKU:

BP-5175023

Condition:

New
Bendpak HD-9SW 9,000-lb. Capacity Super Wide 4 Post Lift
To accommodate extra-wide vehicles on a 9K capacity fourpost lift, choose the HD-9SW. We also offer a variety that offers 82" of overhead clearance: the HD-9SWX. The "SW" stands for super-wide, and it's the ideal car lift to double your parking and/or service wider vehicle types. The taller "X" model is also idea for taller wrenchers looking for a little more headroom underneath. The extra overhead also makes it possible to park higher-clearance vehicles.
Features:
Standard rise
Shorter runway for smaller spaces
Runways accommodate wide or narrow vehicles
Runways include rail kit for optional accessories
Electric / hydraulic power system
Single hydraulic cylinder mounted underneath runway
Fully enclosed lifting cables, safety locks and sheaves
Internal anti-sway slider blocks in each column
Oversized self-lubricating cable rollers
Oversized sheave diameter reduces cable fatigue
High-speed lifting
Features heavy-duty 3/8" aircraft cable
Rugged 1.25" roller axles
Multi-position safety locks in each column
Adjustable lock ladders
Runways feature non-skid surface
Push-button pneumatic safety release
Independent backup slack-cable safety latches
Inside runways adjust for different tread widths
Customizable power unit location
Removable approach ramps for additional drive-under clearance
Optional drive-thru ramps available
Optional drip trays available
Optional solid deck available to increase storage capacity
Optional 4,500-lb. air / hydraulic rolling jacks available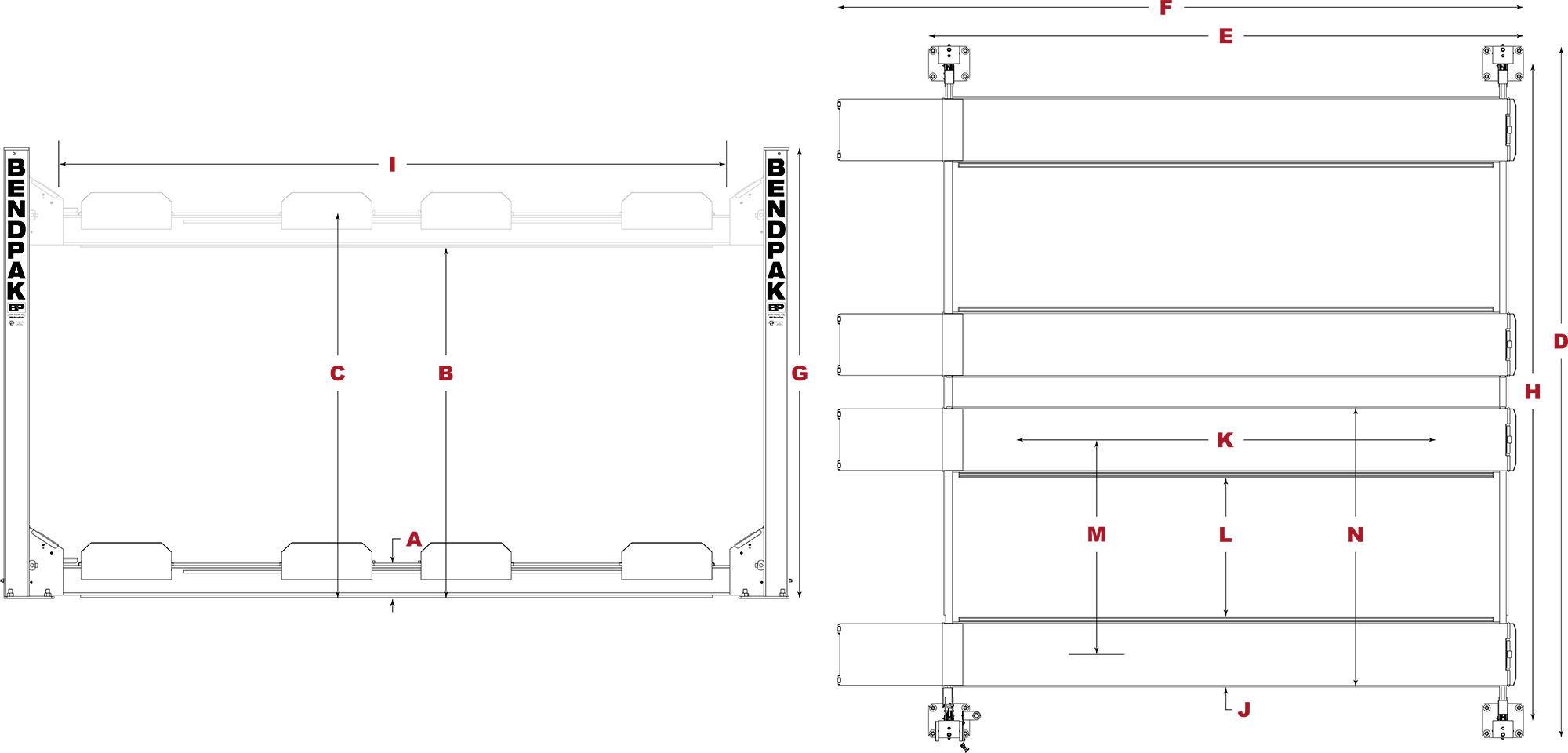 Specifications:
Capacity
Lifting Capacity*:9,000 lbs. (4,082 kg)
*Max Capacity / Front Axle: 4,500 lbs. (2,041 kg)
*Max Capacity / Rear Axle: 4,500 lbs. (2,041 kg)
Rise
A - Min. Runway Height: 7" (178 mm)
B - Max. Rise: 70" (1,778 mm)
C - Max. Lifting Height: 77" (1,956 mm)
Time to Full Rise: 55 seconds
Outside Dimensions
D - Overall Width: 202" (5,131 mm)
E - Outside Length: 174" (4,420 mm)
F - Overall Length: 200" (5,080 mm)
G - Height of Columns: 90" (2,286 mm)
Inside Dimensions
H - Width Between Columns: 192" (4,877 mm)
I - Drive-Thru Clearance: 178" (4,521 mm)
Runways
J - Runway Width: 19" (483 mm)
K - Length of Runways: 164" (4,166 mm)
L - Width Between Runways: 37" (940 mm) or 42" (1,067 mm)
M - Runway Centerline: 56" (1,422 mm) or 61" (1,549 mm)
N - Outside Edge of Runways: 75" (1,905 mm) or 80" (2,032 mm)
Minimum Wheelbase
Rated Capacity: 115" (2,921 mm)
75% Capacity: 100" (2,540 mm)
50% Capacity: 85" (2,159 mm)
25% Capacity: 70" (1,778 mm)
Locking
Locking Positions: 14
Lock Spacing: Every 4" (102 mm)
Power Unit
Motor: 220 VAC / 60 Hz /1 Ph
Noise: 45 dB
Shipping
Weight: 2,892 lbs. (1,315 kg)
Dimensions: 204" x 24" x 42" (5,182 mm x 610 mm x 1,067 mm)
ACCESSORIES:
Note: An air supply (minimum: 30 psi / 3 CFM) is required for the safety-lock mechanisms to function. It is solely the responsibility of the end-user to provide, install and maintain the air supply.
*Shipping is FREE to direct points within the 48-contiguous states.
**Bendpak charges taxes to California**
Frequently Bought Together
Please choose options for all selected products