Ranger 3DP4100R Target 3D Pro Imaging Aligner - Includes Set-Up & Training
Brand:

SKU:

5140101

Condition:

New
Ranger 3DP4100 Target 3D Pro Imaging Aligner - INCLUDES SET-UP & TRAINING:
The Target 3DPro wheel aligner increases productivity by allowing technicians to do more wheel alignments in less time compared to conventional systems. This wheel aligner is perfect for wheel service repair shops handling a high volume of wheel alignments, especially those who would like to see a dramatic increase in profitability. With minimal investment and reduced training, the Ranger Target 3DPro aligner expands your service potential and sends more profit to your bottom line. The ProSpec® feedback that assists technicians in diagnosing problems will help increase your customer satisfaction and improve shop efficiency. The Target 3DPro uses advanced imaging technology that delivers fast and accurate alignments.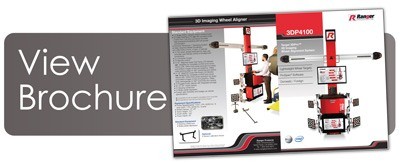 Features:
User-Friendly and Time Saving Features

Self-balancing, variable height camera lift system is built with precision bearing slides for easy adjustment.
Commercial-grade cameras are designed with full frame optical lenses that ensure accuracy and stability.
High-resolution drive-on approach camera provides full on-screen frontal view of vehicle driving on lift platforms.
Equipped with a large additional lower flat panel LCD monitor that provides operator with easy-to-read screen views, even from the rear underside of the vehicle. No need for separate portable hand-held monitors.
Interactive software provides demonstration screens that help the technician to easily proceed systematically through the adjustment process.
Rugged checkerboard shockproof wheel targets are drop-tested for worry-free handling and are built with anti-corrosion components capable of withstanding harsh working environments.
Deep Freeze™ Reboot-to-Restore Technology
Windows® 10 Mini PC Stick - Intel® Atom Quad Core CPU, 2GB RAM, 32GB Memory, Bluetooth 4.0.
In less than 2 minutes, technicians can complete total vehicle setup (including run-out compensation) and obtain full geometry alignment readings.
Exclusive One-Touch enhanced software interface results in increased productivity.
A web-based application that can be accessed from iPhone™ and iPad™ users to enjoy full wireless remote operation.
A reduction in the number of vulnerable electric components results in reduced downtime, lower operating costs and a longer service lifecycle of the equipment.
Superior screen graphics with vibrant animation and displays deliver easy to understand visuals and instruction.
Alignment functions and measurements are controlled via the mouse, keyboard or remote control.
Self-explanatory graphic user surface provides simple understanding.
Compatible with low ride-height vehicles or those with ground-effects.
Self-centering wheel-clamp adaptors cover an extended range of vehicles.
Cordless design removes hassle of connecting cables.
Technician has the option to customize alignment units of measure, accuracy, language, etc.
Technician has a choice of rolling or lifted run-out modes.
Features self-diagnostic help screen and system information.
Continuous checking ensures accurate toe measurements.
On-screen display indicates if sensor leveling is required.
Vehicle adjustment illustrations and multiple adjustment bar graphs.
Adjustment illustrations provide illustrated diagrams and instructional information of recommended OEM adjustment methods.
Valuable customer information can be conveniently stored in the database allowing shop personnel to quickly reference previous alignment work orders.
Before and after measurements can be printed in full-color to explain service and record work performed.
Specifications:
(1) Target 3DPro variable height camera tower
(1) Windows 10 Mini PC Stick - Intel Atom Quad Core CPU, 2GB RAM, 32GB Memory, HDMI, 2xUSB, Bluetooth 4.0
Full-sized, sloped keyboard for easy use. Provides user-friendly control of all alignment procedures.
(1) Computer mouse
(1) Console keyboard
(1) Remote control
(1) 32" diagonal Upper Flat Panel LCD Monitor designed for complete comfort and convenience with 1280x1024 pixels resolution for sharp and brilliant images of text and graphics. Offers wide viewing angle of 160° horizontal and vertical.
(1) 19" diagonal Lower Flat Panel LCD Monitor designed for complete comfort and convenience with 1280x1024 pixels resolution for sharp and brilliant images of text and graphics. Offers wide viewing angle of 160° horizontal and vertical.
(1) Rugged tower cabinet with integrated storage
(4) 13" – 25" wheel clamps
(1) Target 3DPro variable height camera tower
(1) Steering wheel lock
(1) Brake pedal depressor
Current year domestic and foreign car vehicle specifications
Power Requirements
115 VAC / 50/60 Hz / 1Ph / 8 amp - 230 VAC / 50/60 Hz / 1Ph / 8 amp
**Ranger charges taxes to California**

WHEEL SERVICE EQUIPMENT WARRANTY
THE BEST WARRANTY IN THE BUSINESS - YOU HAVE OUR WORD
Duration: From the date of purchase by the original Purchaser; or 24?12 months from the date of shipment by BendPak/Ranger or whichever comes first.
Two Years (24-Months) Warranty on equipment structure*
One Year (12-Months) Warranty on operating components

One Year (12-Months) Labor Warranty

on site or at factory
One Year (12-Months) Free-Shipping** on ground?freight charges related to warranty performance
Limited Warranty:
1. Who gives this warranty (Warrantor): BendPak/Ranger, 1645 Lemonwood Dr., Santa Paula, CA 93060
2. Who receives this warranty (Purchaser): The original Purchaser (other than for purpose of resale)
3. What products are covered by this warranty: Any Ranger brand tire changer, wheel balancer or brake lathe***
4. What is covered under this warranty: manufacturer defects due to material and/or workmanship with the exceptions noted below.
5. What is not covered under this warranty:
a. Any failure that results from Purchaser's abuse, neglect or failure to operate, maintain or service product in accordance with instructions provided in the owner's manual(s) supplied
b. Any damage caused by using equipment beyond rated capacity and/or capability
c. Items or service normally required to maintain the product, i.e. lubricants, oil, etc.
d. Items considered general wear parts such as rubber or plastic pads/protectors, cutting tips, plastic trays, etc. unless wear or failure is a direct result of manufacturer defect due to material and/or workmanship
e. Any component damaged in shipment or any failure caused by installing or operating equipment under conditions not in accordance with installation and operation guidelines or damaged by contact with tools or surroundings
f. Motor or other component failure caused by rain, excessive humidity, corrosive environments or other contaminants
g. Rusted components due to improper maintenance or corrosive environments
h. Cosmetic defects that do not interfere with product functionality
i. Damage due to incorrect voltage or improper wiring
j. Any incidental, indirect, or consequential loss, damage, or expense that may result from any defect, failure, or malfunction of a Ranger product
k. All electrical components are guaranteed for one year against defects in workmanship and/or materials when the lift is installed and used according to specifications
6. Responsibilities of Warrantor under this warranty: Repair or replace with either new or reconditioned unit at Warrantor's option, component and/or unit which is defective, has malfunctioned and/or failed to conform within duration of the warranty period. BendPak/Ranger will pay reasonable labor costs for the first 12 months only.
7. Responsibilities of Purchaser under this warranty:
a. Provide dated proof of purchase and maintenance records
b. In some cases, components may be required to be shipped to the nearest BendPak/Ranger Authorized Service Center. Freight costs, after 12?months, must be borne by the Purchaser.
c. Use reasonable care in the operation and maintenance of the products as described in the owner's manual(s).
8. When Warrantor will perform repair or replacement under this warranty: Repair or replacement will be scheduled and serviced according to the normal work flow at the servicing location, and depending on the availability of replacement parts.
*Equipment structure is defined as any non?moving permanently affixed frame or main body, or sub?structures that are non?moving and permanently affixed or attached to any main equipment structure or frame. **Free?shipping applies to direct shipping points within the 48 continental United States. Rural area shipping surcharge may apply for remote addresses. ***For all Ranger brand tire changers, wheel balancers or brake lathes manufactured on or following 11/1/2011.
Limitation of Liability
BendPak/Ranger shall have no obligation pursuant to this Warranty with respect to products which in our sole judgment have been altered damaged, misused, abused, badly worn, lost or improperly maintained. This Warranty is null and void if the customer or any other person other than an authorized representative of BendPak/Ranger has made any attempt to service or modify the tool prior to its return to BendPak/Ranger under this Warranty. In no event will either party be liable for any damage caused by the other party's failure to fulfill its responsibilities under these terms and conditions. In no event will either party be liable for any lost profits, lost savings, incidental damage, or other economic consequential damages BendPak/Rangerproductsareprovidedandsoldasiswithoutanyexpressorimpliedwarrantiesincludingwarrantiesofmerchantabilityorfitnessforparticularpurpose.No warranties, expressed or implied, will apply after this period. BendPak may modify these terms and conditions at any time by either providing the customer with written notice or posting such revised terms on www.bendpak.com. Such revised terms shall be effective thirty days from the date of such written notice or posting.
Frequently Bought Together
Please choose options for all selected products