Car Lifts for your Shop or Home Garage
When it comes to Car Lifts for your Professional Repair Shop or Home Garage, JMC Automotive Equipment has the best quality and best prices around. These machines may simply be defined as a tool to be used to get better access around and under cars, but they are more than that. Car lifts are the products of smart craftsmanship, logistics and refined technology. They are part of the foundation that makes up the automotive equipment industry.
To succeed in this industry, a company has to be the best in all aspects. This is why, as distributors of products such as car lifts; our company is very vigilant in quality control. We are driven by the need for constant improvement and believe that it is crucial to be steps ahead from the competition in both customer service and choosing the right product for our loyal clients. To be better is not just an end goal for us; we aim to be the best and with this goal in mind, we propel not only our company but our clients as well, always going that extra mile for them.
Car lifts are part of the ensemble of quality products that we offer to the market. These heavy machines have undergone detailed inspection and invested into these machines, are years of crude workmanship and creative innovation. We make sure that the brands lined up are the best in the industry and are highly equipped to service what our clients are looking for. We have pride in our strong partnerships with top of the line manufacturers in this industry.
One of the manufacturing brands we distribute is Challenger Lifts. They are known for their innovation in lift accessories and car lifts. Furthermore, there is Dannmar which is known as a manufacturing brand that has built their reputation with their quality and durable equipment. Bendpak is also a brand that we distribute. It is a brand that has a solid reputation for their top quality.
As a distributor, we believe and live by mutual interest with these manufacturing brands and value work ethics and try to keep the loyalty of our clients with quality craftsmanship and customer service. Like the rugged durability of our products, this quality does not wear off easily. We aim for long-term partnerships with a multi-platform of clients from home to commercial garages, and from automotive enthusiasts to professional and mechanic companies.

The Two Post Car Lifts
There is a wide range of car lifts for sale which can meet the needs of our clients. There is the two post car lift. This type of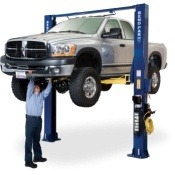 lift is manufactured and modeled to give the dynamic flexibility much needed for automotive workmanship. The two posts allows the needed work room and clearance during complete machine repairs and automotive procedures. Everyday vehicle repair work or maintenance can be made much easier because this type of lift allows the comfortable space for jobs such as the installation of wiring systems and exhaust systems. Oil changes will also be much easier with this equipment in your shop. One high-quality operating lift such as the Bendpak XPR-10 is one of the best models in this category.
Continue Shopping For Two Post Lifts...

The Four Post Car Lifts
We also have four post car lifts available. The four post lifts are best used for wheel alignment. The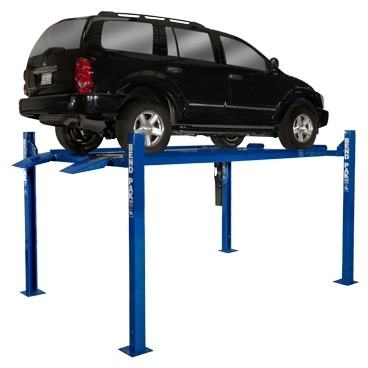 hoist range also allows the necessary clearance for break repairs. In a four post auto lift model, there are built-in automatic lock systems and featured ramps with anti-skid marks to make sure that the car will not roll down the ramp while it's being operated. The Benpak HD-7P 7,000-lb. Capacity Short Runways Extra- Tall 4 Post Lift is a definite example of a dynamic and powerful machine. It is designed to give the desirable hoist needed even for tight spaces and automotive heavy labor. With this equipment, working under cars will be much easier.
Continue Shopping for Four Post Lifts...
The Motorcycle Lifts

Motorcycle hobbyist or collectors will surely find our line of motorcycle lifts very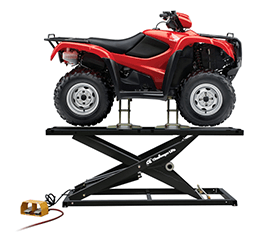 distinguishable to their needs. These motorcycle lifts are modeled to provide the right proportions for motorcycles or for any other lighter utility handling to be specified. The Challenger CL1750A ATV Lift and ATV Jack, along with other motorcycle lifts, are great lifts for hobbyists and enthusiasts. The design ensures a powerful lift while making it easy for someone to operate. It is manageable even if only one person is involved in the work. The motorcycle lift allows a hassle-free work environment because operating it, is smooth and easy. The base is very stable to keep the motorcycle in place. Features such as the air operated dual foot pedals allow the individual fast access to the different part of the motorcycle without the stressful tension usually associated with this operation. Anyone able to do it will find this very helpful. In addition to this, the machine is also very convenient for small spaces such as cramped garages.
Continue Shopping for Motorcycle Lifts...

Specialty Lifts
Home garages or commercial garages with smaller work spaces need not worry as well.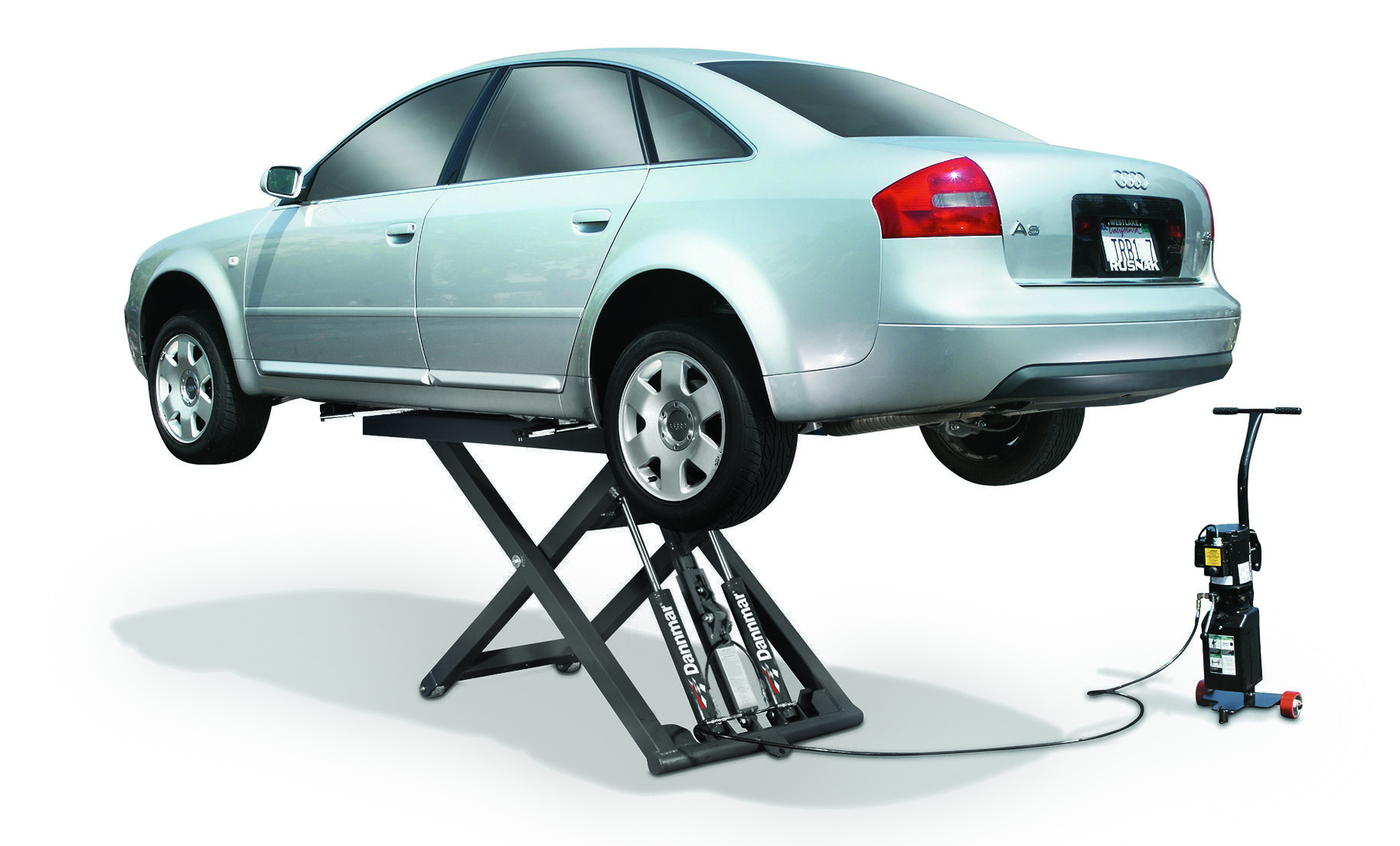 The company has a set of specialty lifts, which are designed to deliver the same power needed for cars without eating much work room. The Dannmar Cadet midrise scissor lift has a very powerful portable unit system because mid-rise lifts need that additional hoist height. The design for the power unit is to make sure that operator comfort is ensured. In addition to that, maneuvering around the car will not be a problem because of the multi-position safety locks situated strategically.

Low rise specialty lifts have a different use from mid-rise lifts. They are specifically used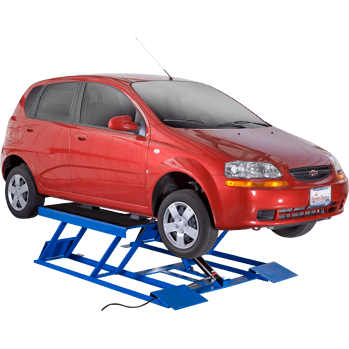 for brake pads or tire changes because they don't need much lifting height. Low rise specialty lifts like the Bendpak LR-60 6,000- lb. Capacity Low-Rise Lift allows the same dynamic system and powerful unit for lifting. It is equipped with a Rugged steel channel frame and multi-position safety locks that allows a flexible system for working. Lastly, the details of the designs on these models can be customized to meet specific customer needs.

Continue Shopping for Specialty Lifts...
Car lifts are a great investment for your garage. The equipment is very helpful to lighten mechanic labor, increase efficiency in your shop and is also practical for storage use. Every feature is designed for maximum efficiency and comfort. This opportunity supports the heavy machinery and automotive industry in a lot of ways. Our company will never be complacent in monitoring the quality and durability of the equipment we distribute. The car lifts for sale can definitely lift this industry to greater heights.
Continue Shopping for Car LIfts
Looking for more info on car lifts? Please fill out our contact form below and one of our agents will get back to you soon!