Hofmann FA1000 Fully Automatic Leverless Tire Changer
SKU:

EEWH734B

Condition:

New
Shipping Calculated at Checkout
Hofmann FA1000 Fully Automatic Leverless Tire Changer
The Hofmann monty FA 1000 fully-automatic tire changer is designed to safely and efficiently change all types of tire and wheel combinations. The innovative design features on the monty FA 1000 include: computerized mount/demount programs, automatic tire diameter measurement, automatic laser-profiling of the wheel, integrated wheel lift, electro-hydraulic center clamping, two-speed drive system and top-side bead inflation.
Features:
Computerized Mount/Demount Programs
Technician can choose from Standard, Soft side-wall or Sports tires such as high-performance, low-profile and run-flats.

The technician is guided step-by-step through the tire changing process using a single "paddle switch" control.

The technician can choose a Manual program and use the individual controls for tire matching and for TPMS service.
Lever-Less No-Contact Mount/Demount Tools
Tools are automatically positioned safely and precisely via patented imaging technology - eliminating damage caused by tool-to-wheel contact.

Designed to perfectly match the shape of the tire bead and wheel bead seat area.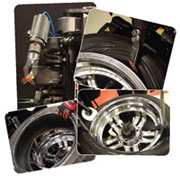 Quick and effortless clamping of the wheel and tire assembly

Eliminates wheel diameter as a factor in being able to handle all custom and OEM wheels

Enhances operator safety and eliminates wheel damage associated with outer/inner wheel clamping

Clamps at the center, the wheel's strongest point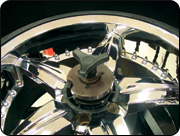 Smart Vision™
Patented laser imaging technology scans wheel profile for precise tool placement.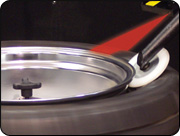 Integrated Wheel Lift
Front-mounted wheel lift automatically measures the tire's diameter for precise placement onto the clamping pedestal.

Paddle switch control effortlessly positions the tire onto the changer.

Designed to assist the technician and reduce fatigue.

Reduces the chance of damaging expensive wheels.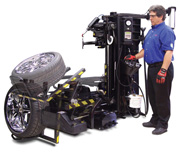 Pneumatic Bead Assist
Maintains top bead in drop-center on difficult performance wheels.

Reduces the chance of top bead damage.

Allows one technician to change any wheel.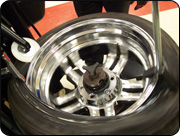 Foot pedal motor control system delivers the right torque and speed.

Two speeds: Low speed with high torque, and fast speed with less torque.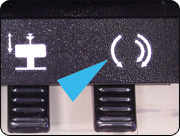 Top-Side Bead Inflation
No need to demount wheel from tire changer.

Inflates difficult wheels quickly and easily.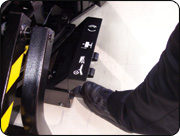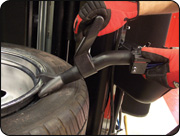 Specifications:
| | |
| --- | --- |
| Wheel Diameter Range | 10" - 30" |
| Maximum Tire Diameter | 47" |
| Maximum Wheel Width | 17" |
| Maximum Wheel Weight | 154 lbs |
| Air Requirements | 100 to 170 PSI |
| Dimensions (DxWxH) | 67"x47"x79" |
| Shipping Weight | 2,050 lbs |
| Power Requirements | 230V 1Ph 60Hz |
Accessories
| Part Number | Description |
| --- | --- |
| ST4028648 | Magic Bead Pusher |
| ST4026853 | Rim protector, snaps onto rim of wheel |
| EAA0351G60A | Reverse-Mounted Wheel Kit |
| EAA0351G29A | Light-Truck Wheel Kit |

Hofmann equipment Warranty Policy
Hofmann USA products carry the following warranties:
1. HOFMANN WHEL BALANCERS:
LABOR 6 MONTHS
PARTS 1 YEAR
ELECTRONIC CIRCUIT BOARD 3 YEARS
ELECTRIC MOTOR 5 YEARS
2. HOFMANN BRAKE LATHES:
LABOR - 6 MONTHS
PARTS - 2 YEARS
ELECTRIC MOTOR - 1 YEAR
3. HOFMANN TIRE CHANGERS:
LABOR - 6 MONTHS

PARTS - 1 YEAR

ELECTRIC MOTOR - 3 YEARS

AIR MOTOR - 1 YEAR

TRANMISSION - 3 YEARS
4. HOFMANN WHEEL ALIGNERS:
LABOR - 6 MONTHS
CIRCUIT BOARDS, PC'S, CRT & LCD - 3 YEARS
PARTS & PRINTER - 1 YEAR
5. HOFMANN LIFTS:
LABOR - 1 YEAR
PARTS - 1 YEAR
POWER PACK - 18 MONTHS (1 YEAR SCISSOR ALIGNMENT)
HYDRAULICS - 1 YEAR
Frequently Bought Together
Please choose options for all selected products