Bendpak XPR-10AS-LP 10,000 Lbs Low-Profile Arms 2-Post Car Lift
Brand:

SKU:

BP-5175398

Condition:

New
BendPak XPR-10AS-LP Dual-Width, 10,000 Lb. Low Profile 2 Post Lift LP
XPR-10AS-LP lifts can handle anything from full-sized trucks to lowered sports cars or vehicles with custom ground effects. Asymmetric design provides columns that are rotated 30°, improving door opening clearance for access to vehicle interior. Clear floor installation provides an unobstructed workspace to accommodate tool boxes and maximize technician access.
XPR-10AS-LP lifts include:
Direct-drive power for increased performance and reduced operating costs
Telescoping Low-Pro arms for special lift points and lowered vehicles
Expandable top beam for wide or narrow installation
User-friendly controls
Automatic arm restraints for quick operation and safety
Lowered arm tube supports for better clearance on vehicles with low-hanging doors
XPR-10AS-LP Characteristics:
Lift Capacity: 10,000 lbs.
Height: 145"
Width: 137" (narrow config), 145" (wide config)
Lift height: 69"
Type: Asymmetric Clear Floor
Features
10,000 lbs lifting capacity
Expandable top beam accommodates wide or narrow drive-thru configuration
Double-telescoping screw pads offer increased versatility
Added overhead safety shutoff bar
Exclusive Tru-Metric arm design for more versatile arm positioning
30° rotated single-piece columns
Single-point safety release
Drop-end arms provide a lower pad height
Dual hydraulic direct-drive cylinders
Oversized 53" tall carriage for superior strength and durability
Electric / hydraulic power system
Large, 17" x 19" A36 steel base plate
Self-lubricating dura-glide UHMW polyethylene bearing system
Safety locks in each column spaced every 3"
Plated arm restraints and arm pins for rust prevention
Heavy

‐

duty 1/2" aircraft-quality equalizer cables
Oversized cable sheave diameter reduces cable fatigue
4-piece 63 mm stackable adapter set comes standard
Versatile drop-in contact pads with stackable adapters
ETL Approved
XPR-10AS-LP Specifications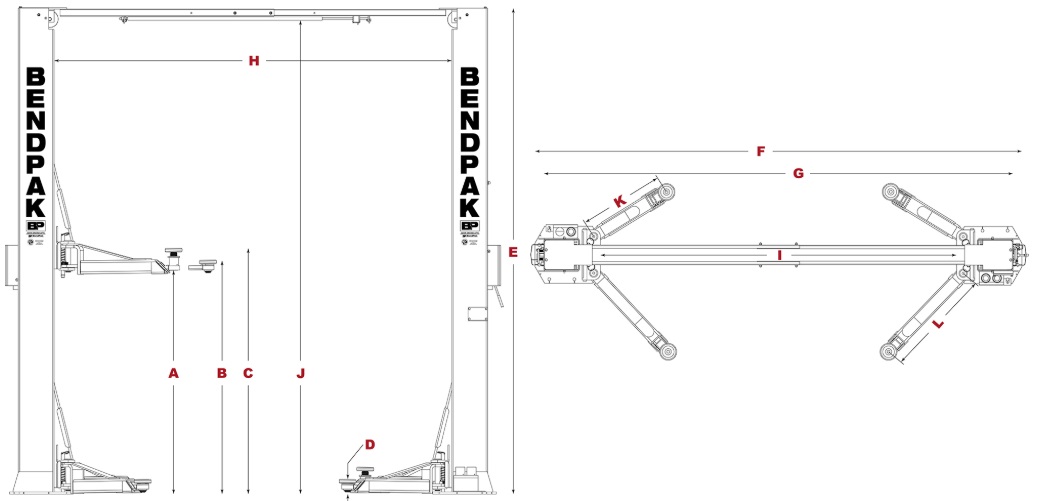 Capacity
Lifting Capacity* 10,000 lbs. (4,536 kg)
*Max Capacity / Front Axle - 5,000 lbs. (2,268 kg)
*Max Capacity / Rear Axle - 5,000 lbs. (2,268 kg)
Rise
A - Rise: 69" (1,753 mm)
B - Rise + Pad Only: 73" (1,854 mm)
C - Rise + Pad + 63 mm Adapter: 79" (2,007 mm)
D - Min. Height + Pad: 4" (102 mm)
Time to Full Rise: 45 seconds
Outside Dimensions
E - Height Overall: 145" (3,683 mm)
F - Width Overall: 137" (3,480 mm) or

145" (3,683 mm)

G - Outside Columns: 133" (3,378 mm) or

141" (3,581 mm)
Inside Dimensions
H - Inside Columns: 104" (2,642 mm) or

112" (2,845 mm)

I - Drive-Thru Clearance: 94" (2,388 mm) or

102" (2,591 mm)

J - Floor To Overhead Switch: 141" (3,581 mm)
Arms & Pads
K - Front Arm Reach: (MIN) 23.5" (597 mm)
K - Front Arm Reach: (MAX) 45.5" (1,156 mm)
L - Rear Arm Reach: (MIN) 42.5" (1,080 mm)
L - Rear Arm Reach: (MAX) 60" (1,524 mm)
Screw Pad Adjustment: 2" (51 mm)
Max Load Per Arm 2,500 lbs. (1,134 kg)
Power Unit
Motor: 220 VAC / 60 Hz / 1 Ph
Noise: 45 dB
*Shipping is FREE to direct points within the 48-contiguous states.
**A 5% RATZ Surcharge may apply if shipping to a rural shipping point.
***It is the buyer's responsibility to unload the freight at their location.
****The Bendpak XPR-10AS-LP is an ALI Certified Lift. Click here to view its certification.
**Bendpak charges taxes to California**
Frequently Bought Together
Please choose options for all selected products