Posted by Juan E. Chavez on 2nd Jun 2016
If you are using your two-post Challenger car lift without the 10319 Challenger Adapter Kit , you're doing yourself a huge disservice.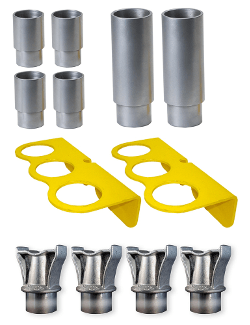 Sure, Challenger Two-Post Lifts like the CL10V3 Versymmetric Plus comes with everything you need to lift and work on the most common cars and trucks on the road today. But what about when something a little more exotic rolls into your shop or garage? Can you afford to turn away their business? Probably not. Are you going to try and quickly weld something together and roll the dice? Of course not -- this isn't high school shop class, buddy.

Untie the hand from behind your back and pull the bullet from your foot. With the 10319 Challenger Adapter Kit, you'll be ready to lift and repair just about anything your clients can throw at you. We specifically recommend this adapter kit because it's really two full-fledged adapter kits in one: the 10315 Stack Adapter Kit and the 10318 Frame Engaging Truck Adapter Kit.

The Challenger 10315 Adapter Kit is a stack adapter kit for 10,000-lb. capacity and 12,000-lb. capacity two-post and in-ground truck and car lifts. These stack adapters are designed to be dropped into the arm assemblies to assist car lift operators in reaching and accessing factory-recommended lifting points on vehicles with side steps or running boards. To use these drop-in style adapters, just pull out the screw pad from the two-post lift arm assembly, slide in the stack adapter extension, and drop the screw pad into the top of the adapter. The 10315 stack adapter kit by Challenger Lifts comes with four 3-inch stack extenders, two 6-inch stack extenders and two racks for organizing the hardware -- a little extra bonus that the other guys rarely think to include in order to help keep your work area nice and tidy. The organizer racks even mount directly onto your Challenger Two-Post Lift column, so your adapters are always exactly where you need them, about an arm's reach away.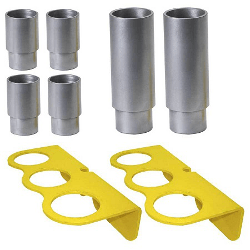 The Challenger 10318 Adapter Kit, on the other hand, is designed specifically to help your Challenger Two-Post Car Lift engage truck frames. The 10318 adapter kit comes with a set of four frame-engaging truck adapters for 10,000, 12,000, 15,000 and 18,000 maximum capacity Two-Post Challenger Lifts. Frame engaging adapters work best on pickup trucks with frames because they directly contact them without having to worry about slippage and sprayed under coatings like you do with normal rubber pads. Instead, the cradle-style adapters allow for an incredibly secure fit between the frame and the adapter. The 10318 Adapter Kit by Challenger Lifts works with all of Challenger's above ground two-post car and truck lifts. But if you really want to make use of those 15,000 and 18,000-pound capacity two-posters, you'll also need the Reducer Bushing Kit 10317 , which does NOT come with the 10319 Challenger Adapter Kit.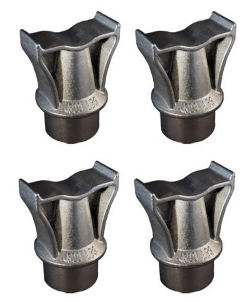 But remember, the 10319 Challenger Adapter Kit is REALLY two genuine Challenger manufactured and supported adapter kits designed specifically to work in conjunction with your Challenger Two-Post Car Lifts. Accept no substitutes; this is the only one that is guaranteed. And when it comes to versatility, build-quality and get-it-done-ability, you'd be hard pressed to find a better two-post car lift adapter kit than the 10319 Challenger Adapter Kit.
Looking for more information about the 10319 Challenger Adapter Kit ? Click below!