Posted by Juan E. Chavez on 4th Aug 2017
Many brands and types of motorcycle lifts exist, but they usually fall short in one or two categories. Sadly, you only find out their limitations once they're already sitting in your shop. Then you'll have to modify them and spend more bucks to make them functional. We're sure you're all too familiar with this.
If you haven't looked into the Titan product line, the Titan 1500xlt and the Titan 1000d motorcycle lift are getting serious love from professional garage owners and hobbyists. Titan designs products that fit the needs of enthusiasts and professionals and provide them at a lower cost than most. It has earned the trust of the professional and consumer market, and these two lifts have the highest ratings from Titan's line.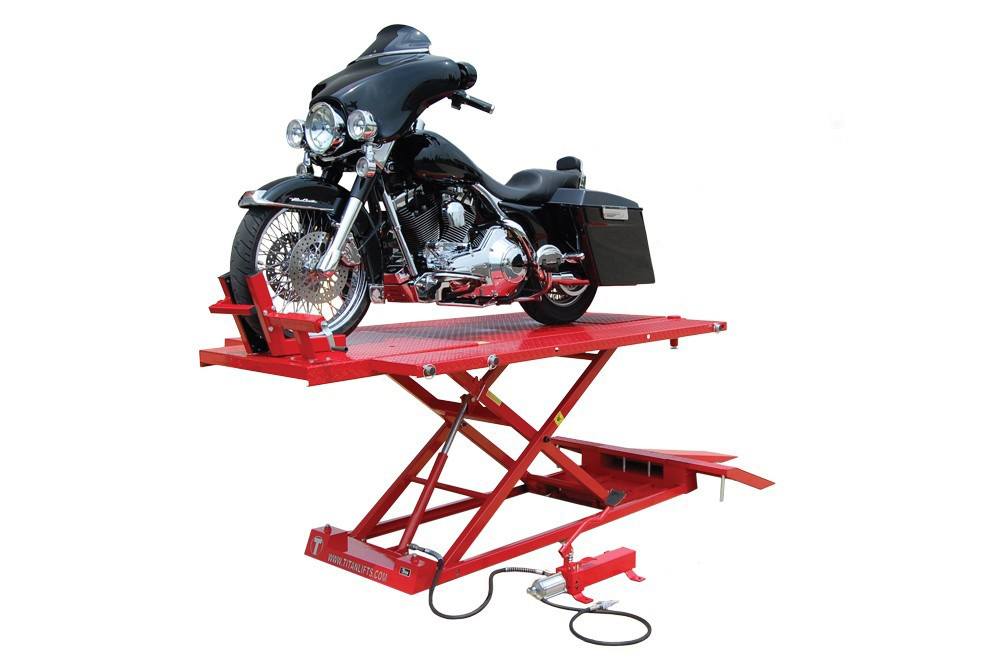 The Value of Four for the Price of One
With the lifts we offer, you can accommodate different vehicles and save space in your shop.
Titan 1500xlt and the Titan 1000d can come with side extensions, making them useable for other vehicles such as snowmobiles and jet skis, even ATVs. As they are used for bikes, the side extensions allow your team to work on the motorcycle with ease. The extensions can also be used to set tools on, and if needed, allows a person to stand beside the motorcycle. (Make sure to compute the vehicle's weight and your weight first, though!)
The multi-positional front extension allows you to use the lift for longer bikes as well. Harleys and Choppers can be positioned graciously in your shop for maintenance work.
Safe Equipment, Safe Personnel
Using the motorcycle lifts we offer minimizes risks to your crew. The motorcycle can be fastened securely so that they wouldn't fall on anyone or anything while they are being inspected or cleaned. Your team will be safe, and no harm will fall on your clients' bike - or other equipment in your shop.
Using lifts also improves workplace ergonomics. You can help your older personnel since they do not have to kneel, squat or lie down to work on the motorcycle. The strain on the bodies of younger personnel is lessened as well. Your crew can easily work with minimal stress on their bones and muscles.
Investing in the right motorcycle lift will not only help your team work safely and more efficiently but also reduces business risks such as injury and liability.
Here at JMC Equipment, our mission is to help automotive repair shops reach their full potential by guiding them on the equipment that they need. We actively search international markets to provide clients with the best automotive equipment products. Contact us today, and we'll gladly help you find the right equipment to invest in.