Bendpak HDS-27 27,000-Lb. Capacity Standard Length 4 Post Car Lift
Brand:

SKU:

BP-5175162

Condition:

New
BendPak HDS-27 27,000-lb. Capacity Standard Length 4 Post Lift
This is where our lifts really step into the next level of lifting. If you need a bigger, better four-post lift that can handle a 27,000-lb., Class 7 semi-truck, you need the HDS27. Bigger sheaves and beefier components carry on our legacy of dependability. If your shop services commercial and/or municipal vehicles, a lift of this stature is practically mandatory. Get your hands on this utterly massive truck lift and bring a higher level of service to your garage or shop.
Features:
27,000-lb. lifting capacity
CE Approved and Certified. Meets or exceeds the standards prescribed by European Standard EN 1493
Supersized 12" diameter cable sheaves
Galvanized lifting cables
Grease nipples
Single hydraulic under-runway cylinder
Integrated flow restrictor
Durable powder coat
Spring-loaded safety locks
Second lock system on constant guard
Fully enclosed lifting cables
Multiple adjustable height locking positions
Maintenance-free electric hydraulic power system
Conveniently positioned operator controls
12" x 12" base plates
Non-skid runways
Optional rolling jack

Specifications:
Capacity
Lifting Capacity* 27,000 lbs. (12,247 kg)
*Max Capacity / Front Axle 13,500 lbs. (6,123 kg)
*Max Capacity / Rear Axle 13,500 lbs. (6,123 kg)
Rise
A - Min. Runway Height: 83.5" (2,121 mm)
B - Max. Rise: 60" (1,524 mm)
C - Max. Lifting Height: 68.5" (1,740 mm)
Time to Full Rise: 75 seconds
Outside Dimensions
D - Overall Width: 154" (3,912 mm)
E - Outside Length: 257" (6,528 mm)
F - Overall Length: 297" (7,544 mm)
G - Height of Columns: 93" (2,362 mm)
Inside Dimensions
H - Width Between Columns: 134" (3,404 mm)
I - Drive-Thru Clearance: 109" (2,769 mm)
Runways
J - Runway Width: 22" (559 mm)
K - Length of Runways: 263" (6,680 mm)
L - Width Between Runways: 38" (965 mm) or 56" (1,422 mm)
M - Runway Centerline: 60" (1,524 mm) or 78" (1,981 mm)
N - Outside Edge of Runways: 82" (2,083 mm) or 100" (2,540 mm)
Minimum Wheelbase
Rated Capacity: 185" (4,699 mm)
75% Capacity: 160" (4,064 mm)
50% Capacity: 135" (3,429 mm)
25% Capacity: 110" (2,794 mm)
Locking
Locking Positions: 9
Lock Spacing: Every 6" / 152 mm
Power Unit
Motor: 220 VAC / 60 Hz. 1Ph.
Noise: 45 dB
ACCESSORIES: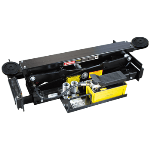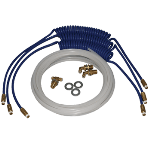 Note: An air supply (minimum: 30 psi / 3 CFM) is required for the safety-lock mechanisms to function. It is solely the responsibility of the end-user to provide, install and maintain the air supply.
*Shipping is FREE to direct points within the 48-contiguous states.
**Bendpak charges taxes to California**
**A 5% RATZ Surcharge may apply if shipping to a rural shipping point. Click here to check if you are in a RATZ zone
***It is the buyer's responsibility to unload the freight at their location.
****The Bendpak HDS-27 is an ALI Certified Lift. Click here to view its certification.
Frequently Bought Together
Please choose options for all selected products