Product Description
BendPak HDS-14 14,000-lb. Capacity Standard Length 4 Post Lift
BendPak's "HDS‐Series" four‐post lifts are a whole new breed of rugged. They're newly engineered car and truck lifts that work better, are built to last, and feature upgrades that increase safety, durability and productivity.
Features:
14,000-lb. lifting capacity

CE Approved and Certified. Meets or exceeds the standards prescribed by European Standard EN 1493

Mid- to long-style approach ramps for low ground clearance vehicles

Runways include rail-kit for optional accessories

Single hydraulic cylinder mounted underneath runway

Fully enclosed lifting cables, safety locks, and sheaves

Internal anti-sway slider blocks in each column

Pneumatic push-button safety release

Features heavy-duty 1/2" aircraft cable

Safety locks enclosed in columns minimize pinch points

Oversized sheave diameter reduces cable fatigue

Oversized self-lubricating cable rollers

Rugged 1-3/4" roller axles

Multi-position safety locks in each column

Customizable power unit location

Approach ramps incorporate built-in rear-wheel chocks

Independent backup slack-cable safety latches

Runways feature non-skid surface

Optional drive-thru ramps available

Optional drip trays available
Specifications:
Lifting capacity*: 14,000 lbs. / 6,350 kgOverall width: 130" / 3,301 mm

*Max capacity / front axle: 7,000 lbs. / 3,175 kg

*Max capacity / rear axle: 7,000 lbs. / 3,175 kg

Outside length: 213" / 5,408 mm
Overall length: 241" / 6,131 mm
Height of columns: 93" / 2,362 mm
Runway min height: 7-5/8" / 192 mm
Max rise: 70" / 1,778 mm
Max lifting height: 77-5/8" / 1,970 mm
Width between posts: 120" / 3,046 mm
Runway width: 20" / 508 mm
Width between runways: 37-1/2" – 51" / 952 mm – 1,295 mm
Runway centerline: 57-1/2" - 71" / 1,460 mm - 1,803 mm
Outside edge of runways: 77-1/2" - 91" / 1,968 mm - 2,311
Drive-thru clearance: 98" / 2,482 mm
Length of runways: 199" / 5,054 mm
Min wheelbase @ rated capacity: 140" / 3,556 mm
Min wheelbase @ 75% capacity: 120" / 3,048 mm
Min wheelbase @ 50% capacity: 100" / 2,540 mm
Min wheelbase @ 25% capacity: 80" / 2,032 mm
Locking positions: 13
Lock spacing: every 4" / 102 mm
Lifting time: 60 sec
Motor: 220 VAC / 60 Hz / 1 Ph
Shipping weight: 2,605 lbs. / 1,182 kg
Shipping dimensions: 212" x 24" x 40" / 5,385mm x 610 mm x 1,016 mm
ACCESSORIES: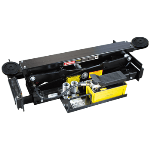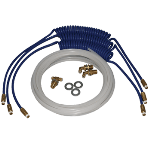 Note: An air supply (minimum: 30 psi / 3 CFM) is required for the safety-lock mechanisms to function. It is solely the responsibility of the end-user to provide, install and maintain the air supply.
*Shipping is FREE to direct points within the 48-contiguous states.
**Bendpak charges taxes to California**
**A 5% RATZ Surcharge may apply if shipping to a rural shipping point. Click here to check if you are in a RATZ zone
***It is the buyer's responsibility to unload the freight at their location.
****The Bendpak HDS-14 is an ALI Certified Lift. Click here to view its certification.
Other Details
BendPak 2-Post Lifts and 4-Post Lifts
are warranted for five years on equipment structure, to be free of defects in material and workmanship. Power units, hydraulic cylinders, and all other assembly components such as turnplates, slip plates, cables, chains, valves, switches etc. are warranted for one year against defects in material or workmanship under normal use. BendPak Inc. shall repair or replace at their option for the warranty period those parts returned to the factory freight prepaid which prove upon inspection to be defective. BendPak Inc. will pay labor costs for the first 12 months only on parts returned as previously described.
Product Videos
Custom Field