iDEAL PSB-AFCF23B Cross Flow Paint Booth
Brand:

SKU:

PSB-AFCF23B

Condition:

New
Price is subject to change if the product is on backorder. Contact us at 800-562-4791 for availability.
Shipping Calculated at Checkout
Price is subject to change if the product is on backorder. Contact us at 800-562-4791 for availability.
iDEAL PSB-AFCF23 Cross Flow Paint Booth
iDEAL's PSB-AFCF23ASY Cross Flow Draft Paint Booth is our most economical and easiest to install paint booth. The Cross Flow design pulls filtered air through the front of the booth and exhausts filtered air through the rear of the booth. Powder coated 18 gauge flanged panels bolt together using high quality 5/16″ hardware for a long lasting quality booth. Entry doors and personnel doors are outfitted with heavy duty hinges with integrated vertical and horizontal adjustment. Our tilt panel design utilizes vertical lighting for easy installation and effective lighting to allow the painter to move around the booth with limited light interference. The Cross Flow Draft Paint Booth uses minimal space and can be used for automotive refinishing, industrial finishing and furniture finishing.
Features:
iDeal stocks booths and typically ship within 48 hours.

Deluxe Control Panel – Included!

24" Fan Motor – Dayton – Included! U.S. manufactured, UL listed spark resistant fans.

NEMA rated 3HP – 3 Phase – 230/460VAC-60Hz motors.

Premium intake and exhaust filters included.

LDPI Industrial Lighting – Included! 6 – T-8 light fixtures with four bulbs each, vertical installation.

Heavy duty precision punched 18 Gauge panel construction.

Bright White Powder Coat Finish – Included!

Double Entry Doors with shutoff switches.

Personnel Door with a viewing window and shutoff switches.

Manometer, Solenoid Valve, Hardware and Sealant Included.

Meets NFPA 33.

Inside Dimensions: 22′ 6″ L X 12′ W X 8′ 6″ H
Specifications
Inside Dimensions - 22'6"L x 12'W x 8'6"H

Outside Dimensions - 25'4"L x 13'4"W x 8'-10"H

Fans/Motor - 24" Tube-Axial Non-Sprak, NEMA Rated 3HP-3PH-230/460VAC-60HZ

CFM - 9,500 @ .5 Static Pressure

Lightting - 6 ea T-8 Light Fixtures, Four Bulbs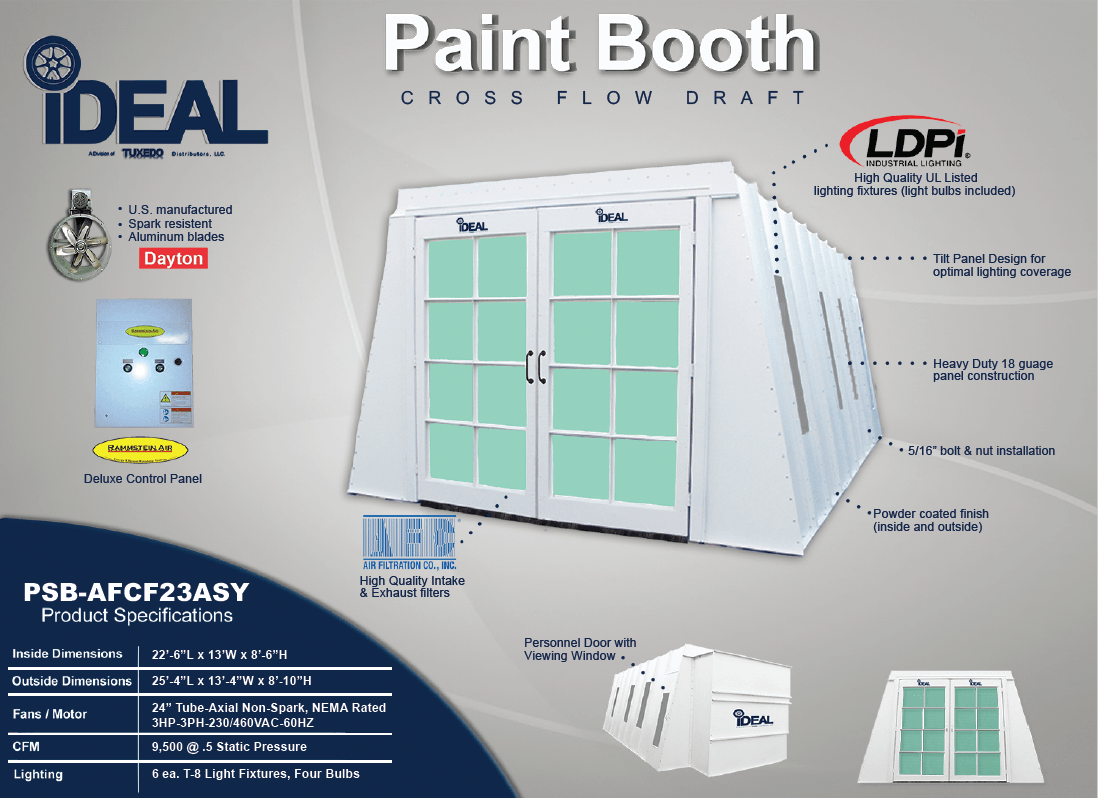 TUXEDO DISTRIBUTORS LIMITED WARRANTY
Structural Warranty:
The following parts and structural components carry a five year warranty:
Columns, Arms, Uprights, Swivel Pins
Legs, Carriages, Overhead Beam
Tracks, Cross Rails, Top Rail Beam
Limited One-Year Warranty:
Tuxedo Distributors, LLC (Tuxedo) offers a limited one-year warranty to the original purchaser of Lifts and Wheel Service equipment in the United States and Canada. Tuxedo will replace, without charge, any part found defective in materials orworkmanship under normal use, for a period of one year after purchase. The purchaser is responsible for all shipping charges. This warranty does not apply to equipment that has been improperly installed or altered or that has not beenoperated or maintained according to specifications.
Other Limitations:
This warranty does not cover:
1. Parts needed for normal maintenance
2. Wear parts, including but not limited to cables, slider blocks, chains, rubber pads and pulleys
3. Replacement of lift and tire changer cylinders after the first 30 days. A seal kit and installation instructions will be sent for repairs thereafter.
4. On-site labor
Upon receipt, the customer must visually inspect the equipment for any potential freight damage before signing clear on the shipping receipt. Freight damage is not considered a warranty issue and therefore must be noted for any potential recovery with the shipping company.
The customer is required to notify Tuxedo of any missing parts within 72 hours. Timely notification must be received to becovered under warranty.
Tuxedo will replace any defective part under warranty at no charge as soon as such parts become available from the manufacturer. No guarantee is given as to the immediate availability of replacement parts.
Tuxedo reserves the right to make improvements and/or design changes to its lifts without any obligation to previously sold, assembled or fabricated equipment.
There is no other express warranty on the Tuxedo lifts and this warranty is exclusive of and in lieu of all other warranties,expressed or implied, including all warranties of merchantability and fitness for a particular purpose.
To the fullest extent allowed by law, Tuxedo shall not be liable for loss of use, cost of cover, lost profits, inconvenience,lost time, commercial loss or other incidental or consequential damages.
This Limited Warranty is granted to the original purchaser only and is not transferable or assignable.
Some states do not allow exclusion or limitation of consequential damages or how long an implied warranty lasts, so the above limitations and exclusions may not apply. This warranty gives you specific legal rights and you may have other rights, which may vary from state to state.
Frequently Bought Together
Please choose options for all selected products