AirCat 1900-A 1" Impact Wrench with 6" Anvil 2100 ft-lbs
Brand:

SKU:

ARC1900-A

Condition:

New
Usually Ships out within 1 to 3 business days
Free Shipping
Usually Ships out within 1 to 3 business days
AirCat 1900 "Super Duty" Aluminum Impact Wrench
Benefits
Super Clutch Twin Hammer
Designed for the Heavy Truck Tire, Mining, Oil Field, Agricultural Equipment applications.
Built with the Durable Twin Hammer Mechanism
The TWIN HAMMER Mechanism consists of 2 hammers in a closed cage which rotates around the anvil. This design allows the hammer to hit at the same time on both sides of the anvil. A twin hammer design is very durable and particularly suitable for long operating cycles. A further advantage is that the design consists of few individual parts and this makes it very easy to service. The twin hammer is lubricated by grease. Lubrication can be easily done from outside via greasing fitting without opening the housing. The TWIN-Hammer design is best used for industrial, all-around automotive applications, tire service and assembly.
Features
Hard hitting twin hammer

1,800 ft-lb Loosening torque

The rugged and reliable "Super Clutch" twin hammer

Designed for the heavy truck tire, mining, oil field, construction and agricultural equipment applications

Durable aluminum housing

Hammer case can be repositioned for side handle to be on right side

Available in short drive (1900-1) and spline drive (1900-S)
Specifications
Square Drive (in.): 1 x 8

Air Cons. (CFM): 12

Bolt Capacity (in.): 1-1/4

Air Inlet (in.) NPT/BSP: 1/2

Rec. Hose Size (in.): 1/2

Weight (lbs.): 23.6

Length (in.): 20.8

Free Speed (RPM): 4,000

Impacts Per Minute (IPM): 900

Max. Torque (ft-lb): 1580
Aircat Warranty
AIRCAT and NITROCAT air tools are warranted to be free from defects in material and workmanship for 2 years from date of purchase. We will repair or replace; at our option any defective part or unit which proves to be defective in material or workmanship during this 2 year period. The foregoing obligation is AIRCAT and Florida Pneumatic's sole liability under this or any implied warranty, under no circumstances shall it be liable for any incidental or consequential damages.
This warranty applies to the tool only. The warranty does not apply to any attached accessories/consumable products; such as drill chucks, sander backing pads, air hammer retainers and chisels or "kit" accessories or any other accessory included with the tool.
Any repair due to normal wear and tear, abuse, misuse, modification of the tool or repair attempts (by other than an AIRCAT or Florida Pneumatic Authorized Service Center) are not covered by this warranty.
Return your tool to an AIRCAT or Florida Pneumatic Authorized Service Center freight prepaid. Be sure to include your name, address, copy of purchase with date and description of the suspected defect.
AIRCAT whose policy is continued product improvement reserves the right to make changes in design or construction at any time without incurring any obligation on tools previously sold.
Tune-Up and Head Kits for all AIRCAT PNEUMATIC impact wrenches and ratchets are available. For Authorized Service Centers, please visit www.aircat.com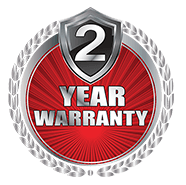 Frequently Bought Together
Please choose options for all selected products