JMC Automotive Equipment honors companies with outstanding criteria as well as quality products that belong in every garage or shop. This week we want to take the time to honor Hofmann. Hofmann, a German founded company has been a name garages and tire shops have been talking about for over 75 years. They deliver high quality and innovative garage equipment at surprisingly affordable prices.
Originally opened in 1931, Hofmann has spread all over the world and it is their goal to provide the latest technology as well as user friendly features to add to your garage equipment. Their mission and goal is to provide productivity solutions to garages all over the world.
The following products are what made Hofmann the company they are today.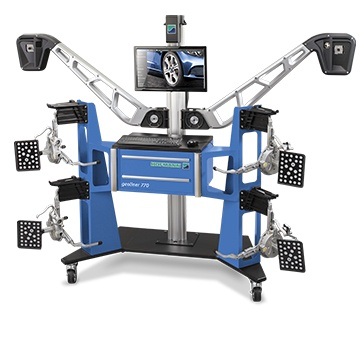 The Hofmann Geoliner 790wireless imaging wheel alignment system offers flexible installation as well as usage and mobility options. It also features a patented digital camera tracking which automatically adjusts to the height of the vehicle.
Features
Bluetooth Enabled Mobile Base Unit - Wireless communication eliminates connections between the camera towers and the cabinet to ease mobility and provides a variety of installation configurations
Automatic Caster Sweep - System automatically detects when the steering wheel is turned and initiates the caster sweep function to save time and eliminate errors
Patented Rolling Radius - Identify mismatched tire sizes, a potential cause of vehicle pulling and drive train damage
Patented Cross-Diagonal - Identify frame or structural before alignment adjustments are made
Speed and Productivity
Automatic vehicle height tracking - the camera system follows the height of the vehicle, eliminating the need to adjust the aligner when you move the lift
Get readings in less than two minutes on a wide variety of vehicles and wheel sizes
Comprehensive vehicle specification database with frequent updates ensures you always have the information to do the job right
It is one of the most advanced alignment systems currently in the market and its patented imaging technology provides users with accurate real time measurements that improve productivity. It features user-friendly EZ-TOE, VODI as well as an extensive vehicle specification database which deliver customer satisfaction.
Features
Advanced dimensioning
User Friendly interface
Ride Height Measurement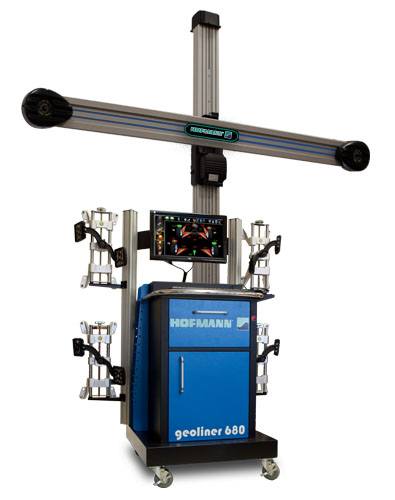 Geoliner 680
The Hofmann Geoliner 680 wheel alignment system comes with the same quality features as its predecessors such as the accurate and real time measurements improving productivity as well as user friendly features such as EZ-TOE and VODI.
Features
Its high resolution cameras produce accurate live alignment readings
Advanced targets and clamps are lightweight, durable and impact resistant.
Ride High measurement allows you to measure the correct height and obtain proper alignment specification for the vehicles that require it.
The Geoliner 650 imaging alignment system comes with Hofmann's basic software package which combines all the luxury of camera technology at an affordable price. Hofmann's patented VODI graphic display is used with high definition cameras to provide visual and directional assistance to technicians during the procedure.
The sleek ergonomic design of the geoliner 600 saves valuable shop space while providing the latest 3D camera technology.
Features
Set-up to readings within 2 minutes
EZ link steering angle sensor reset
Vehicle Orientation directional indicator
Productivity enhancing features
| | |
| --- | --- |
| Wheel Size | 13" - 24" |
| Tire Diameter | Unlimited |
| Track Width | 48" - 96" |
| Wheel base | 79" - 180" |
| Power Requirements | 120/230V, 1Ph, 60HZ |
The Geoliner 550 leverages a wireless communication system via Bluetooth technology. Cordless pods powered by lithium ion batteries as well as components elaborated out of lightweight magnesium. It combines advanced technology with affordability.
User Friendly Interface
Make your technicians experts with the Geoliner 550's easy to use graphics and job aids and use its available step by step instructions as a tool to complete the most difficult tire alignment tasks.
A set of non electric, shatter proof imaging targets will be mounted to your front wheels to complete the usage of this Wheel Aligner that like its predecessors uses high definition cameras. These cameras are encased in heavy duty magnesium pods that mount to the rear wheels. Reduce potential damage with these pods.
AXI4000
The rugged and portable AXIS4000 wheel alignment system (for commercial vehicles) uses the same imaging alignment technology to offer live readings as well as fast and accurate results. The patented ProClamp attaches easily to allow and steel rims without the need for runout compensation.
Features
Advanced Mobility
Fast vehicle data input
Extended Operation Time
Frame referenced alignment
Intuitive software
Hofmann offers them for 4 different categories Diagnostics, Premium, Mid-Range and Specialty, we will later provide a detailed summary of each of Hofmann Wheel Balancers.
Dignostics
The Hofmann Optima II is a fully automated diagnostic wheel balancer that features touch less measurement as well as analysis. Its fully automatic inputs decrease the chance of both error and or inaccurate results. When you combine those features with precise wheel balancing it makes the Geodyna Optima II the right way to go.
The Optima is Hofmann's most advanced wheel balancer and it's the industry's first balancer to utilize patented non contact laser technology. It also features CCD cameras which automatically capture measurements such as distance, diameter as well as width. This is done in under 30 seconds.
| | |
| --- | --- |
| Centering Cone Range | 1.625" - 4.5" |
| Shaft Diameter | 40 mm |
| Measuring Speed | 200 rpm |
| Maximum Wheel Width | 21" |
| Maximum Wheel Diameter | 30" |
| Maximum Tire Diameter | 38" |
| Maximum Wheel and Tire Assembly Weight | 150 lbs. |
| Dimensions (DxWxH) | 54"x48"x68" |
| Shipping Weight | 400 lbs. |
| Power Requirements | 230V, 1Ph, 60HZ |
When searching for high performance and a feature packed wheel balancer look no further than the Geodyna 9600p. It delivers the fastest floor to finish time of any one of its competitors and its usage is quite simple. The technician simply places the wheel onto the balancer shaft and hits the foot pedal to initiate the power clamp, he then proceeds in closing the wheel guard and the balancer takes care of the rest.
These series of wheel balancers are designed to fit multi bay repair shops as well as professional tire stores that are looking to improve on both productivity and profitability.
| | |
| --- | --- |
| Centering Cone Range | 1.625" - 4.5" |
| Shaft Diameter | 40 mm |
| Measuring Speed | 200 rpm |
| Maximum Wheel Width | 20" |
| Maximum Wheel Diameter | 30" |
| Maximum Tire Diameter | 44" |
| Maximum Wheel and Tire Assembly Weight | 154 lbs. |
| Motor | 1 HP (acceleration HP) |
| Cycle Time | From 6 seconds |
| Read-Outs | Gram or Ounce |
| Accuracy | 1g or 0.05 oz |
| Balancing Modes | 10 |
| Dimensions (DxWxH) | 62"x52"x58" |
| Shipping Weight | 560 lbs. |
| Power Requirements | 120V, 1Ph, 60HZ |
Premium
Geodyna 2800
The Hofmann geodyna 2800 series were engineered for multi bay repair shops as well as professional tire stores that require maximum accuracy. It is available in two configurations which are the patented power clamp feature (for faster and more accurate tire mounting) and the standard Ring-Nut feature with 3 balancing cones.
The geodyna 2600 takes advantage of Hofmann's patented virtual plane measurement technology which features hidden spoke placement or HSP as well as operator selectable positioning OSP balancing modes. With the Geodyna 2600 you also get a semi automatic entry of wheel diameter and distance as well as automatic wheel indexing. Keep this time saving feature in mind because it rotates the tire automatically to the desired location.
Mid Range
Geodyna 3900S
With this Wheel Balancer in under 10 seconds the color display pinpoints the location of any imbalance and identifies the optimal clip on weight location. It is ideal for small shops because it leaves a small footprint and its video display provides high end features in a compact design.
The Geodyna 2400 was designed to suit the needs of multi bay repair shops as well as tire stores. Its accuracy is second to none and its precise entries of wheel distance eliminate operator errors as well as customer comebacks. It also comes standard with a ziplock ring-nut as well as three balancing cones.
Hofmann's Geodyna 2350/2300 has the industry's leading edge technology all in one small compact piece of equipment. Perfect for single bay shops the 2300/2350 is equipped with balancing features that you would normally find on more expensive machines. Make sure you ask about its easy to read LED display integrated into the weight tray.
| | |
| --- | --- |
| Centering Cone Range | 1.625" - 4.5" |
| Shaft Diameter | 40 mm |
| Measuring Speed | 100 rpm |
| Maximum Wheel Width | 21" |
| Maximum Wheel Diameter | 30" |
| Maximum Tire Diameter | 48" |
| Maximum Wheel and Tire Assembly Weight | 150 lbs. |
| Motor | 1 HP (acceleration HP) |
| Cycle Time | From 6 seconds |
| Read-Outs | Gram or Ounce |
| Accuracy | 1g or 0.05 oz |
| Balancing Modes | 10 |
| Dimensions (DxWxH) | 16.5"x29.5"x40" |
| Shipping Weight | 375 lbs. |
| Power Requirements | 120V, 1Ph, 60HZ |
Specialty
The 980L is Hofmann's solution to heavy duty balancing needs. Its system is designed to handle the balancing needs of not just trucks but busses, RV's as well as light truck and automobile tires. The Geodyna 980 is equipped to handle from the smallest wheels (12") to the heavy 7#45: duty 24.5" as well as the super singles.
Features
Increase tire tread life
No more heavy lifting with its pneumatic wheel lift
Wheel adapters for most applications
Hofmann offers their tire changers in either Premium, Mid Range or Specialty categories.
Premium
With the Hofmann FA 1000 you can safely and efficiently change all types of tire and wheel combinations with this simple machine. The innovative design features include computerized mount/demount programs, automatic tire diameter measurement, integrated wheel lift and top side bead inflation.
The Monty 3550 two speed tire changer with patented easy mont pro pneumatic bead assist is equipped to handle wheel diameters up to 30". The 3550 series was specifically designed to change both low and high performance as well as run flat tires which will make your shop more versatile. It also has slight leverage over its competitors because it allows the technician better productivity.
| | |
| --- | --- |
| Overall Wheel Clamping Diameter | 12" - 28" |
| Inner-Wheel Clamping Diameter | 12" - 28" |
| Outer-Wheel Clamping Diameter | 12" - 26" |
| Bead Breaker Range (Position 1) | 2.5" - 12" |
| Bead Breaker Range (Position 2) | 6" - 17" |
| Bead Loosening Power | 6,000 lbs |
| Maximum Wheel Width | 17" |
| Maximum Outer Tire Diameter | 47" |
| Work Area Dimensions (DxWxH) | 72"x68"x85" |
| Air Requirements | 100 to 175 PSI @ 5 CFM |
| Shipping Weight | 975 lbs. (monty 3550em) |
| 870 lbs. (monty 3550) | |
| Two-Speed Revolution Speed | 7/14 CW & 7 CCW |
| Power Requirements | 230V 1Ph 60Hz |
Hofmann's Monty 3300 tilt tower changers feature 24" outer wheel clamping standard and it also accommodates tire diameters up to 40" and wheel widths up to 15". It can handle an array of wheels available today. It also has automatic pneumatic locking of the wheel offset to provide maximum cosmetic safety for luxury wheels.
The two speed tire changer is designed to fit the needs of high volume shops, multi bay repair shops as well as car dealerships. It allows for 14 RPM which lets the technician increase his productivity. (Also available in regular as opposed to two speed)
Features
Two speed capability
Dual wheel clamping cylinders
Powerful tire inflation system
Mid-Range
Monty 1620
For high volume tire shops as well as car dealerships the Hofmann Monty 1620 is your best bet. This swing arm tire changer features 21" outer wheel clamping standard and accommodates tire diameters up to 50". The 1620 can also be upgraded by implementing Hofmann's patented EasyMont Pro which aids in single operator mounting/demounting of extra rough and high performance run flat tires.
Monty 1575
The Monty 1575 includes wheel protectors that help take care of your most valued wheels and tires. It is perfect for shops looking to add value without sacrificing productivity.
Features
Dual wheel clamping cylinders
Adjustable four jaw clamping chuck
Powerful two stage bead breaker
For single bay repair shops and quick lubes, the Monty 1520 can really pack a punch. It features 18" outside wheel clamping standard which allows for an outer tire diameter of up to 40" as well as a wheel capacity of 13". It features dual clamping cylinders that ensure proper clamping power at all four jaws.
The Monty 1000 is engineered with the Hofmann quality and durability at an affordable price. The Monty 1000 handles tires with up to 22" in wheel clamping diameter.
Features
With its rugged construction it is built to last
On-board pressure limited inflation with inflation gauge
Polymer Valves eliminate rust as well as contamination
Cam-operated lock raises the mount/demount head vertically which avoids wheel contact
Standard lubricator/water separator ensures long valve life
Specialty
If you're in need of a high quality motorcycle and ATV tire changer, your best bet would be the Monty 1520m and Monty 1520emx. Don't worry about the arduous Harley Davidson belt drive wheels, the Hofmann monty 1520m and 1520emx can operate on those as well. Both tire changers feature standard clamping jaws that allow for changing automotive and light truck tires as well.
With the Hoffman monty 5800 series demounting tires up to 95" in diameter is a breeze. It features a hydraulically operated self centering four jaw chuck with clamping jaws that can clamp from 14" to 58" either from the wheel's inside or from the center bore. The chuck can also be lowered as much as 13.78" from the carriage which is good for wheels without tires.
Designed for truck, bus, large fleet services and other off road applications, the Monty 4400 makes wheel service easier and faster. These heavy duty changers are designed to mount or demount tires up to 90" in diameter. It also includes a comprehensive training video which shows actual mounting/demounting techniques for both on and off road wheels.
Hofmann's Monty 3850 heavy duty tire changer is designed for tubeless and tube type wheels. It can also mount and demount all bus, tractors and truck tires up to 60" in diameter. The 3850 is versatile with 3 HP bi directional chuck motor as well as heavy duty hydraulics which allows it to handle even the toughest tubeless, tube type single piece or multi piece Budd as well as Dayton wheels.
This powerhouse is designed to change on road, RV as well as bus tires. It is the best option for businesses that conserve a fleet of vehicles or bus garages. The Monty 3650 can handle wheel diameters from 16" to 24.5", wheel widths of 20" and a maximum tire diameter of 47".
A 14,000 lb capacity lift that is totally open between runways from front to rear which allows easy access to the complete undercar. The alignment ready runway of 210" allows shops to perform alignments on most vehicle sizes. It also features a large twin interlocking serriform that locks with 18 level and the locked positions ensure the alignment is level at all heights. (Also available as a four post alignment lift, see 14K Four Post Alignment Lifts)

| | |
| --- | --- |
| Lifting Capacity | 14,000 lbs |
| Overall Width | 92.5" |
| Overall Length (Surface-Mount) | 269.625" |
| Overall Length (Flush-Mount) | 228.5" |
| Width Between Runways | 38" |
| 4-Wheel Alignment Wheelbase | 156" |
| 2-Wheel Alignment Wheelbase | 188" |
| Service Wheelbase | 196" |
| Runway Surface | 210" from front wheel stop to rear ramp |
| Maximum Raised Height | 73.375" |
| Maximum Lowered Height | 10" |
| Operator Console Dimensions (DxWxH) | 17" x 25" x 45" |
| Lifting Time | 75 seconds |
| Shipping Weight | 4,980 lbs |
| Power Requirements | 230V, 1Ph, 60HZ |
The Hofmann 12k alignment lift has a capacity of 12,000 with front design and it provides easy access to alignment service as well as calibration areas. Hydraulic equalization as well as full support rear member delivers smooth and level lifting. Its "Pro-Style" 24 wide runways provide easy drive-on for large vehicles.
For a versatile alignment lift look no further than the Power Locking Scissor Alignment Lifts from Hofmann. It is the industry's first certified lift with a light system in the market. Its lights automatically turn on and off when the lift has passed the lower hazard zone. It has a lifting capacity of 10k to 14k and its adjustment areas are properly lit making it easier for technicians to operate.
Hofmann's 4 post alignment lifts offers a whopping 18,000 pounds of lifting capability and features a lifting system which provides for high wear resistance as well as a smooth gliding operation. The 18K 4 Post Alignment lift features 21 positions for maximum flexibility.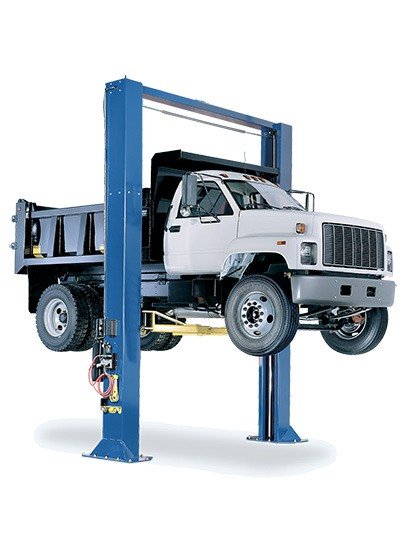 Hofmann announced the release of an addition to their much coveted line of automated lifts. Their thoroughly tested 18,000 lb heavy duty capacity twin post models have a wide array of unique features such as the adjustable stacking crew pad system and extra long lifting carriage which optimizes load distribution providing smooth operation.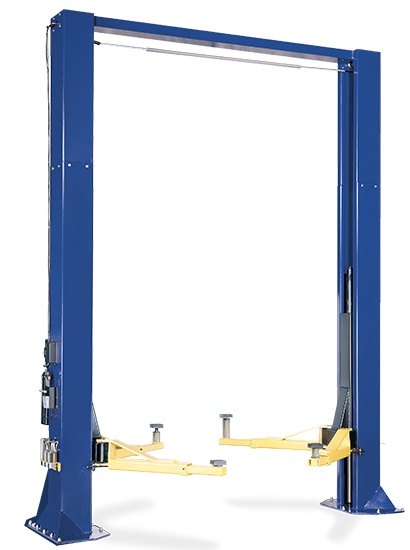 Featuring low profile arms, the 15K Two Post Lift is certified to the ANSI/ALI ALCTV:2011 automotive lift standard. It also features single point air actuated lock release as well as oversized steel pulleys and 60" lifting carriage.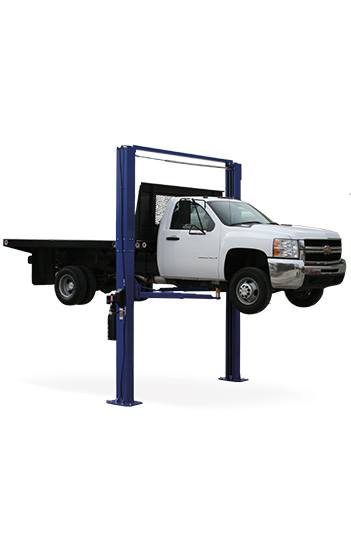 The 12K 2 post lift is a versatile lift which offers superior symmetric lifting capacities. It has a light / medium duty lifting capacity up to 12,000 lbs. Its overall height can be adjusted (at time of installation) to accomadate taller vehicles. It also has taller carriages for smooth performance and 71" cylinder stroke for higher under vehicles work area.
Hofmann's 2 post combo automotive/general purpose lifts are packed with features such as industrial strength columns, low friction lift carriage slides and low wear components with plated arm pins among others. You can also position vehicles both symmetrically and asymmetrically.
With Hofmann's 4 Post you get both versatility and comfort in one lift. These lifts are engineered with wide width runways that don't require repositioning from car to truck services. With their industrial strength runways you can add structural integrity and uniform a flat surface.
Hofmann's 9K variolift double scissor general purpose lift is engineered to accommodate a wide variety of vehicles. It also has a low profile design which allows for easy drive over or it can be installed as a flush mount.
Hofmann's 401 combination bench brake lathe is engineered to handle all of your brake resurfacing needs. It comes equipped with Hofmann's standard tooling package to resurface most passenger cars as well as smaller trucks.
Features
"One-Cut" finish or infinitely adjustable machining
Precision Speed Control
Heavy, thich ductile iron chassis provides a rugged, reliable base.
Quick changeover from disc to drums in only seconds
Full coverage with a lifetime warranty of excellence
Designed for value alternative for today's automotive shops, the Hofmann 201 TruCut provides a quality finish with the performance, accuracy and versatility that you have come to expect with the Hofmann name. It is built to last with its solid construction throughout, from the oversized tapered roller bearings supporting the lathe arbor to 350 pound ductile iron chassis.
Features
Simple "One-Cut" finish
Fast Changeover of Tooling
Heavy Duty Construction
Innovative Tooling Design
Years of experience offering unique products and services all over Europe convinced this German born brand to also offer their innovative products in America as well. Hofmann Products make our job here at JMC Automotive Equipment a lot easier with their products most carrying lifetime guarantees and a customer satisfaction ratio that is hard to find with any other brand. To learn more about Hofmann Products, Brake Lathes, Alignment Lifts, Automotive Lifts, Wheel Alignment, Wheel Balancers and Tire Changers, contact JMC Automotive Equipment today.