Ranger CB-30L Portable Evaporative Air Cooler
Brand:

SKU:

RG-5150551

Condition:

New
Ranger CB-30L Portable Evaporative Air Cooler
The CB?30L Cool?Boss evaporative air cooler by Ranger Products® provides a low?cost, environmentally?friendly way to keep shops cool and workplace areas comfortable even during the hottest summer months. The CB?30L uses ordinary tap?water combined with forced air to reduce air temperatures by as much as 26°F.
The Cool?Boss is an industrial strength, cost effective solution to an everyday problem. Typically, when outdoor temperatures rise, the efficiency of conventional air conditioners is reduced causing electric bills to skyrocket. The Cool?Boss air cooler is not an air conditioner so there are no costly high?amp compressor motors, no environmentally toxic chemicals and refrigerants to mess with, and no ducting to install. Just fill the large capacity reservoir up with water from your tap, (or connect to a garden hose for auto?filling convenience), then plug it in to a standard 110V outlet. In just minutes and for less than a dollar a day, you'll quickly transform your home, office, work area or outdoor living space into a cool retreat. No installation required, it's ready to use right out of the box ? just plug it in and add water.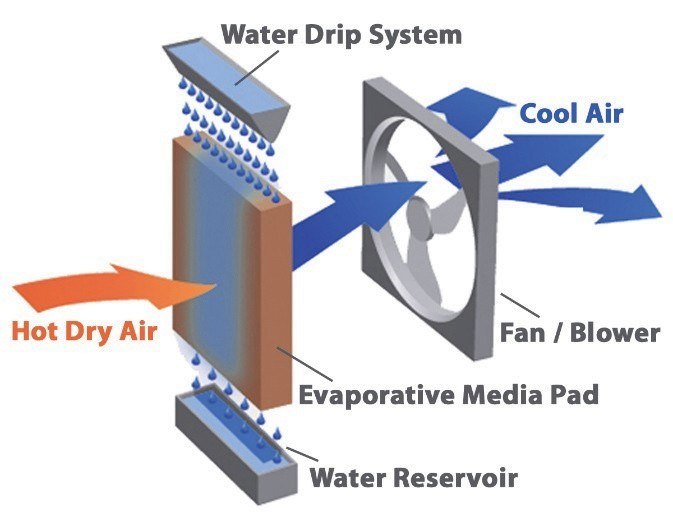 The CB-30L features a micro-computer programmed control panel with LCD display and comes with a convenient remote control. Built?in timer allows the unit to be programmed to turn on or off at preselected times. A large 30?inch diameter fan operates at three selectable speeds and a thick cooling pad ensures even water distribution and reliable heat absorption. Automatic swing?louvers move side to side and help circulate cold air more efficiently providing a larger cooling area than traditional evaporative air coolers. Four rubber casters with brakes allow easy mobility.
Features:
Micro?computer programmed control panel with LCD display

Automatic swing?louvers

Direct?drive fan

3?speed airflow wind speed function for desired airflow setting (Low / Medium / High)

Powerful 30" direct?drive fan blade

TIMER button to set automatic Run and Start time settings

Convenient remote control

4" rubber casters with brakes
Specifications:
Fan diameter: 30" / 762 mm
Max Airflow: 10595 CFM
Style: Axial
Water Consumption: 2.65 - 3.96 Gal./Hr
Water Capacity: 16 Gal.
Width: 44" / 1118 mm.
Depth: 28.5" / 724 mm
Height: 59" / 1499 mm.
Weight: 115 lbs. / 52 Kg.
Media Pad Size: 43"W x 4"D x 46"H
Effective Cooling Area: 2,500 - 2,800 Sq. Ft.
Casing Construction: ABS Plastic
Power Cord Length: 195" / 4953 mm
Noise / Decibels: 68 db
Motor / Power Consumption: 1000 Watts
Power Supply: 115V/60Hz (Optional 208-240C, 1 phase)
Bendpak charges sales tax in these states California, Washington, Alabama, Arizona, Colorado, Louisiana, North Carolina, and Ohio.

SHOP EQUIPMENT WARRANTY
THE BEST WARRANTY IN THE BUSINESS - YOU HAVE OUR WORD
Duration: From the date of purchase by the original Purchaser or 12 months from the date of shipment or whichever comes first.
One Year (12-Months) Warranty on equipment structure*
One Year (12-Months) Warranty on operating components
One Year (12-Months) Free-Shipping** on ground?freight charges related to warranty performance
Limited Warranty:
1. Who gives this warranty (Warrantor): BendPak/Ranger, 1645 Lemonwood Dr., Santa Paula, CA 93060
2. Who receives this warranty (Purchaser): The original Purchaser (other than for purpose of resale)
3. What products are covered by this warranty: Any Ranger brand Transmission Jack, Floor Jack, Motorcycle Lift Platform, Specialty Jack, Shop
Crane, Cart/Dolly, Jack Stand, Hydraulic Press, Hose Reel, Shop Equipment***
4. What is covered under this warranty: manufacturer defects due to material and/or workmanship with the exceptions noted below.
5. What is not covered under this warranty:
a. Any failure that results from Purchaser's abuse, neglect or failure to operate, maintain or service product in accordance with instructions provided in the owner's manual(s) supplied
b. Any damage caused by using equipment beyond rated capacity and/or capability
c. Items or service normally required to maintain the product, i.e. lubricants, oil, etc.
d. Items considered general wear parts such as rubber or plastic pads/protectors, worn casters/wheels, plastic trays, etc. unless wear or failure is a direct result of manufacturer defect due to material and/or workmanship
e. Any component damaged in shipment or any failure caused by installing or operating equipment under conditions not in accordance with installation and operation guidelines or damaged by contact with tools or surroundings
f. Any component failure caused by rain, excessive humidity, corrosive environments or other contaminants
g. Rusted components due to improper maintenance or corrosive environments
h. Cosmetic defects that do not interfere with product functionality
i. Damage due to incorrect voltage or improper wiring
j. Any incidental, indirect, or consequential loss, damage, or expense that may result from any defect, failure, or malfunction of a Ranger product
k. All electrical components are guaranteed for one year against defects in workmanship and/or materials when the lift is installed and used according to specifications
6. Responsibilities of Warrantor under this warranty: Repair or replace with either new or reconditioned unit at Warrantor's option, component and/or unit which is defective, has malfunctioned and/or failed to conform within duration of the warranty period.
7. Responsibilities of Purchaser under this warranty:
a. Provide dated proof of purchase and maintenance records
b. In some cases, components may be required to be shipped to the nearest BendPak/Ranger Authorized Service Center. Freight costs, after 12?months, must be borne by the Purchaser.
c. Use reasonable care in the operation and maintenance of the products as described in the owner's manual(s).
8. When Warrantor will perform repair or replacement under this warranty: Repair or replacement will be scheduled and serviced according to the normal work flow at the servicing location, and depending on the availability of replacement parts.
*Equipment structure is defined as any non?moving permanently affixed frame or main body, or sub?structures that are non?moving and permanently affixed or attached to any main equipment structure or frame. **Free?shipping applies to direct shipping points within the 48 continental United States. Rural area shipping surcharge may apply for remote addresses. ***For all Ranger brand Transmission Jack, Floor Jack, Motorcycle Lift Platform, Specialty Jack, Shop Crane, Cart/Dolly, Jack Stand, Hydraulic Press, Hose Reel, Shop Equipment, Work Bench manufactured on or following 11/1/2011.
Limitation of Liability:
BendPak/Ranger shall have no obligation pursuant to this Warranty with respect to products which in our sole judgment have been altered damaged, misused, abused, badly worn, lost or improperly maintained. This Warranty is null and void if the customer or any other person other than an authorized representative of BendPak/Ranger has made any attempt to service or modify the tool prior to its return to BendPak/Ranger under this Warranty. In no event will either party be liable for any damage caused by the other party's failure to fulfill its responsibilities under these terms and conditions. In no event will either party be liable for any lost profits, lost savings, incidental damage, or other economic consequential damagesBendPak/Rangerproductsareprovidedandsoldasiswithoutanyexpressorimpliedwarrantiesincludingwarrantiesof merchantabilityorfitnessforparticularpurpose.No warranties, expressed or im

Frequently Bought Together
Please choose options for all selected products