Quickjack BL-7000SLX Portable 7,000 Lbs Car Lift
Brand:

SKU:

5175045

Condition:

New

Capacity:

7,000 Lbs
Quickjack BL-7000SLX Portable 7,000 Lbs Car Lift
Meet the newest and most efficient QuickJack, the BL-7000SLX extreme-duty movable automobile lifting system. No more playing games with jacks and ramps for your bigger cars. The game changes the instant your QuickJack hits your shop. With the QuickJack BL-7000SLX, you'll go from floor to air during a mere matter of seconds. Get your tools prepared. They're about to hit the ground running hard.
The BL-7000SLX is 7,000-lb. capacity car lift, engineered, designed and made by the same people that have perfected the old school and traditional car and truck lifts that you can find all over the world. However with one key distinction that changes everything. The BL-7000SLX is portable and can be taken wherever you want. No bolts. No wiring. Only 2 ramps, a tower and an infinite amount of potential. Throw it in the back of the car and take it out when you need to lift something quick. And once you are done with it, store it anywhere out of sights. It's just that easy. Once the initial set up has been completed, you can lift your car or truck to whatever working height you have in mind in seconds. All you have to do is place the ramps on the floor, connect it to the power source, position the frames and rubber blocks and you are 100% ready to go.
With its 3 inch collapsed profile, you can store it anywhere you want without taking up too much space. And also, because it has no cross beams, you can pretty much use it in any vehicle no matter how wide or narrow it is. In conclusion the Quickjack BL-7000SLX is one of the most versatile lifts around.
More about the "SLX" Car Lift:
Automatic safety locks
Features dual-position automatic safety locks. As the lift rises, these locks glide securely into place. Disengage with a simple flip of the lock bar and the lift frames are ready for a smooth descent.
---
Extended block trays
We increased the size of our rubber block trays to improve access to varied lift points, in addition to better trailing side block positioning during set-up.
---
Reinforced upper frame rails
On our largest-capacity QuickJack lifting system, we've reinforced the upper frame rails of our car lift with box-welded steel to minimize deflection, greatly increasing the lifting power without requiring longer frames.
---
Open-center design
Let nothing get in your way. Inspired by full-size frame-engaging car lifts, our open-center design gives users total, free access to the wheels and undercarriage.
What's included with the BL-7000SLX Portable Car Lift System?
(2) ea. jack frame assemblies
(2) ea. 150" hydraulic hoses
(2) ea. 14" aux. hoses
(2) ea. frame handles
(4) ea. 1.5" x 3" x 4" rubber lifting blocks
(4) ea. 3" x 3" x 4" rubber lifting blocks
(1) mini hydraulic power unit with pendant control
Optional Light Truck & SUV Lift Pad Adapters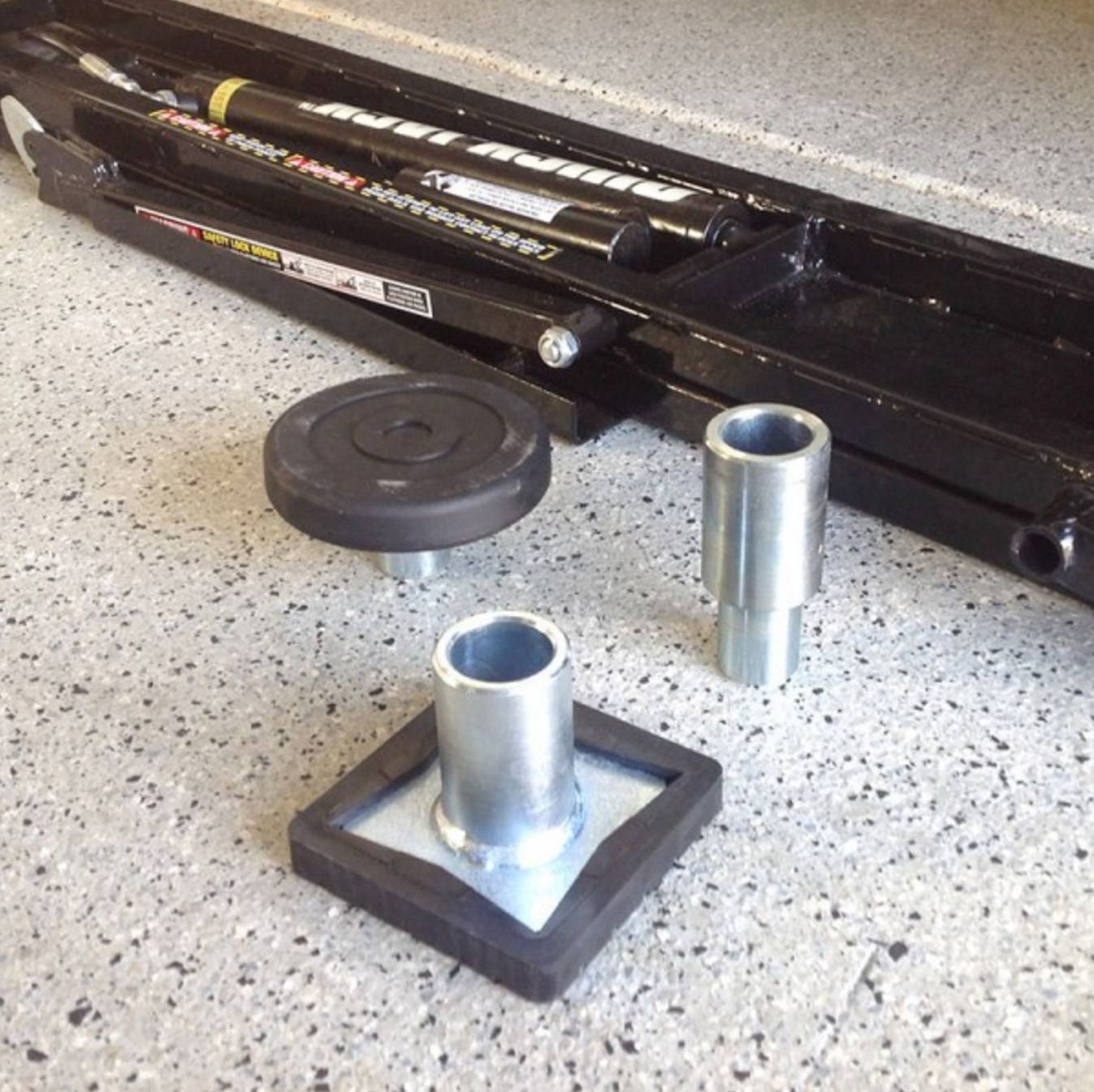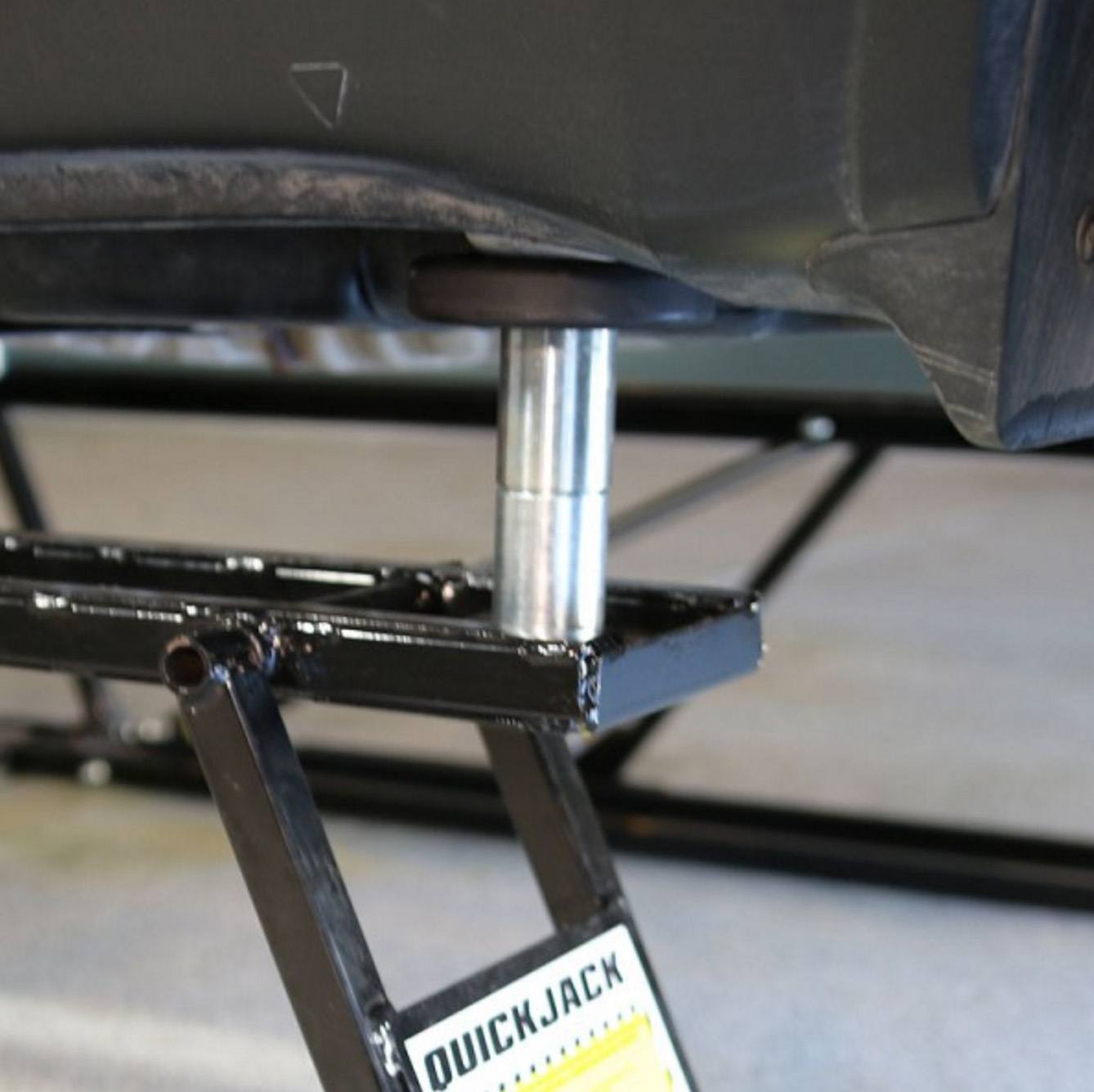 Features
7,000-pound capacity

From stow to go in less than 60-seconds

Dual-position automatic safety lock bars engage automatically as the lift rises

Dual locking positions – mid level and full rise

Extended, cantilevered rubber block trays provide increased rubber block reach

Portable power unit features a remote push-button control for simple operation

Steel mounted UHMW wheels provide effortless rolling of jack frames on floor

Remote pendant control features a 13-foot cord

Power unit features a built-in hydraulic flow divider for precise equalized lifting

Open-center design for clear under car access

Quick-connect/disconnect hoses for fast and convenient set-up

Convenient handles allow for easy positioning of the jack frames

Strong 14-gauge welded steel frames

It's a jack you can use when you need it then conveniently store out of the way

Provides quick wheels-free convenience for brake and tire service and clear undercarriage access of all types of vehicles

Low-profile jack frames fit under most race cars

Powerful hydraulic cylinders eliminate the need for screw mechanisms

Integrated power-assist canisters increase the lowering speed

Hydraulic cylinders feature integrated velocity-fuse safety valves

A convenient metal carrier with handle keeps the power unit protected and easily mobile

Includes an eight piece set of adjustable and stackable rubber lift blocks to support cars at precise locations for increased stability and safety

Detailed installation, maintenance and safety instructions accompany each QuickJack system

Durable powder coat finish
Specifications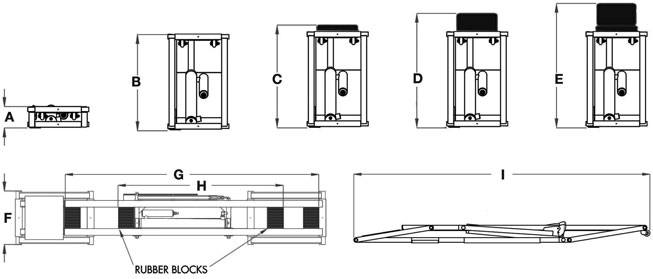 MODEL

BL-7000SLX

Lifting Capacity

7,000 lbs. / 3175 kg.

(A)

Minimum Collapsed Height

3.5" / 89 mm.

(B)

Platform Lifting Height (Frame only)

18.2" / 462 mm.

(C)

Platform Lifting Height (Small Rubber Block)

18.5" / 469 mm.

(D)

Platform Lifting Height (Tall Rubber Block)

19.5" / 495 mm.

(E)

Platform Lifting Height (Stacked Rubber Blocks)

21.5" / 546 mm.

(F)

Frame Width

12.5" / 318 mm.

(G)

Rubber Lift Block Position - Max.

60" / 1524 mm.

(H)

Rubber Lift Block Position - Min.

31.5" / 800 mm.

(I)

Overall Frame Length

72.5" / 1841 mm.

Individual Frame Weight (ea.)

91 lbs. / 41 kg.

Power Unit Weight

35 lbs. / 16 kg.

Gross Weight

242 lbs. / 110 kg.

Noise

< 45dBA
POWER UNIT ELECTRICAL SPECIFICATIONS
| | | | | |
| --- | --- | --- | --- | --- |
| MOTOR | HERTZ | KW | PHASE | AMPS |
| 12-Volt DC | N/A | 0.8 | N/A | 70 |
| 110-Volt AC | 60 | 0.55 | 1 | 10-15 |
| 208-230-Volt AC | 50/60 | 0.55 | 1 | 5-8 |
| 240 Volt AC | 50 | 0.55 | 1 | 4-6 |
IMPORTANT NOTE: EXTENSION CORDS ARE NOT RECOMMENDED. Using extensions cords can adversely affect operation and can cause overheating conditions and damage to power unit. If using an extension cord, use the shortest cord possible. Refer to extension cord size chart below.
| | |
| --- | --- |
| Cord Length | AWG size/rating |
| 25 feet | 14 gauge |
| 50 feet | 14 gauge |
| 75 feet | 12 gauge |
Limited Warranty
Duration: From the date of purchase by the original Purchaser or 12 months from the date of shipment or whichever comes first.

One Year (12-Months) Warranty on equipment structure*
One Year (12-Months) Warranty on operating components
One Year (12-Months) Free-Shipping** on ground-freight charges related to warranty performance
Frequently Bought Together
Please choose options for all selected products