PKS Lifts PKMR-48AH 48,000 Lbs Mid-Rise Air-Hydraulic Lifts (Set of 2)
Brand:

SKU:

PKMR-48AH

Capacity:

48,000 Lbs
Shipping Calculated at Checkout
PKS Lifts PKMR-48AH 48,000 Lbs Mid-Rise Air-Hydraulic Lifts (Set of 2)
PKS Mid-Rise Air Hydraulic mobile lifts come in a two-column configuration with a 28" rise. These models are available in 24,000, 36,000 and 48,000 lb. total capacities and require a min of 90 PSI working air pressure. This PKS Mid-Rise series is manually operated and hydraulically equalized but can be fitted with optional pneumatic controls.
Eight mechanical lock positions with single point lock release.
Adjustable forks for tires ranging from 22" to 48" diameters.
Air hydraulic lifting with one 4 HP air/hydraulic vane style pump.
Large spring-loaded wheel casters for easy mobility on all surfaces.
Includes standard bumper lifting adapter and adjustable forks.
Can be ordered with forklift truck lifting ramps and adapters.
Available with optional wider and/or longer forks.
Specification
CAPACITY PER COLUMN - 24.000LBS
LIFTING HEIGHT UP TO 28"
AIR/HYDRAULIC SYSTEM
AIR PRESSURE REQUIRED 90 PSI
AUTOMATIC MULTI-POSITION MECHANICAL LOCK
SPRING LOADED THIRD WHEEL
COLUMN WEIGHT 650 LBS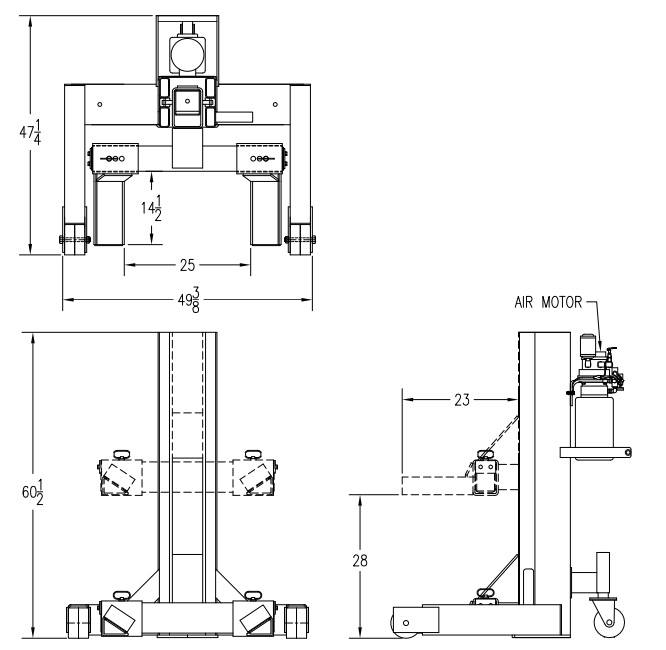 Frequently Bought Together
Please choose options for all selected products