PKS Lifts PK70-4-E 70,000 Lbs Heavy Duty 4 Post Lift
Brand:

SKU:

PK70-4-E

Capacity:

70,000 Lbs
Shipping Calculated at Checkout
PKS Lifts PK70-4-E 70,000 Lbs Heavy Duty 4 Post Lift
PKS offers unparalleled Super Heavy Duty 4-post lifts with weight capacities ranging from 50,000 lb. to 125,000 lb. These lifts are electronically operated and PLC controlled ensuring synchronized lifting and smooth operation with a dual valve system. PKS Super Heavy Duty 4-post lifts are built to perfection and come with ALI Gold certification. PKS offers numerous options and accessories to customize your Super Heavy Duty PKS 4-post Lift to meet all your needs.
Four direct drive hydraulic cylinders (one on each post) – no load bearing cables.

Electronically controlled and PLC controlled and synchronized.

Optional Control Platform for operation away from the lift.

Constructed of maintenance free Structural Steel.

Solid steel pulleys with sealed steel roller bearings.

Four 3HP motors available in a range of voltages to suit your needs.

Mechanical, Multi-position Safety locking legs on each post.

Dual-valve leveling for smooth equalizing.

Front & Rear wheel stops

Wide flange beam runways made with diamond plate.

Gradually angled approach ramps made with diamond plate.

Optional Open Front Design (cross-beam free construction).

Available with Recessed Alignment Equipment (Radius Plates & Slip Plates).

24-38" wide runways with lengths from 15 ft. to 48 ft. (Runway lengths are in available in one ft. increments for the perfect fit).

Available with "wheels-free" bridge jacks used to raise vehicle's tires off the platform for quick wheel, brake and axle service.

Optional extended ramps can be ordered for lower vehicles.

Optional LED runway track lighting available.

Galvanizing available upon request.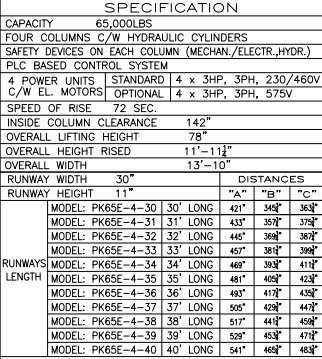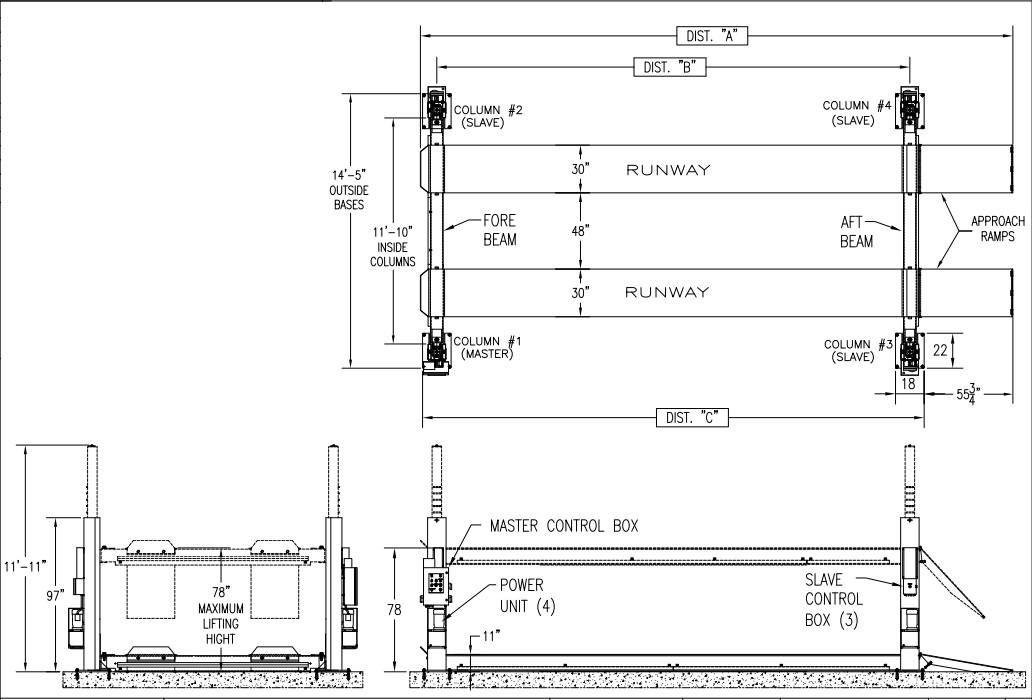 Frequently Bought Together
Please choose options for all selected products