Corghi A9824TI 24" Swing Arm Tire Changer
Brand:

SKU:

A9824TI

Condition:

New
Corghi A9824TI-Air or A9824TI-Electric Tire Changer (Service and training included)
Superior quality teamed with a sleek design and other unique features allow this machine to achieve speeds up to 50% faster than any other tire changer on the market in its price range. That's why Corghi was awarded the ISO 9001 Quality Certification, the industry's most coveted award. Run-flat certified by all major tire manufacturers.
Features
Built-in table inflator with jets in the jaws.
Unique mount/demount head does not touch the rim during operation.
Locking handle locks head away from the rim.
Powerful action bead-breaker blade follows bead to inside rim contour.
Heavy-duty turntable rotates in either direction.
Rebuildable stainless steel cylinders.
Heavy-duty stainless steel turntable.
Safe, fast, profitable and affordable.
Bead-pressing lever.
Upper arm assembly swings out-of-way.
Shipping weight 550 lbs.
Available with air or electric motor.
Specifications
Ext. Rim Size 10"-24"
Optional w/Adapter 8"-28"
Int. Rim Size 13"-26"
Voltage 110V 1 Ph or Air
Rim Width 3.5"-14"
Max. Tire Diameter 47"
Air Pressure 150 psi
Bead Breaker Power @ Shoe 3500 lbs
Torque 737 ft/lbs
Standard Accessories
Lube Bucket
Lube Brush
Tire Lever
Tire Lever Covers
Set of Jaw Protectors
M/D Head Bottom Inserts
Set of Inserts
Air Tank Gauge Assembly
B/B Blade Protector on Machine
Bead Pressing Lever on Machine
Optional Plus PU1500 Power Assist Unit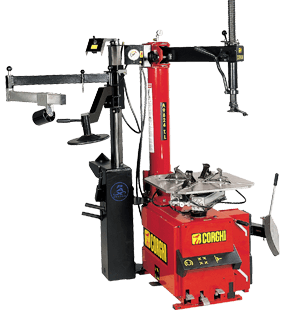 Wheel and bead pressing arm
Bead lifter
Maintains bead in drop center
Eliminates bead stress
Eliminates wheel damage
One person operation to change even the most difficult tires
PAX capable with PAX kit
Rim clamping assist
Tire pressure sensor style rims changes safely
Shipping weight 750 lbs.
Warranty
10 years on trnasmission
1 year on parts and labor
Corghi USA expressly warrants its products will be free from defects in material and/or workmanship for the time period specified. Corghi USA must be informed in writing within 7 days after discovery of a defect. Corghi USA reserves the right to repair or replace a product at our discretion. Consumable products and accessories such as but not limited to; plastic protection parts, bead breaker pads, inflation hoses, and rollers, are not covered under this warranty.

This warranty does not cover any damage resulting from abuse or failure to perform any necessary maintenance (i.e. damage due to or resulting from, faulty installation, neglect, misuse, improper electrical connections or electrical surges, problems resulting from excessive water, contaminated air system, or pollutant of any nature, fire or freight damage)
Frequently Bought Together
Please choose options for all selected products