Car Caddy VP - Motorized Vehicle Puller
Brand:

SKU:

Motorized Vehicle Puller

Condition:

New
Shipping Calculated at Checkout
DJ Products Car Caddy VP – Motorized Vehicle Puller
Vehicle Puller Applications
The Car Caddy Vehicle Puller is specifically designed for pulling vehicles easily, safely, and efficiently without causing damage to the bumper or body of the vehicle. Their Car Caddy Vehicle Puller is designed for automotive and truck repair centers, car dealers, body shops, manufacturers, auto museums, auctions and government highway service organizations.
The most common applications that require a Car Caddy Vehicle Puller is the pulling of a stalled or non-operable vehicle in and out of a service center, the moving of a vehicle on a dealership show room floor or an auction house or museum, or at the end of an auto production line. The unit's power, size, maneuverability, and price tag make it an extremely attractive solution compared to alternative methods of moving wheeled vehicles in tight and confined areas.
The Car Caddy Vehicle Puller has many unique features over other methods to relocate vehicles including its hydraulic roller rams that effortlessly pull any two wheels of a vehicle up a ramp, off the ground, so the powered Car Caddy VP tug can easily and safely turn and maneuver the vehicle without the wheels of the vehicle moving. This operation eliminates the cumbersome straps, hooks, and brackets needed to lift and pull a vehicle, or the "bumping" of the vehicle from behind with rubber push pads.

Vehicle Puller Features
Vehicle Puller Pulls Vehicles Up to 20k lbs.
Hydraulic Roller Arms Easily & Safely Grabs Front Two Wheels
No Damaging Bumpers or Body of Vehicle
36 volt 3 Battery System
Walk-Behind Design for Maneuvering in Confined Areas
0-3 MPH Forward/Reverse
Charger works with 120/220 AC Outlets
Specifications
Heavy Duty Steel Frame
2 HP 36 vdc Motor
WagonWheel Steer and Motor Drive System
High Tech Speed Controller
Neutral Throttle Regenerative Braking
Keylock Switch
3 (12V) Maintenance Free Batteries Onboard Autosensing Charger Variable Speed Thumb Control
3 mph Forward/ Reverse
Non-Marking Tires (Drive Tire and 4 Wheels)
Hydraulic Dual Tire Engaging System
Car Caddy Prices and Options
Car Caddy VP - $12,550
Car Caddy VP HD - $14,400
Saftey Stop Switch For Emergency Braking - $125
Upgrade to 5/15 amp water-proof charger - $150
Safety Horn - $95
Safety Light with Pole - $150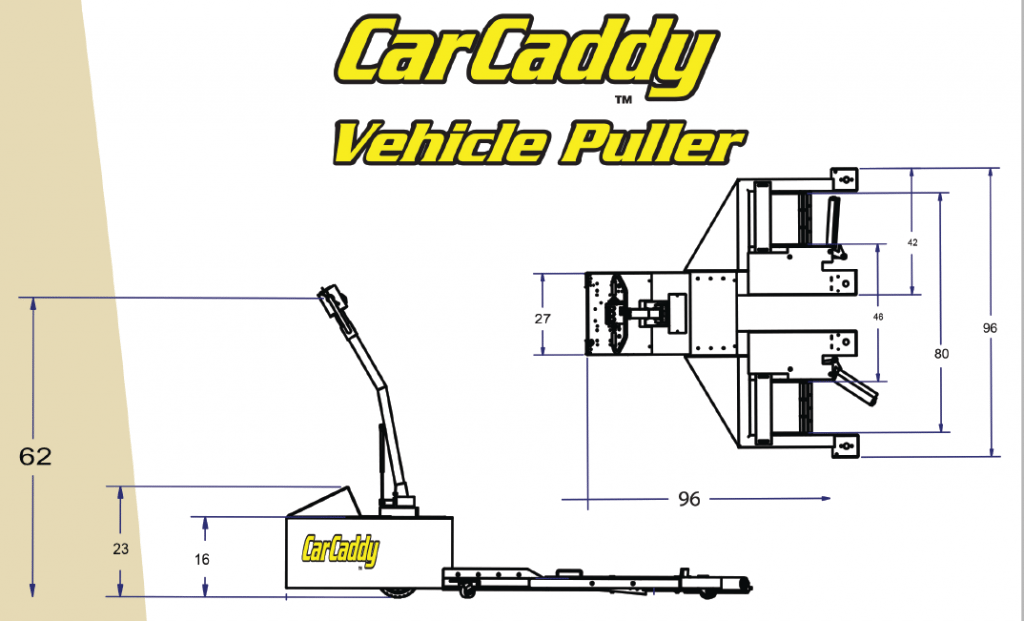 Limited Warranty

The limited warranty covers defects in material or workmanship in all of the DJ Products Products for the stated warranty period from the date of delivery. DJ Products will repair or replace any Product, which proves to be defective in materials or workmanship during the limited warranty period. This limited warranty does not apply to any damage caused by a carrier, nor to any alterations of the Product not expressly authorized by DJ Products and in conformity with applicable Product specifications and use limitations. This limited warranty does not extend to any Products which have been damaged as a result of accident, misuse, abuse, normal wear and tear, acts of God or other contingencies beyond DJ Products control, or as the result of service or modification by anyone other than DJ Products.

EXCEPT AS STATED ABOVE, ERGOSOURCE MAKES NO EXPRESS OR IMPLIED WARRANTIES AS TO ANY PRODUCT, AND, IN PARTICULAR, MAKES NO WARRANTY OF MERCHANTABILITY OF FITNESS FOR ANY PARTICULAR PURPOSE. The remedies of the Purchaser set forth herein are exclusive, and the total liability of DJ Products with respect to the Products furnished, whether based on contract, warranty, negligence, indemnity, strict liability or otherwise, shall not exceed the purchase price for the Products upon which such liability is based. DJ PRODUCTS SHALL IN NO EVENT BE LIABLE TO PURCHASER FOR CONSEQUENTIAL, INCIDENTAL, INDIRECT, SPECIAL OR PUNITIVE DAMAGES ARISING OUT OF ANY BREACH OF THE LIMITED WARRANTY OR ANY DEFECT IN, FAILURE OF, OR MALFUNCTION OF THE PRODUCTS FURNISHED HEREUNDER, WHETHER OR NOT SUCH LOSS OR DAMAGE IS BASED ON CONTRACT, WARRANTY, NEGLIGENCE, INDEMNITY, STRICT LIABILITY OR OTHERWISE. DJ Products shall not be liable for consequential, incidental, indirect, special or punitive damages even if the limited remedy afforded herein fails of its essential purpose; the express intent of the parties being that the risk of all such loss or damage shall be borne the Purchaser and/or Purchaser's insurer.
Frequently Bought Together
Please choose options for all selected products