BendPak XPR-10AXLS-181 10,000 Lbs. Asymmetric 2 Post Car Lift
Brand:

SKU:

BP-5175193

Condition:

New
BendPak XPR-10AXLS-181 10,000 Lbs. Asymmetric 2 Post Car Lift
Adjustable Width / Screw Pads / HIGH RISE / 181" O.A. Height
Taller people know that the difference between stooping and standing under a two-post lift can be the difference between severe back/neck pain and working in total comfort. 10K car lifts don't offer taller lift carriages or get easier to work under than this. If you need maximum security and an extended working height that's ideal for taller individuals, you need the BendPak XPR-10AXLS-181. True safety requires taller carriages. Higher carriages eliminate balance issues that come into play when lifting trucks and SUVs.
XPR-10AXLS-181 lifts include:
Direct-drive power and performance for efficiency and reduced maintenance
Two-stage telescoping screw pad assembly
Adjustable top beam for wide or narrow installation
User-friendly controls
Automatic arm restraints for quick operation and safety
Triple-telescoping front arms and two-stage rear arms
XPR-10AXLS-181 Characteristics:
Lift Capacity: 10,000 lbs.

Height:

181"

Width:

132" (narrow config), 145" (wide config)

Lift height:

75"

Type:

Asymmetric Clear Floor
Features:
Lift arms shown with optional foot guards
10,000 lbs lifting capacity
Expandable top beam accommodates wide or narrow configuration
Double-telescoping screw pads offer increased versatility
Padded overhead safety shutoff bar
Single-piece columns
Dual hydraulic direct-drive cylinders
Automatic arm restraints
Lowered arm tube supports
Maintenance-free UHMW load bearings
Oversized 59" tall carriage for superior strength and durability
Electric / hydraulic power system
Large, 17" x 19" A36 steel base plate
Self-lubricating dura-glide UHMW polyethylene bearing system
Single-point safety release
Safety locks in each column spaced every 3"
Automatic overhead shutoff
Plated arm restraints and arm pins for rust prevention
Heavy-duty 1/2" aircraft-quality equalizer cables
Oversized cable sheave diameter reduces cable fatigue
4-piece 63 mm stackable adapter set comes standard
ALI Certified
Specifications
Capacity
Lifting Capacity* 10,000 lbs. (4,536 kg)
*Max Capacity / Front Axle 5,000 lbs. (2,268 kg)
*Max Capacity / Rear Axle 5,000 lbs. (2,268 kg)
Rise
A - Rise: 75" (1,905 mm)
B - Rise + Pad Only: 79" (2,007 mm)
C - Rise + Pad + 63 mm Adapter: 81.5" (2,070 mm)
D - Min. Height + Pad: 4.25" (108 mm)
Time to Full Rise: 50 seconds
Outside Dimensions
E - Height Overall: 181" (4597 mm)
F - Width Overall: 137" (3,480 mm) or 145" (3,683 mm)
G - Outside Columns: 126.75" (3,219 mm) or 139.75" (3,550 mm)
Inside Dimensions
H - Inside Columns: 105.5" (2,680 mm) or 118.5" (3,010 mm)
I - Drive-Thru Clearance: 93" (2,362 mm) or 106" (2,692 mm)
J - Floor To Overhead Switch: 147" (3,734 mm)
Arms & Pads
K - Front Arm Reach: (MIN) 28.5" (724 mm)
K - Front Arm Reach: (MAX) 47.5" (1,207 mm)
L - Rear Arm Reach: (MIN) 28.5" (724 mm)
L - Rear Arm Reach: (MAX) 47.5" (1,207 mm)
Screw Pad Adjustment: 2" (51 mm)
Max Load Per Arm 2,500 lbs. (1,134 kg)
Power Unit
Motor: 220 VAC / 60 Hz / 1 Ph
Noise: 45 dB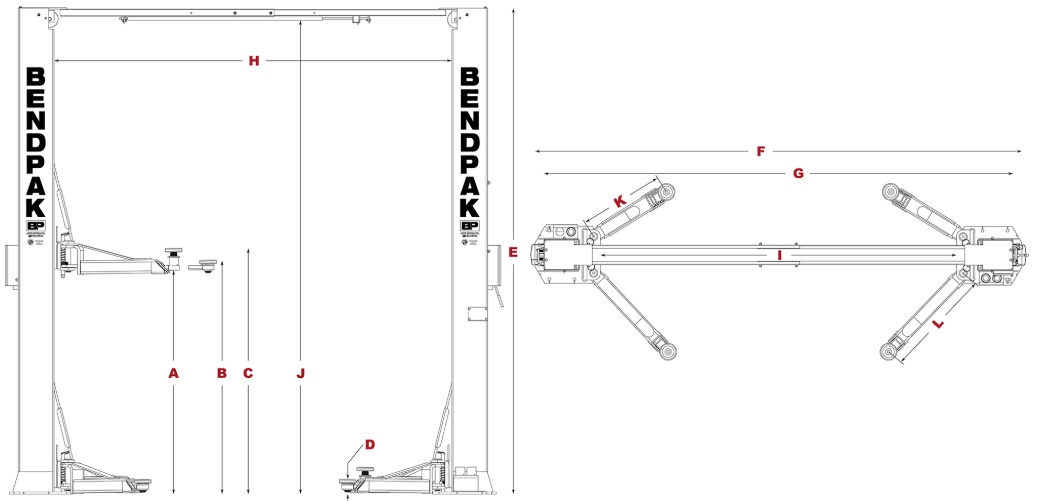 Bendpak charges sales tax in these states California, Washington, Alabama, Arizona, Colorado, Louisiana, North Carolina, and Ohio.
Frequently Bought Together
Please choose options for all selected products