Bendpak XPR-10AXLS 10,000 Lbs Extra-Tall 2-Post Lift
Brand:

SKU:

5175991

Condition:

New
Bendpak XPR-10AXLS Dual-Width, 10,000 Lb. Extra Tall 2 Post Car Lift
Because taller mechanics are sometimes at a disadvantage while they work, we're making it easier to wrench under a fully raised vehicle. 10K two-post lifts don't offer taller lift carriages or get easier to work under than this. If you need maximum security and an extended working height that's ideal for taller individuals, you need the XPR-10AXLS. This particular two-post lift features an absolutely massive 75" cylinder stroke, which means we did more than just extend the columns for the sake of overhead clearance. We actually lift the bottom of the vehicle 6" higher than our standard 10K lift height. True safety in a car lift requires tall carriages; higher carriages eliminate balance issues that come into play when lifting trucks and SUVs
This auto lift is truly something to get excited about. If your shop has the overhead clearance—at least 13'—the XPR10AXLS might be the best lift you ever purchase. The big n' tall techs in your shop won't forget it!
XPR-10AXLS lifts include:
Direct-drive power and performance for efficiency and reduced maintenance
Two-stage telescoping screw pad assembly
Adjustable top beam for wide or narrow installation
User-friendly controls
Automatic arm restraints for quick operation and safety
Triple-telescoping front arms and two-stage rear arms
XPR-10AXLS Characteristics:
Lift Capacity: 10,000 lbs.
Height: 157"
Width: 132" (narrow config), 145" (wide config)
Lift height: 75"
Type: Asymmetric Clear Floor
Features:
Lift arms shown with optional foot guards
10,000 lbs lifting capacity
Expandable top beam accommodates wide or narrow configuration
Double-telescoping screw pads offer increased versatility
Padded overhead safety shutoff bar
Single-piece columns
Dual hydraulic direct-drive cylinders
Automatic arm restraints
Lowered arm tube supports
Maintenance-free UHMW load bearings
Oversized 59" tall carriage for superior strength and durability
Electric / hydraulic power system
Large, 17" x 19" A36 steel base plate
Self-lubricating dura-glide UHMW polyethylene bearing system
Single-point safety release
Safety locks in each column spaced every 3"
Automatic overhead shutoff
Plated arm restraints and arm pins for rust prevention
Heavy-duty 1/2" aircraft-quality equalizer cables
Oversized cable sheave diameter reduces cable fatigue
4-piece 63 mm stackable adapter set comes standard
ALI Certified
Specifications
Capacity
Lifting Capacity* 10,000 lbs. (4,536 kg)
*Max Capacity / Front Axle 5,000 lbs. (2,268 kg)
*Max Capacity / Rear Axle 5,000 lbs. (2,268 kg)
Rise
A - Rise: 75" (1,905 mm)
B - Rise + Pad Only: 79.75" (2,025 mm)
C - Rise + Pad + 63 mm Adapter: 82.25" (2,088 mm)
D - Min. Height + Pad: 4.75" (120 mm)
Time to Full Rise: 50 seconds
Outside Dimensions
E - Height Overall: 157" (3,983 mm)
F - Width Overall: 137" (3,480 mm) or 145" (3,684 mm)
G - Outside Columns: 133.25" (3,219 mm) or 141.25" (3,550 mm)
Inside Dimensions
H - Inside Columns: 106.25" (2,700 mm) or 114.25" (2,903 mm)
I - Drive-Thru Clearance: 93.75" (2,382 mm) or 101.75" (2,585 mm)
J - Floor To Overhead Switch: 147" (3,734 mm)
Arms & Pads
K - Front Arm Reach: (MIN) 23.5" (595 mm)
K - Front Arm Reach: (MAX) 43.75" (1,110 mm)
L - Rear Arm Reach: (MIN) 40.25" (1,024 mm)
L - Rear Arm Reach: (MAX) 58" (1,474 mm)
Screw Pad Adjustment: 2" (51 mm)
Max Load Per Arm 2,500 lbs. (1,134 kg)
Power Unit
Motor: 220 VAC / 60 Hz / 1 Ph
Noise: 45 dB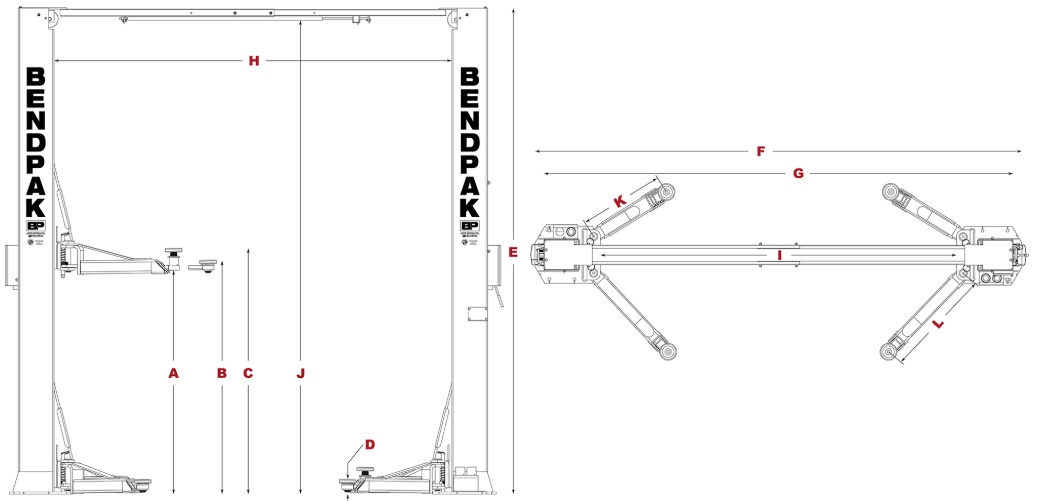 *
Bendpak charges sales tax in these states California, Washington, Alabama, Arizona, Colorado, Louisiana, North Carolina, and Ohio.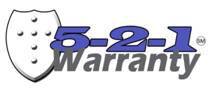 TWO?POST LIFTS/FOUR?POST LIFTS LIMITED WARRANTY
Better Products – Better Service – Better Value
LIMITED WARRANTY. Subject to the limitations of set forth below, Warrantor warrants that the Product sold hereunder conform to Warrantor's published specifications. WARRANTOR MAKES NO REPRESENTATION OR WARRANTY OF ANY OTHER KIND, EXPRESS OR IMPLIED, WITH RESPECT TO THE GOODS, WHETHER AS TO MERCHANTABILITY, FITNESS FOR A PARTICULAR PURPOSE OR ANY OTHER MATTER.
Duration: From the date of purchase by the original Purchaser or 60-24-12 months from the date of shipment by BendPak or whichever comes first.
Five Years (60?Months) Warranty on the lift structure

Two Years (24?Months) Warranty

on the hydraulic cylinder(s) and power unit
One Year (12?Months) Warranty on operating components
One Year (12?Months) Warranty on electrical components (excluding power unit)
One Year (12?Months) Labor Warranty on site or at factory*
One Year (12?Months) Free?Shipping** on ground?freight charges related to warranty performance
Limited Warranty
1. Who gives this warranty (Warrantor): BendPak Inc., 1645 Lemonwood Dr., Santa Paula, CA 93060
2. Who receives this warranty (Purchaser): The original Purchaser (other than for purpose of resale)
3. What products are covered by this warranty (Product): Any BendPak Two?Post or Four?Post Vehicle Service Lift***
4. What is covered under this warranty: manufacturer defects due to material and/or workmanship with the exceptions noted below.
5. What is not covered under this warranty:
Any failure that results from Purchaser's abuse, neglect or failure to operate, maintain or service Product in accordance with instructions provided in the owner's manual(s) supplied.

Any damage caused by overloading Product beyond rated capacity.

Items or service normally required to maintain the Product, i.e. lubricants, oil, etc.

Items considered general wear parts such as rubber pads, lifting cables, etc. unless wear or failure is a direct result of manufacturer defect due to material and/or workmanship.

Any component damaged in shipment or any failure caused by installing or operating lift under conditions not in accordance with installation and operation guidelines or damaged by contact with tools or surroundings.

Motor or pump failure caused by rain, excessive humidity, corrosive environments or other contaminants.

Rusted components due to improper maintenance or corrosive environments.

Cosmetic defects that do not interfere with Product functionality.

Damage due to incorrect voltage or improper wiring.

Any failure that results from improper installation or use not according to specifications.

Damage caused by disasters such as fire, flood, wind, and lightning.

Damage caused by unauthorized attachments or modifications.
6. Responsibilities of Warrantor under this warranty: Repair or replace, at Warrantor's option, component which is defective, has malfunctioned and/or failed to conform within duration of the warranty period. Warrantor will pay reasonable labor costs for the first 12 months only.
7. Responsibilities of Purchaser under this warranty/ notice of claims:
Provide dated proof of purchase and maintenance records.

In some cases, components may be required to be shipped to the nearest BendPak Authorized Service Center. Freight costs, after 12?months, must be borne by the Purchaser.

Use reasonable care in the operation and maintenance of the Products as described in the owner's manual(s).

Immediately upon receipt of the Product, Purchaser shall inspect the same. Any claim for shortage must be made within ten days after Purchaser's receipt. All other claims, including claims for alleged defective Product, must be made within fifteen days after Purchaser learns of the facts upon which such claim is based, but in no event later than the applicable one, two or five year period specified above for the specified component(s). All claims not made in writing and received by Seller within the time periods specified above shall be deemed waived. With respect to any defects incapable of discovery until in use, all claims for any damages or losses as a result of such defects shall be deemed waived unless made in writing and received by Seller within fifteen days after Purchaser learns of the alleged defect giving rise to the claim and after the expiration of said periods, but in no event later than the applicable one, two or five year period specified above for the specified component(s). Purchaser expressly assumes all liability for all such damages or losses, irrespective of any use which shall have taken place or whether the alleged defect shall have occurred or been discovered prior to expiration of such periods.
8. When Warrantor will perform repair or replacement under this warranty: Repair or replacement will be scheduled and serviced according to the normal work flow at the servicing location, and depending on the availability of replacement parts.
9. *As determined by Warrantor in its sole discretion**Free?shipping applies to direct shipping points within the 48 continental United States. Rural area shipping surcharge may apply for remote addresses. ***For all BendPak brand Two?Post or Four?Post Vehicle Service Lifts (excluding specialty lifts, high rise, commercial parking, material handling, or models for particular purpose) manufactured on or following 1/1/2011.
Frequently Bought Together
Please choose options for all selected products