AMGO PRO-14 14,000 Lbs 4-Post Lift
Brand:

SKU:

AH-PRO-14

Condition:

New

Capacity:

14,000 Lbs
Shipping Calculated at Checkout
AMGO PRO-14
The PRO-14 provides 14,000 lifting capacity and is built to commercial grade standards which will provide many years of service
Features
14,000 lbs capacity
Air-released safety lock for convenient operation and reliabilit
Mechanical self-lock and cable-breaking protection
1/2″ aircraft quality cable
Skid proof diamond platform
Hydraulic cylinders are designed and made to high quality standards
Strict quality control of cylinders with flow restrictor for a stable and smooth operational speed
Optional Rolling Jacks:
RJ-8A: Pneumatic 8,000lbs (3,628 kg)
More choices:
-Optional led lights: Kit No. 40103
-Optional extension: Kit No. 41403
-Optional air line kit: Kit No. 40102
Model
PRO-14
Style
Non-Alignment
Lifting Capacity
14,000 lbs (6,350 kg)
Lifting Time
65S
A: Overall Length (Inc.Ramps)
257 1/2″ (6541mm)
B: Overall Length (No.Ramps)
216 1/2″ (5500mm)
C: Overall Width
130 7/8″ (3324mm)
D: Width Between Columns
116″ (2946mm)
E: Lifting Height
73 1/2″ (1865mm)
F: Overall Height
86″ (2185mm)
G: Minimum Height
7 7/8″ (200mm)
Gross Weight

Motor

2,755 lbs (1,250kg)

2.0HP, 220V/60Hz Single Phase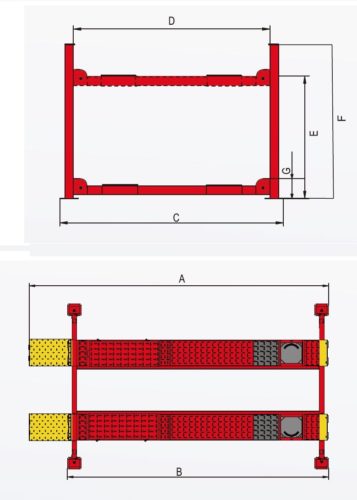 Warranty information.
AMGO offers one of the best product warranties in the industry from the original factory commercial invoice date in the industry as follows:
1.Steel structure components(including Columns,Carriage,,Lifting Arms, Top Beam, Floor Cover,Platform,Cross Beam,Car Drive-in Ramp, Scissor,baseframe etc.) warranty for five years.
2.Hydraulic parts (including cylinders, oil seal, oil hose, fitting etc.)warranty for two years.
3.Other parts(no including consumption parts such as rubber pad),electrical components, power unit warranty for one year.

Warranty procedure:

In order to start a warranty claim, you need fill out completely (including date of purchase) the warranty card attached below, and then send it to technical.support@amgohyd.com. If this information is not provided, the factory will not support the claim.

Click here to download the warranty card
Frequently Bought Together
Please choose options for all selected products